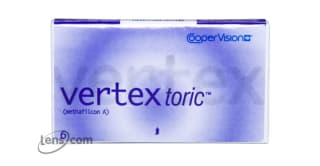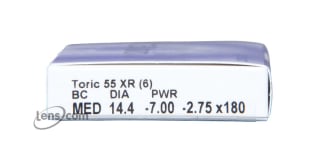 Vertex Toric XR
3 Month Supply

$130.99

$181.00 You Save $50.01

See Details See Details
Choose Quantity & Enter Prescription for Right and Left Eye
Prescription Information:
OD

right eye

OS

left eye

Brand name

eg. Acuvue

BC / Base Curve

a number between 8.0 and 10.0

DIA / Diameter

a number between 13.0 and 15.0

Power / Sphere / Rx

a number between -20 and +20
In Addition for astigmatic patients:
Cylinder

a number between -4.00 and +4.00

Axis

a number between 0 and 180

Cylinder and Axis are usually separated by a x
For Multifocal, Bifocal lenses or Presbyopia:
"Addition" or "add" is usually preceded by "+" or is listed as "low", "mid" or "high" depending on the lens manufacturer.
MONEY BACK GUARANTEE Complete Details

HASSLE FREE RETURNS Complete Details
72 people found the following review helpful:
Vertex Toric XR are excellent lenses
I was worried that tinted contacts meant weird irritation or eye change colors, but that wasn't the case with Vertex Toric XR contacts. They were easy to put in and fit nicely on my eye. I didn't notice any discoloration or irritation.
85 people found the following review helpful:
finally found an excellent alternative to glasses
With severe astigmatism, most contacts were out and I felt doomed to glasses. I then was given Vertex Toric XR contacts to try. I immediately noticed clearer vision, and a comfortable fit even with my bad eyes! I am so glad I tried them.
91 people found the following review helpful:
all day long precise vision with Vertex Toric XR
My vision is great when I wear Vertex Toric XR contacts! I have crystal clear vision all day long even with my astigmatism, and they stay in place on my eye perfectly. I rub my eyes and adjust less, meaning my eyes aren't as irritated.
85 people found the following review helpful:
crisp clear vision with Vertex Toric XR
These Vertex Toric XR contact lenses keep my vision crisp and clear every day, all day! They are comfortable and keep my eyes hydrated, while also being easy-to-handle and convenient.
94 people found the following review helpful:
I feel like my eyesight has never been better!
Anyone suffering from astigmatism must try these Vertex Toric XR contact lenses! They comfortably correct my vision, and keep it consistently clear all day long. Even better, they are super convenient and easy-to-use!
107 people found the following review helpful:
Vertex Toric XR are exttremely comfortable
I recently purchased these Vertex Toric XR lenses, and they live up to the description! They are extremely comfortable and give me sharp, clear vision all day, every day. I plan to re-purchase.

This contact lens feels nice
I have never worn a contact lens for astigmatism that was of a higher quality than the Vertex Toric XR. Having a difficult astigmatism, its hard to find lenses that help your vision but are also comfortable. These do both. This contact lens really feels nice. Its less worry too because I can just put it in and forget about it.
Vertex Toric- WOW- great product
I have been wearing toric lenses for about 7 years and these are the most comfortable that I have ever worn. Because my astigmatism is so strong my prior lenses never corrected it completely. Now my vision is very sharp and I see the world in HD. Vertex Toric XR are also very comfortable and I never have trouble with them even if have them on for 18 hours. Sometimes I even fall asleep wearing these lenses and they still feel great in the morning!!!
The best type of lenses for high astigmatism
If you have high astigmatism like I do, these lenses are great because:

1. They are 2-3 weeks disposable lenses! So no worries if you lose or rip the lenses and no need to keep reusing the 1 month or 1 year lenses!!!

2. Because they are disposable, means better hygiene and healthier for your eyes.

3. They are much thinner than longer term lenses, means less red and dry eyes. I wear them all day long.

I would recommend them because these are the best and most comfortable lenses that I have found for high astigmatism so far.
Product Information
If you have astigmatism, finding the right pair of contact lenses is crucial, as you've probably had difficulty finding a good fit previously. Not only do the lenses have to be comfortable, but they must stay in place for the contact lenses to be effective. Rigid gas permeable lenses used to be the primary choice for people with astigmatism, but they're not the only option anymore. That's when soft, disposable toric contact lenses comes into play. They're comfortable from the moment you first insert them to when you take them out, and don't need to be broken in like rigid lenses do. Made especially for those with astigmatism, Vertex Toric XR lenses by CooperVision combine clear vision, comfort and convenience—all in one lens.
These contact lenses feature CooperVision's patented UltraSync Technology, which implements an innovative process to create a perfect edge on each lens to ensure superior comfort for the lens wearer. Innovative in design, Vertex Toric XR effectively corrects complications of astigmatism by focusing light for a clear, crisp image—every time. Additionally, they ensure optimum stability and zero rotation for an exceptional fit throughout wear with no adjustments necessary. Patients with high levels of astigmatism can also enjoy the comfort and convenience of the Vertex contact lenses by choosing from the extended range of powers available to accommodate higher levels of astigmatism. These toric contact lenses are made to order, so even those with hard-to-fit eyes can wear them.
When it comes to convenience, these contacts deliver with flying colors. A light blue handling tint makes the Vertex Toric XR contact lenses easier to detect in solution while also facilitating simpler insertion. Although this blue tint is visible to the naked eye, it won't change the color of your eye once inserted. Vertex Toric XR contact lenses are 1-2 week disposable contact lenses, which means they can be worn up to 2 weeks before being replaced with a new pair. The replacement schedule is easy to follow and offers freshness and comfort, just make sure you remove and clean each night. And unlike with traditional contacts worn for a year, you don't have to worry if you tear or lose a lens—they're easy and inexpensive to replace!
With Vertex Toric XR contact lenses, you'll enjoy crisp, clear vision and a quality fit, even if you may think your eyes are hard to fit. The abundance of raving reviews you'll find about Vertex contacts speaks volumes to how effective they are at correcting astigmatism. Plus, if you purchase them from Lens.com, you'll also enjoy the incredible savings that you won't find anywhere else. With hassle-free returns, 100% money-back satisfaction, and quick shipping, you can't go wrong with purchasing your contact lenses from Lens.com.
Product Availability
Made to Order - Normally ships in 1-2 Weeks
Price Comparison
| Our Lowest Price | Retail Price | Your Savings |
| --- | --- | --- |
| $130.99 | $181.00 | $50.01 |
Material Content
45% Polymer (methafilcon A)