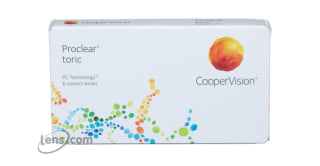 Proclear Toric
6 Month Supply

$67.99

$95.00 You Save $27.01

Buy 4 boxes for

$39.45 per

box

after rebate

See Details See Details
Choose Quantity & Enter Prescription for Right and Left Eye
Prescription Information:
OD

right eye

OS

left eye

Brand name

eg. Acuvue

BC / Base Curve

a number between 8.0 and 10.0

DIA / Diameter

a number between 13.0 and 15.0

Power / Sphere / Rx

a number between -20 and +20
In Addition for astigmatic patients:
Cylinder

a number between -4.00 and +4.00

Axis

a number between 0 and 180

Cylinder and Axis are usually separated by a x
For Multifocal, Bifocal lenses or Presbyopia:
"Addition" or "add" is usually preceded by "+" or is listed as "low", "mid" or "high" depending on the lens manufacturer.
MONEY BACK GUARANTEE Complete Details

HASSLE FREE RETURNS Complete Details
4 people found the following review helpful:
Best for dry eyes
i have pretty bad dry eyes and my optometrist suggested these and they are FAR better than any others for me.
7 people found the following review helpful:
7 people found the following review helpful:
Best customer service
Toric proclear are good contact lenses. The only problem I am getting is they rotate and it is hard to achieve good stable vision. But thank to lens.com eventually I will get there.
My big thanks to the all of the company staff for their help
7 people found the following review helpful:
Not as clear up close
I usually get fantastic lenses and can see well, far away and close up. For some reason, my new lenses aren't giving me the clarity I had before. I have to hold things farther away and some things are blurry.
8 people found the following review helpful:
tears very easily
These lenses are the most comfortable i've ever had in 30 years. However, THEY TEAR ALOT! And there seems to be no rhyme or reason. I am extremely careful too. Makes no sense. So they end of costing alot more bc you have to buy so much more.
7 people found the following review helpful:
no s?/h4>
They are exactly what I needed.
8 people found the following review helpful:
Not a quality product
The 1st four boxes of these contacts all split in half after a short period of use. Some even split while in my eye & popped out. Not sure if it was a defective lot or a design or material issue. Unfortionately since Coopervision discontinued their Frequency 55 Toric (which I have used for many years) I have no other choice because of my unique base curve. Hopefully another manufacturer will at some point make a contact that fits my eyes, or my 2nd batch of these contacts are more reliable.
8 people found the following review helpful:
Need some better quality control
First contacts actually very uncomfortable in my right on. My eye turn red and gave me a tremendous headache. Even though the contacts for New, I threw it out and open the new. That fix the problem. I know it's rare to get a bad contact lens but it does seem to have happened to me a few times in the past.
11 people found the following review helpful:
Proclear
Great price. Quick delivery.
11 people found the following review helpful:
Product Information
Astigmatism is an extremely common eye condition that can cause blurry or indistinct vision. If left untreated, the condition can cause headaches and other unwelcome discomforts. While some people have only a slight astigmatism that causes them little to no issue, others need some type of correction to ensure clear vision. Sometimes, astigmatism sufferers assume theyíll have to wear glasses to achieve sharp sight. Fortunately, with Proclear Toric, astigmatism sufferers can take advantage of the freedom and convenience of contact lenses.
In eyes with astigmatism, the normally spherical shaped cornea or lens is actually shaped more like a football, causing light to hit multiple areas of the retina rather than focusing only on one point. To accommodate for the atypical shape of an eye with astigmatism, toric contact lenses are shaped like the slice off the end of a donut. This shape allows the light coming into the eye to focus in on one point of the retina. With Proclear Toric, astigmatism sufferers can have sharp sight and even orientation that lasts from morning to night.
Not only does CooperVision Proclear Toric provide exceptional eyesight, it also allows extended wear without discomfort. The lenses include an exclusive substance that mimics the material found in human cell membranes. The substance draws in and becomes engulfed in moisture, keeping lenses comfortable while retaining 96 percent moisture for up to 12 hours of wear. Proclear contact lenses are an outstanding choice for those suffering from dry eyes as well as astigmatism. They are also a smart option for those who spend long periods of time working in front of a computer screen.
Proclear Toric contact lenses are monthly contact lenses, meaning that users can wear them daily for a month before disposing of them. Proclear contact lenses need to be removed and cleaned each night to keep eyes healthy and lenses in top form. At the end of the month, the lenses can be thrown away and replaced with a brand new pair.
If you have long lived in fear of having to switch to glasses to accommodate your astigmatism or have incorrectly assumed that toric lenses equal discomfort, then Proclear Toric are here to change your mind. Now you can have crisp, clear vision while maintaining your style and comfort. Your pocketbook does not have to suffer either, as Lens.com offers top-quality brands and products for the same price as other off-brand, budget contact lenses on the market. When you shop with us you can be assured that you are getting the lowest price available.
Product Availability
This item normally ships within 2-4 business days.
Price Comparison
| Our Lowest Price | Retail Price | Your Savings |
| --- | --- | --- |
| $46.95 | $95.00 | $48.05 |
Material Content
38% Polymer (omafilcon A)