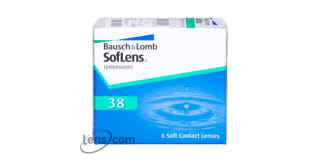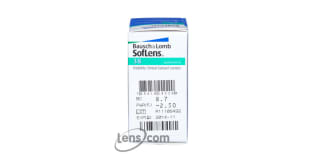 Optima FW (SofLens 38)
3 Month Supply

$23.99

$44.00 You Save $20.01

$16.99 Buy 4+ per eye $44.00 You Save $27.01
Choose Quantity & Enter Prescription for Right and Left Eye
Prescription Information:
OD

right eye

OS

left eye

Brand name

eg. Acuvue

BC / Base Curve

a number between 8.0 and 10.0

DIA / Diameter

a number between 13.0 and 15.0

Power / Sphere / Rx

a number between -20 and +20
In Addition for astigmatic patients:
Cylinder

a number between -4.00 and +4.00

Axis

a number between 0 and 180

Cylinder and Axis are usually separated by a x
For Multifocal, Bifocal lenses or Presbyopia:
"Addition" or "add" is usually preceded by "+" or is listed as "low", "mid" or "high" depending on the lens manufacturer.
MONEY BACK GUARANTEE Complete Details

HASSLE FREE RETURNS Complete Details
Optima FW (SofLens 38)

Reviews
16 people found the following review helpful:
Service
Priced Right, delivered on time
16 people found the following review helpful:
Very Comfortable
The price was good and the delivery was prompt! Thank you!
20 people found the following review helpful:
17 people found the following review helpful:
Delivery
Too way too long to receive my order.
1 people found the following review helpful:
Fit and cost
My order took several weeks to be processed for some reason without explanation. The cost of the same contacts has gone up significantly since last year and I found the fit to be somewhat inconsistent from lens to lens.
85 people found the following review helpful:
Optima FW helps my hyperopia and myopia!
I have finally found a contact lens that comfortably corrects my hyperopia and myopia! These Optima FW lenses fit comfortably, and provide clear vision all day long. I will definitely repurchase!
85 people found the following review helpful:
I really like Optima FW
I love my Optima FW 1-2 week disposable lenses. I can wear them all day with no issues, and love the convenience of their durable design!
97 people found the following review helpful:
I can wear these 24/7 and its awesome
Check with your doctor to see if you can wear these SofLens 38 contacts continuously! My eye doctor gave me the go-ahead, and I love the convenience of keeping them in 24/7 with no discomfort!

107 people found the following review helpful:
SofLens 38 are great
These SofLens 38 contact lenses are a great product at a low price! Each box comes with six lenses per box which can be worn 7-14 days. I love being able to switch to a fresh pair whenever I want to.

103 people found the following review helpful:
Product Information
Whether you have issues with nearsightedness or farsightedness, you deserve to have clear vision. With that said, getting your vision correction needs met in a manner that is comfortable, convenient, and well-priced makes the deal even sweeter. Choosing contact lenses over eyeglasses certainly makes many activities more convenient, but it comes with a few challenges as well. Luckily there are lenses on the market that make contact lenses much more appealing. Optima FW contact lenses are 1-2 week disposable contacts, meaning the lenses can be worn for up to 14 days before they're thrown out and replaced with a new pair. The frequent replacement schedule of weekly and biweekly contact lenses helps keep eyes healthy and clear.
Speaking of eye health, breathability is another contact lens feature that makes a big difference to the health of your eyes. Optima FW are cast molded using Bausch and Lomb's patented Reverse Process III. Designed with an exceptionally thin center area, these lenses allow for high levels of oxygen to pass through to the cornea and keep eyes in tip-top shape. Some contacts boast particularly high water levels. While all that added moisture can add comfort, it also makes lenses more delicate and harder to handle. Optima contact lenses are made from 62 percent Polymacon and 38 percent water. This composition works well because the lens has enough moisture to keep eyes comfortable and healthy, but not so much that the contacts are too fragile to handle.
Making these lenses even more convenient is the fact that Optima FW contact lenses are approved for extended wear. If the day-to-day upkeep of regular lenses is keeping you down, you can take a break with these lenses. Optima FW contacts can be worn for 7 consecutive days before having to be removed and cleaned. As always, check with your eye care provider about what replacement schedule works best for you, as it may differ from the manufacturer's recommendations. Finally, if you suffer from allergies, Optima FW lenses are a great choice as they help keep your eyes bright and clear. These lenses are made to resist the build-up of deposits, also keeping eyes comfortable and healthy.
So, if you're ready to try Optima FW contact lenses, take a look at the prices on Lens.com. When you shop with us you don't have to waste time scouring the internet for the best price. We browse competitor sites on a regular basis to ensure that we are offering the best value in contact lenses. With hassle-free returns, 100% money-back satisfaction, and quick shipping, you can't go wrong with purchasing your contact lenses from Lens.com.
Product Availability
In stock - Orders normally ship same day if ordered by 2 PM CST
Price Comparison
| Our Lowest Price | Retail Price | Your Savings |
| --- | --- | --- |
| $16.99 | $44.00 | $27.01 |
Material Content
62% Polymer (polymacon)