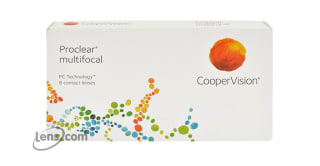 Proclear Multifocal
6 Month Supply

$65.99

$70.00 You Save $4.01

Buy 4 boxes for

$44.45 per

box

after rebate

Buy 2 boxes for

$46.95 per

box

after rebate

See Details See Details
Choose Quantity & Enter Prescription for Right and Left Eye
Prescription Information:
OD

right eye

OS

left eye

Brand name

eg. Acuvue

BC / Base Curve

a number between 8.0 and 10.0

DIA / Diameter

a number between 13.0 and 15.0

Power / Sphere / Rx

a number between -20 and +20
In Addition for astigmatic patients:
Cylinder

a number between -4.00 and +4.00

Axis

a number between 0 and 180

Cylinder and Axis are usually separated by a x
For Multifocal, Bifocal lenses or Presbyopia:
"Addition" or "add" is usually preceded by "+" or is listed as "low", "mid" or "high" depending on the lens manufacturer.
MONEY BACK GUARANTEE Complete Details

HASSLE FREE RETURNS Complete Details
Proclear Multifocal

Reviews
Not comfortable
They kept moving and falling off my eye. Very thick lens also felt like I had something in my eye.
NEW LENSES
THEY ARE VERY EASY TO PUT IN
Great price and even better quality
The contacts are perfect. No problems at all. Shipping was very fast too. Lens.com is definitely my go for my contacts.
Cost of contacts
For ordering online for the first time it was easy. The cost of my contacts were a lot cheaper than what I would have paid at the office. would I do it again? That's an easy answer yes.
4 people found the following review helpful:
Vision is sharp
It could be more hydrated like the Bausch
not happy
already through a 6 month supply in 2 weeks the contacts rip every time you take them out
63 people found the following review helpful:
My Proclear lenses turned out to be great for me
I'm so glad I tried out Proclear Multifocal contacts. I have needed to change my prescription glasses a lot as I've gotten older, so I'm glad I found a contact solution that is tailored to me! They keep my vision crisp whether it is day 1 or day 30 of wearing them!

67 people found the following review helpful:
My sight and comfort is better than ever
Proclear Multifocal contacts saved me from glasses! I tend to choose glasses over contacts purely because they irritate my eyes, but my need for bifocals made glasses a hassle too. These contacts work to both fix my vision and keep my eyes from being irritated, I love it!

65 people found the following review helpful:
Proclear Multifocal gave me crystal clear vision
The vision I get with Proclear Multifocal is great! I have crisp, clear vision throughout the entire day and entire wear cycle of these contacts. I love that they are tailored to my eyes so that I can see clearly no matter what!

68 people found the following review helpful:
The great feeling of true moisture
Proclear Multifocal is a great choice for any older contact wearers out there. If you're like me, you need bifocals but hate glasses. These are a great solution that will help you see clearly without glasses, and they keep your eyes moist too!
Product Information
There are plenty of perks that come with older age, but blurry vision isn't exactly one of those perks. You can wish it away all you want, but the fuzzy vision that comes with viewing close-up objects happens to practically everyone eventually. The condition, known as presbyopia, is one of those not-so-enjoyable consequences of getting older. Even those who have enjoyed perfect vision for their entire lives will likely have to face presbyopia sometime around the age of 40.
Wearing reading glasses is one way to deal with the condition. For those who already need vision correction for nearsightedness or farsightedness, switching to bifocal glasses is another option. However, not everyone enjoys wearing glasses or wants to adjust to the dual correction of bifocals. Wearing contact lenses can make taking part in day-to-day activities a lot easier and with Proclear Multifocal contacts, people with presbyopia can experience that freedom. Designed to offer exceptional vision correction and extraordinary comfort, CooperVision's Proclear line is very popular among those seeking a truly comfortable lens that performs consistently.
With their Balanced Progressive™ Technology, Proclear Multifocal features a unique combination of both spherical and aspheric optics. CooperVision has also taken into consideration the fact that we have a dominant eye and non-dominant eye. To provide the best vision correction, Proclear Multifocal contact lenses have unique zone sizes tailored to the 'D' (dominant) and 'N' (non-dominant) eyes. In this way, you get the sharpest, most personalized vision correction that's tailored to your eyes.
As those over 40 are aware, another gift that aging bestows upon us is dry eyes. Proclear Multifocal are manufactured to maintain at least 96 percent moisture throughout the day, for up to twelve hours of wear at a time. These multifocal contact lenses are soft, flexible, and also attract moisture, making them an ideal choice for those who suffer from dry eyes. Additionally, the lenses have a special tint that will not alter eye color, but allows the wearer to easily recognize when their lenses are inside-out.
Proclear Multifocal contact lenses are monthly contact lenses, which means that they may be worn daily for up to 30 days. After this time, lenses are simply thrown in the trash and replaced with a brand new pair. If you're considering multifocal lenses, be sure to check out Lens.com. We offer incredible prices on multifocal contact lenses, including Proclear Multifocal.
Product Availability
This item normally ships within 3-5 business days.
Price Comparison
| Our Lowest Price | Retail Price | Your Savings |
| --- | --- | --- |
| $56.95 | $70.00 | $13.05 |
Material Content
38% Polymer (omafilcon A)