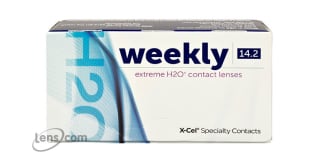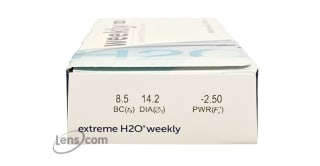 Extreme H2O Weekly
3 Month Supply

$35.99

$48.00 You Save $12.01

$32.99 Buy 2+ per eye $48.00 You Save $15.01
Choose Quantity & Enter Prescription for Right and Left Eye
Prescription Information:
OD

right eye

OS

left eye

Brand name

eg. Acuvue

BC / Base Curve

a number between 8.0 and 10.0

DIA / Diameter

a number between 13.0 and 15.0

Power / Sphere / Rx

a number between -20 and +20
In Addition for astigmatic patients:
Cylinder

a number between -4.00 and +4.00

Axis

a number between 0 and 180

Cylinder and Axis are usually separated by a x
For Multifocal, Bifocal lenses or Presbyopia:
"Addition" or "add" is usually preceded by "+" or is listed as "low", "mid" or "high" depending on the lens manufacturer.
MONEY BACK GUARANTEE Complete Details

HASSLE FREE RETURNS Complete Details
Extreme H2O Weekly

Reviews
Most comfortable lenses I ever had. A++
Been using lenses over 25 years and this was the best of the best for me.
Product Information
Do you experience dryness, discomfort, and deposit issues related to wearing contact lenses? Do you think you'd benefit from a more frequent replacement of your contact lenses, but would like to avoid the higher costs associated with daily disposable lenses? If you answered yes to these questions, then you should consider making the switch to Extreme H2O Weekly contact lenses by X-Cel (formerly Hydrogel Vision).
Extreme H2O Weekly contacts are the only weekly contact lenses that provide a high level of comfort and clarity without the high cost. In fact, by switching to Extreme H2O Weekly you can replace your lenses each and every week for around half the price of daily disposable lenses. Extreme H2O Weekly contact lenses are designed with comfort in mind. They stay comfortable and retain practically all of the moisture they have at the start of the day, preventing the lens wearer's eyes from becoming dry and irritated. Extreme H2O contacts are able to provide wearers with this level of comfort because they're made with hioxifilcon A and hioxifilcon D, which are glycerin derivatives that have unique water binding properties that retain water throughout the day.
Preventing eye dryness, however, is not the only comfort-related benefit that Extreme H2O contacts provides. Did you know that 27% of all contact lens wearers would benefit from wearing either a larger or smaller sized contact lens? If you think you might be part of that 27%, you have another good reason to consider Extreme H2O Weekly contact lenses. Extreme H2O Weekly contacts by X-Cel are the only disposable lenses available in three diameter sizes: 13.6, 14.2, and 14.8. This range of diameter sizes enables contact lens wearers to find a lens that is most comfortable for them.
The results of a patient preference study shows that 2 out of 3 contact lens wearers rated Extreme H2O Weekly as good as or better than their regular lens. More often than not, Extreme H2O Weekly lenses were positively rated when compared to more expensive, familiar name brands. Put plainly, Extreme H2O Weekly contacts offer the same high quality associated with other brands but at a much lower price.
Lens.com offers X-Cel contacts like Extreme H2O Weekly at lower prices than you will find anywhere online or in stores. With hassle-free returns, 100% money-back satisfaction, and quick shipping, you can't go wrong with purchasing your contact lenses from Lens.com.
Product Availability
This item normally ships within 1 - 2 business days.
Price Comparison
| Our Lowest Price | Retail Price | Your Savings |
| --- | --- | --- |
| $32.99 | $48.00 | $15.01 |
Material Content
41% Polymer (hioxifilcon A)