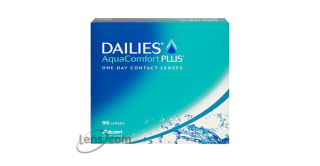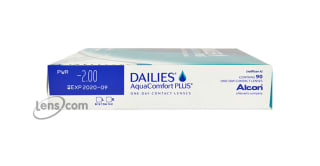 Dailies AquaComfort Plus Contact Lenses
3 Month Supply

$49.99

$76.00 You Save $26.01

Buy 4 boxes for

$29.99 per

box

after rebate

Buy 2 boxes for

$42.49 per

box

after rebate

See Details See Details
Choose Quantity & Enter Prescription for Right and Left Eye
Prescription Information:
OD

right eye

OS

left eye

Brand name

eg. Acuvue

BC / Base Curve

a number between 8.0 and 10.0

DIA / Diameter

a number between 13.0 and 15.0

Power / Sphere / Rx

a number between -20 and +20
In Addition for astigmatic patients:
Cylinder

a number between -4.00 and +4.00

Axis

a number between 0 and 180

Cylinder and Axis are usually separated by a x
For Multifocal, Bifocal lenses or Presbyopia:
"Addition" or "add" is usually preceded by "+" or is listed as "low", "mid" or "high" depending on the lens manufacturer.
MONEY BACK GUARANTEE Complete Details

HASSLE FREE RETURNS Complete Details
Dailies AquaComfort Plus Contact Lenses

Reviews
9 people found the following review helpful:
Easy to order
Ordering is a very easy process along with prompt delivery.
9 people found the following review helpful:
Easy way to get contacts
I really like how easy it is to reorder my contacts and they arrive very quickly!
9 people found the following review helpful:
Comfortable
comfortable and work the convenience! Switched to these after I kept eye infections. Great solution.
9 people found the following review helpful:
Accurate prescription
I think the circumference can be larger.. I get nervous trying to open my eyes wide. Other than that, the shipping, and quality was awesome
9 people found the following review helpful:
No hassle and a consistent fit
I've used these contacts for around 5 years or more. I love them. If one is driving me crazy, I take out and throw it away, wait a few minutes and put another one in. Worth the money.
10 people found the following review helpful:
Comfortable Contacts
The only issue I've had with these are that they tend to rip easily so I have to be extra careful handling them. They are super comfortable and I hope they continue to be manufactured for a long time.
11 people found the following review helpful:
Comfort
I've been wearing contacts for many years, and the Dailies AquaComfort Plus are by far the most comfortable contacts that I have tried
11 people found the following review helpful:
best bargain
these contacts were not near as expensive as other contact companies. Shipping was quick. good all around!
11 people found the following review helpful:
Old Faithful
I've been wearing these for several years. I've tried other newer technology brands, however these fit better and are more comfortable than any others I've experienced.
11 people found the following review helpful:
Product Information
Life can be demanding and you donít want your contacts to wind down before you do. Whether youíre looking at a computer screen all day, running a marathon, or shuttling the kids from one ball field to the next, you want to know that your lenses can keep up. There is nothing worse than being unable to concentrate on your daily activities because your contacts are irritating your eyes. For those looking for a contact lens that remains comfortable throughout a long hectic day, look no further than Lens.comís Dailies AquaComfort Plus 90 pack.
CIBA Vision Dailies AquaComfort contact lenses are made for busy people on the go. Created with all-day comfort in mind, AquaComfort Plus Dailies are super thin and incredibly moist. In fact, the special moisturizing ingredients used in Dailies AquaComfort are meant to give the lenses an unbelievably comfortable feel upon insertion. While itís true that a lot of lenses feel great for the first couple of hours of wear, these lenses take moisture even further. With their blink-activated technology, the special moisturizing ingredients are slowly released with each blink over the course of the day, so your lenses remain comfortable from insertion to removal.
Another feature that keeps AquaComfort Plus feeling fresh and comfortable all day is the fact that these lenses are made for one-day use. Adding to the appeal for people with a busy lifestyle, there is no cleaning required with AquaComfort Plus Dailies. If you are used to bi-weekly or monthly lenses, you know the refreshing feeling of inserting a fresh pair of lenses. With AquaComfort Plus, youíll get to enjoy that new-lens freshness every day with daily contact lenses. Simply wear them, toss them out at the end of the day, and enjoy a clean new pair in the morning.
There is no simpler way to experience clear, crisp vision and all-day comfort. AquaComfort Plus Dailies come packaged in boxes of 90 lenses. When you shop with Lens.com, you can get all the best brands for the cost of other cheap contact lenses on the market. At Lens.com we are continually checking competitor prices to be sure that we are offering the best prices. So, not only will you save time by switching to the convenience of Dailies AquaComfort Plus, but you can also speed up your contact lens ordering time by shopping with us.
Product Availability
This item normally ships within 1 - 2 business days.
Price Comparison
| Our Lowest Price | Retail Price | Your Savings |
| --- | --- | --- |
| $49.99 | $76.00 | $26.01 |
Material Content
31% Polymer (nelfilcon A)