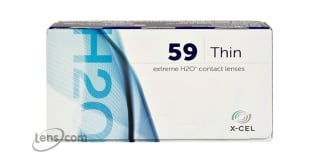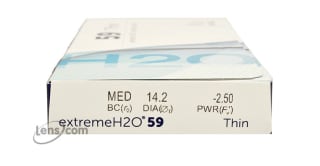 Extreme H2O 59% Thin
6 Month Supply

$31.99

$44.00 You Save $12.01

Buy 4 boxes for

$20.95 per

box

after rebate

See Details See Details
Choose Quantity & Enter Prescription for Right and Left Eye
Prescription Information:
OD

right eye

OS

left eye

Brand name

eg. Acuvue

BC / Base Curve

a number between 8.0 and 10.0

DIA / Diameter

a number between 13.0 and 15.0

Power / Sphere / Rx

a number between -20 and +20
In Addition for astigmatic patients:
Cylinder

a number between -4.00 and +4.00

Axis

a number between 0 and 180

Cylinder and Axis are usually separated by a x
For Multifocal, Bifocal lenses or Presbyopia:
"Addition" or "add" is usually preceded by "+" or is listed as "low", "mid" or "high" depending on the lens manufacturer.
MONEY BACK GUARANTEE Complete Details

HASSLE FREE RETURNS Complete Details
Extreme H2O 59% Thin

Reviews
16 people found the following review helpful:
Very comfortable!
I have been wearing these lenses for years, as they are so comfortable. I have tried others and they are much more uncomfortable.
The Best for Dry Eyes!!!
I have tried a lot of different contact lenses and all of them made my eyes really dry. I almost gave up on wearing contact lenses ever again. But then I discovered Extreme H2O Thin contact lenses. ONLY these contact lenses made it possible for me to wear contact lenses all day long without making my eyes dry. Highly recommend these for everyone why struggles with the dry eyes effect.

Get the Extreme H20 Thin for dry eyes!
My job has me sitting in front of a computer all day long and my eyes would always get dry because of the computer screen by the end of the day. I finally decided to switch and I tried the Extreme H20 Thin 59%. Now my eyes never dry out. These contact lenses keep them moisturized all day long so they are always comfortable and feeling healthy. I can even watch tv all night long after work and they still don't dry out!
Extreme H2O Thin 59%- great relief for dry eyes
This product saved me. I have always had very dry eyes and I never thought that I would be able to get relief. My doctor recommended these to me a couple months ago and I have never looked back. The moisture is awesome! Even at the end of the day my eyes still aren't dry. I can wear these lenses for 16 hours and I still don't need rewetting drops.
Product Information
Itchy. Irritated. Red. Blurry. If this sounds familiar, you probably suffer from dry eyes. And, you're not alone. According to a consumer survey, 48 percent of American adults experience these symptoms on a regular basis. There's a good chance they wear contacts, too. In fact, dryness is the most common complaint among those who wear contact lenses. Also, 41 percent of patients who stop wearing contacts do so because of the discomfort they cause.
But this doesn't have to stop you from wearing contacts, even if others have been downright intolerable. Manufactured first and foremost to prevent dryness, the moisturizing power of X-Cel Specialty Contacts' Extreme H2O 59% Thin contact lenses work hard to combat dry eyes. The lenses are made from a GMA-HEMA copolymer material that contains hydroxyl (OH) components, which allow water molecules to bond closely to the surface of the polymer and effectively retain water. Because of this unique construction, Extreme H2O 59% Thin lenses lose less than 1 percent of water content on the eyes—even after 12 hours of wear.
The GMA component of the lens also provides exceptional biocompatibility with mucin, a natural glycoprotein found in tears. Because of this compatibility, lens wearers can enjoy comfort, ocular health, and surface wettability. Extreme H2O 59% Thin contacts won't tighten, shrink, or change shape while in place, which ensures a comfortable and consistent fit. What separates Extreme H2O 59% Thin contact lenses from the average contact lens is a remarkably thin design, which aids in oxygen transmission for healthier, clearer eyes. Made from a Group 2 non-ionic material, the lenses effectively resist protein deposits to improve both comfort and visual acuity. The highly stable copolymer material improves stability throughout wear, no matter what your day has in store.
The testimonials are consistently positive for Extreme H2O 59%. The four- and five-star online reviews for these weekly contact lenses written by loyal customers attest to how comfortable they are to wear for hours, even while watching television or working on the computer. Available in a wide range of powers, from -8.00 to +6.00, most people will find these contacts fall in their prescription. These weekly disposable contact lenses typically ship within 2-4 business days, so you're only a few days away from crisp, clear, and comfortable vision.
If your eye care professional has decided that Extreme H2O 59% Thin is the solution to your dry eyes, be sure to purchase your Extreme H2O contacts from Lens.com. With hassle-free returns, 100% money-back satisfaction, and quick shipping, you can't go wrong with purchasing your contact lenses from Lens.com.
Product Availability
This item normally ships within 2-4 business days.
Price Comparison
| Our Lowest Price | Retail Price | Your Savings |
| --- | --- | --- |
| $25.95 | $44.00 | $18.05 |
Material Content
41% Polymer (hioxifilcon A)