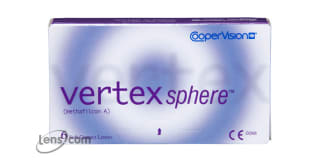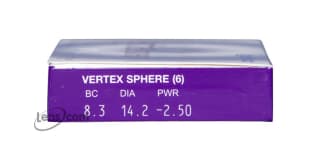 Vertex Sphere (Encore Sphere)
3 Month Supply

$44.99

$61.00 You Save $16.01

$41.99 Buy 4+ per eye $61.00 You Save $19.01
Choose Quantity & Enter Prescription for Right and Left Eye
Prescription Information:
OD

right eye

OS

left eye

Brand name

eg. Acuvue

BC / Base Curve

a number between 8.0 and 10.0

DIA / Diameter

a number between 13.0 and 15.0

Power / Sphere / Rx

a number between -20 and +20
In Addition for astigmatic patients:
Cylinder

a number between -4.00 and +4.00

Axis

a number between 0 and 180

Cylinder and Axis are usually separated by a x
For Multifocal, Bifocal lenses or Presbyopia:
"Addition" or "add" is usually preceded by "+" or is listed as "low", "mid" or "high" depending on the lens manufacturer.
MONEY BACK GUARANTEE Complete Details

HASSLE FREE RETURNS Complete Details
Vertex Sphere (Encore Sphere)

Reviews
82 people found the following review helpful:
Impressive levels of moisture
Even in the driest conditions these Vertex Sphere contact lenses leave my eyes moisturized and comfortable! I don't even need my eye drops when I wear these. I will be re-purchasing!
85 people found the following review helpful:
My eyesight seems better than ever
I recently ordered these Vertex Sphere contact lenses, and my vision has never been better! These lenses keep my vision continuously clear, while also keeping my eyes moisturized and hydrated!
105 people found the following review helpful:
Vertex Sphere are excellent for the whole 2 weeks
From day one to day fourteen, my Vertex Sphere contact lenses were great! I was worried they'd tear or become unusable by the end of the two week period, but that wasn't the case. I like how great my vision is no matter near or far away!

124 people found the following review helpful:
my vision is terrificly better now
I have a hard time seeing near and far, so I really like Vertex Sphere. They work to give me great vision no matter what I'm looking at, so I no longer have to carry (and lose) extra glasses! I really enjoy the freedom they've given me.

123 people found the following review helpful:
I just love everything about Vertex Sphere
Vertex Sphere offers a great solution to my contact needs! I really like their two week schedule, so I can wear the contacts and then toss them. They are easy to clean and are tinted so I don't have to worry about losing them in solution when it comes to cleaning.

Vertex Spheres are the best
I would highly recommend the Vertex Sphere. This contact lens is definitely the king of the weekly disposables. No other one can match it in comfort or in vision so there really is no other option. They always last me at least a week too. I've even stretched a couple of them for a month. Lens.com is the best site to buy the Vertex Spheres too, they always have the lowest prices on them. Their website is easy to navigate from and you'll get your lenses quickly.
Vertex Sphere is amazingly comfortable!!!
I love this contact because it corrects my vision as well as my old vial lens used, but I don't have to spend hours a week cleaning it. I love the convenience on the weeklies, they are super easy to maintain and take care of and use several confusing solutions. Vertex sphere keeps my eyes very comfortable through the day and even late into the night.
Product Information
Whether you're nearsighted or farsighted, the goal is the same—clear, crisp vision with no discomfort, minimal inconvenience, and a cost that won't break the bank. There are a lot of different options for vision correction, but not all choices meet the full range of criteria. Fortunately, for anyone hoping to check as many of the vision correction boxes as possible, there are Vertex Sphere contact lenses.
Vertex Sphere contact lenses are manufactured by CooperVision, a trusted name in the eye care industry. As such, these lenses have a lot of advanced technologies behind them. First off, they feature CooperVision's exclusive UltraSync design. This means that each Vertex Sphere lens has a consistently thin, perfect edge— greatly reducing irritation. Adding to the comfort factor, this design also reduces rotation of the lens on the eye. Less lens movement means more stable vision and reduced discomfort. Moisture is another key component of comfortable contact lenses. CooperVision's Vertex Sphere has you covered in this area, too. Boasting 55 percent water content, these lenses keep eyes hydrated from morning until night. Even if you spend a lot of time in dry conditions or looking at a computer screen, Vertex Sphere contacts keep eyes moist and comfortable. Made from a hydrogel substance known as methafilcon A, these lenses are also resistant to protein deposits.
Unlike many disposable contact lenses that are worn for a month before discarding, Vertex Sphere contact lenses have a bi-weekly replacement schedule. This means that Vertex Sphere contact lenses are worn for up to 2 weeks before being replaced, which reduces the amount of irritants that can build up over time. When lenses are replaced on a more regular basis, there isn't as much time for protein deposits to accumulate and potentially irritate or damage eyes. After this time, the lenses are to be disposed of and replaced with a fresh new pair. Vertex Sphere also come with the ultra-convenient handling tint. This slight coloring allows you to better see the lens when they are in solution and during insertion and removal. The color, however, is not deep enough to affect the color of eyes.
If you're looking for a lens that's high on comfort, provides routinely clear vision, and is easy to handle, then Vertex Sphere contacts are a great choice. Even better, the price of these lenses is incredibly reasonable, especially when you shop with Lens.com. We stay up-to-date on competitor pricing so that we can be sure we are offering the best value anywhere online or in stores. With hassle-free returns, 100% money-back customer satisfaction, and quick shipping, you can't go wrong with purchasing your contact lenses from Lens.com.
Product Availability
This item normally ships within 4-7 business days.
Price Comparison
| Our Lowest Price | Retail Price | Your Savings |
| --- | --- | --- |
| $41.99 | $61.00 | $19.01 |
Material Content
45% Polymer (methafilcon A)