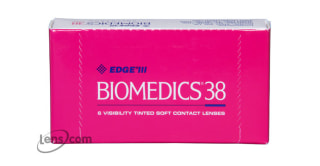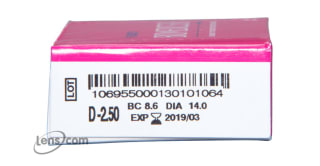 Biomedics 38 (UltraFlex 38)
3 Month Supply

$21.99

$30.00 You Save $8.01

$14.99 Buy 3+ per eye $30.00 You Save $15.01
Choose Quantity & Enter Prescription for Right and Left Eye
Prescription Information:
OD

right eye

OS

left eye

Brand name

eg. Acuvue

BC / Base Curve

a number between 8.0 and 10.0

DIA / Diameter

a number between 13.0 and 15.0

Power / Sphere / Rx

a number between -20 and +20
In Addition for astigmatic patients:
Cylinder

a number between -4.00 and +4.00

Axis

a number between 0 and 180

Cylinder and Axis are usually separated by a x
For Multifocal, Bifocal lenses or Presbyopia:
"Addition" or "add" is usually preceded by "+" or is listed as "low", "mid" or "high" depending on the lens manufacturer.
MONEY BACK GUARANTEE Complete Details

HASSLE FREE RETURNS Complete Details
Biomedics 38 (UltraFlex 38)

Reviews
Great Lenses
Great Lenses - shipping on time.
113 people found the following review helpful:
Very happy with my Biomedics 38 contacts
My eye doctor recently recommended that I give Biomedics 38 contacts a try because my previous contacts weren't doing the trick. I decided to buy them, and up to now they are so much better in every way than my old ones. I'm happy I bought these!

114 people found the following review helpful:
Biomedics 38 lenses are great for me
I'm really glad that I bought Biomedics 38 lenses. They feel great all the time, and are great for active people.
112 people found the following review helpful:
Biomedics 38 have met all my expectations
So far Biomedics 38 contacts have been really great for me. They keep my eyes comfortable for up to 2 weeks, all without making them dry.

112 people found the following review helpful:
good, comfortable contact lenses
Biomedics 38 contacts won't leave your eyes dry, or overly moist when you have them in. They are a great fit for anyone looking for a good, comfortable contact lens.
163 people found the following review helpful:
excellent experience with these lenses
I can honestly say that I have had a great experience with bioflex 38 contact lenses. Very comfortable and durable.

167 people found the following review helpful:
nice everyday lenses
Bioflex 38's have been working out really nicely for my eyes. I ordered here and was pleasantly surprised at the prices and how quickly they arrived.

160 people found the following review helpful:
Best contacts Ive tried yet
Biomedics 38 contacts have really been a saving grace for my eyes. I have tried so many different brands, but they all made my eyes dry and itchy. These are so much better than my previous contacts.

161 people found the following review helpful:
very pleased with lenses and service
My eye doctor told me to order biomedics 38 lens last month, and I have been completely satisfied with my purchase. The delivery was quick and easy and I found the prices here to be the best.

167 people found the following review helpful:
Product Information
The higher water content a pair of contact lenses has, the more comfortable they are. While that seems like solid logic, it's not necessarily true. While higher water content allows lenses to give the eyes more moisture initially, the higher water content can also causes lenses to dry out more quickly. Also, being exposed to air conditioning and extended periods of staring at a computer screen while wearing contacts with a higher water content can cause irritation.
For those who want or need contact lenses with lower water content, Biomedics 38 contacts by CooperVision is a great option. The lower water content facilitates superior handling while still providing durability and dehydration resistance. Unlike other lenses you may have tried, they'll keep their shape and won't curl or roll up. Biomedics 38 contact lenses feature a patented design, providing a superior fit and delivering the pinnacle of comfort and performance. As a matter of fact, these contact lenses are manufactured with advanced Liquid Edge Molding (LEM) for a superior level of smoothness on the both the surfaces and edges. What does this mean? Edging and polishing by hand is completely eliminated, resulting in a flawless finish for each lens.
Biomedics 38 contacts, also sold under the name Ultraflex 38, are tinted in order to more easily find them in the solution. The tint will not change the color or appearance of the eyes, however. Biomedics 38 are 1-2 week disposable contact lenses and may be worn for two weeks (with nightly removal and cleaning) before replacement. For some individuals, extended wear with Biomedics 38—for more than 24 hours or while sleeping—may be possible. However, this wear schedule must be approved by an eye-care professional and gradually introduced. Even though these contact lenses resist dehydration with their lower water content, they can dry out and become brittle if exposed to air while not in the eyes. In some cases, the lens can be rehydrated by following the manufacturer's instructions.
These contact lenses have a long history of customer satisfaction (you'll find many five-star ratings and glowing recommendations online). If you shop at Lens.com for your supply of these CooperVision bi-weekly contact lenses, you'll enjoy the best value around. With hassle-free returns, 100% money-back satisfaction, and quick shipping, you can't go wrong with purchasing your contact lenses from Lens.com.
Product Availability
In stock - Orders normally ship same day if ordered by 2 PM CST
Price Comparison
| Our Lowest Price | Retail Price | Your Savings |
| --- | --- | --- |
| $14.99 | $30.00 | $15.01 |
Material Content
62% Polymer (polymacon)