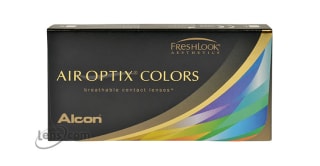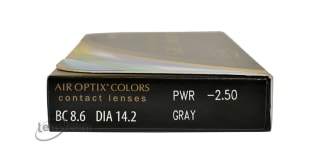 Air Optix Colors
6 Month Supply

$79.99

$117.00 You Save $37.01

Buy 4 boxes for

$54.99 per

box

after rebate

Buy 2 boxes for

$69.99 per

box

after rebate

See Details See Details
Choose Quantity & Enter Prescription for Right and Left Eye
Prescription Information:
OD

right eye

OS

left eye

Brand name

eg. Acuvue

BC / Base Curve

a number between 8.0 and 10.0

DIA / Diameter

a number between 13.0 and 15.0

Power / Sphere / Rx

a number between -20 and +20
In Addition for astigmatic patients:
Cylinder

a number between -4.00 and +4.00

Axis

a number between 0 and 180

Cylinder and Axis are usually separated by a x
For Multifocal, Bifocal lenses or Presbyopia:
"Addition" or "add" is usually preceded by "+" or is listed as "low", "mid" or "high" depending on the lens manufacturer.
MONEY BACK GUARANTEE Complete Details

HASSLE FREE RETURNS Complete Details
Colors
Hazel In your brand is not comparable to fresh look hazel. I'm not sure if I was to have the MD prescribe honey. Disappointed. Would like to see what honey looks like
Love my contacts
Love my contacts.... shipping is EXTREMELY slow!!! I received this before I received my order.... in fact I still don't have them... but I have been wearing this brand for some time!
Air optics
These contacts are awesome no tears and are still visible after 3 weeks
Comfort
This the the most comfortable color Lense I have used. Very happy
1 person found the following review helpful:
Love the color!
I really love the color but they don't really sit on my eyes correctly and I feel like my vision gets foggy with them sometimes.
Delivery and customer service is amazing
Found a new place and orders are delivered immediately
3 people found the following review helpful:
Natural Looking
My Opthamologist recommended this brand as Expressions contacts are no longer available. I wore the green and they looked as if they were my own eyes. Matching my complexion, hair colors and cousins who actually have green eyes. These look fake. I may have to try a brown. This is very disappointing. I've worn Expressions since 2008.
Color Air Optics
Love them! Really makes my green eyes stand out!
4 people found the following review helpful:
Good Service
Love my contacts, came in a timely matter.
3 people found the following review helpful:
Product Information
Do you want to alter the color of your eyes but are worried about the inconvenience of uncomfortable contact lenses? Air Optix Colors may be the perfection option for you Ė they come in an assortment of unique and vibrant colors that will enhance the natural beauty of your eyes, and are sure to remain comfortable from insertion to removal. With a wide variety of vivid and subtle colors to choose from, Air Optix colored contacts can give your eyes the extra touch youíve been looking for.
Air Optix Colors contact lenses are highly breathable, which keeps your eyes feeling comfortable throughout the day. When contact lenses arenít allowed to breathe, your eyes can become irritated and red. However, due to the unique technology in Air Optix contact lenses, each lens allows up to 5 times more oxygen to pass through to your eyes than the common soft contact lens. This way, your eyes will stay looking healthy and white, accentuating the color of your Air Optix contact lenses.
Air Optix Colors contact lenses are designed to be exceptionally durable and protective of your eyes. Designed with a smooth surface technology, Air Optix contact lenses create a layer of moisture and help shield your eyes from harmful deposits that can cause inflammation in your eyes. These monthly contact lenses will continue to provide comfort, protection, and vibrant color, even after a whole month of use.
Regardless of your preference, thereís a pair of Air Optix Colors contact lenses for you. With lens colors ranging from the more vibrant and electrifying to slight and understated, thereís a pair of Air Optix contacts that will suit your look. These colors include blue, green, brown, and hazel, with differing levels of brightness and tone. Their 3-in-1 color technology, including the outer ring for definition, the primary color that creates the change in eye color, and the inner ring that adds depth and brightness, result in a stunning appearance. All Air Optix Colors contact lenses appear as natural colors and will remain comfortable and breathable throughout each wear.
If youíre looking for vibrant, breathable, and comfortable monthly contact lenses, then look no further. Order Air Optix color contacts from Lens.com and receive fast shipping at an unbeatable value. Lens.com ships Air Optix contact lenses and delivers them directly to your door at discount prices.
Product Availability
This item normally ships within 3-5 business days.
Price Comparison
| Our Lowest Price | Retail Price | Your Savings |
| --- | --- | --- |
| $79.99 | $117.00 | $37.01 |
Material Content
67% Polymer (lotrafilcon B)