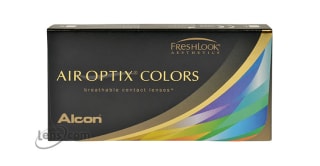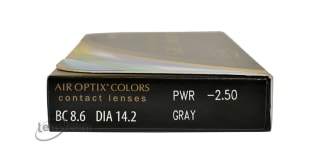 Air Optix Colors
6 Month Supply

$79.99

$117.00 You Save $37.01

Buy 4 boxes for

$54.99 per

box

after rebate

Buy 2 boxes for

$69.99 per

box

after rebate

See Details See Details
Choose Quantity & Enter Prescription for Right and Left Eye
Prescription Information:
OD

right eye

OS

left eye

Brand name

eg. Acuvue

BC / Base Curve

a number between 8.0 and 10.0

DIA / Diameter

a number between 13.0 and 15.0

Power / Sphere / Rx

a number between -20 and +20
In Addition for astigmatic patients:
Cylinder

a number between -4.00 and +4.00

Axis

a number between 0 and 180

Cylinder and Axis are usually separated by a x
For Multifocal, Bifocal lenses or Presbyopia:
"Addition" or "add" is usually preceded by "+" or is listed as "low", "mid" or "high" depending on the lens manufacturer.
MONEY BACK GUARANTEE Complete Details

HASSLE FREE RETURNS Complete Details
Very comfortable
It's my first time use. Very comfortable in my eyes. Lenses look very natural but still noticeably enhance color. I am very pleased with the quality and impression of Air Optix Colors Contact Lenses.
3 people found the following review helpful:
Amazing color tones
Fantastic way to see myself differently!

1 person found the following review helpful:
Great Product - Great Pricing!
I absolutely love ?Brilliant Blue!? I get compliments all the time!
8 people found the following review helpful:
Very comfortable
These lenses are very comfortable, with a beautiful color.
7 people found the following review helpful:
Finally, I have 'pretty eyes' too!
For my whole life I've had Eye Envy: my mom and three girl cousins had the most beautiful huge chrystal green-grey eyes, and I had small, blah boring medium brown. Over the years I tried green lenses that made me look like a movie monster,so unnatural. So I gave up. Then I walk into Costco Optical at the ancient age of 64 (last year) and see a brochure for Air Optix. Could it be? Could there finally actually be NATURAL looking color contacts? Ordered Gemstone Green, but didn't expect much...was I pleasantly surprised! I LOVE THEM. The iris is slightly larger than my own so they give me a wider-eyed, younger look, and the color is gorgeous. (A subtle, completely natural olive green.) I have had many compliments on my eyes ever since but not ONE person has said 'are you wearing green contacts?', which is what used to happen in years past. Not even my hubby noticed, and it's been 10 months! THANK YOU, for a wonderful product and a wish fulfilled!
Quality
The color was perfect and they fit very well.
They are comfortable.
I really like these contacts. You have a more natural look to your eyes with this brand.
I?m blind
I'm blind. My right eye has no vision anymore the contact lenses made my eyes look beautiful and thank you for going the extra step and helping me find a brown color made all the difference thank you so much.
Perfect
No hassel order process & shipping was good yoo. They are exactly what I ordered
Product Information
Do you want to alter the color of your eyes but are worried about the inconvenience of uncomfortable contact lenses? Air Optix Colors may be the perfection option for you Ė they come in an assortment of unique and vibrant colors that will enhance the natural beauty of your eyes, and are sure to remain comfortable from insertion to removal. With a wide variety of vivid and subtle colors to choose from, Air Optix colored contacts can give your eyes the extra touch youíve been looking for.
Air Optix Colors contact lenses are highly breathable, which keeps your eyes feeling comfortable throughout the day. When contact lenses arenít allowed to breathe, your eyes can become irritated and red. However, due to the unique technology in Air Optix contact lenses, each lens allows up to 5 times more oxygen to pass through to your eyes than the common soft contact lens. This way, your eyes will stay looking healthy and white, accentuating the color of your Air Optix contact lenses.
Air Optix Colors contact lenses are designed to be exceptionally durable and protective of your eyes. Designed with a smooth surface technology, Air Optix contact lenses create a layer of moisture and help shield your eyes from harmful deposits that can cause inflammation in your eyes. These monthly contact lenses will continue to provide comfort, protection, and vibrant color, even after a whole month of use.
Regardless of your preference, thereís a pair of Air Optix Colors contact lenses for you. With lens colors ranging from the more vibrant and electrifying to slight and understated, thereís a pair of Air Optix contacts that will suit your look. These colors include blue, green, brown, and hazel, with differing levels of brightness and tone. Their 3-in-1 color technology, including the outer ring for definition, the primary color that creates the change in eye color, and the inner ring that adds depth and brightness, result in a stunning appearance. All Air Optix Colors contact lenses appear as natural colors and will remain comfortable and breathable throughout each wear.
If youíre looking for vibrant, breathable, and comfortable monthly contact lenses, then look no further. Order Air Optix color contacts from Lens.com and receive fast shipping at an unbeatable value. Lens.com ships Air Optix contact lenses and delivers them directly to your door at discount prices.
Product Availability
This item normally ships within 3-5 business days.
Price Comparison
| Our Lowest Price | Retail Price | Your Savings |
| --- | --- | --- |
| $79.99 | $117.00 | $37.01 |
Material Content
67% Polymer (lotrafilcon B)