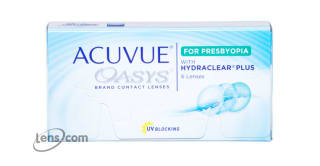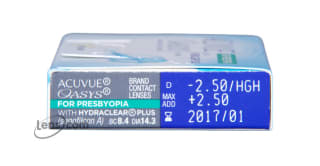 Acuvue Oasys for Presbyopia
3 Month Supply

$47.99

$68.00 You Save $20.01

Buy 4 boxes for

$32.99 per

box

after rebate

Buy 2 boxes for

$37.99 per

box

after rebate

See Details See Details
Choose Quantity & Enter Prescription for Right and Left Eye
Prescription Information:
OD

right eye

OS

left eye

Brand name

eg. Acuvue

BC / Base Curve

a number between 8.0 and 10.0

DIA / Diameter

a number between 13.0 and 15.0

Power / Sphere / Rx

a number between -20 and +20
In Addition for astigmatic patients:
Cylinder

a number between -4.00 and +4.00

Axis

a number between 0 and 180

Cylinder and Axis are usually separated by a x
For Multifocal, Bifocal lenses or Presbyopia:
"Addition" or "add" is usually preceded by "+" or is listed as "low", "mid" or "high" depending on the lens manufacturer.
FREE SHIPPING

MONEY BACK GUARANTEE Complete Details

HASSLE FREE RETURNS Complete Details
Acuvue Oasys for Presbyopia

Reviews
1 person found the following review helpful:
Review good
Lens works perfect !
4 people found the following review helpful:
Been wearing for years
I have been wearing these for years and do not disappoint!

4 people found the following review helpful:
Idk
I like the brand of contacts i get. Very comfortable.
5 people found the following review helpful:
Happy with lenses
Best contacts I have ever worn.
5 people found the following review helpful:
Ache view contacts
Over the years the quality of these contacts seems to be diminishing.
8 people found the following review helpful:
Good 1st Experience
My experience was good.
7 people found the following review helpful:
Great Contact?s/Great Price
These contact's are comfortable, are perfect for my needed prescription and the rebate make them very affordable!
7 people found the following review helpful:
Delivery delay
Be ready to wait 1 month for your lens order
9 people found the following review helpful:
7 people found the following review helpful:
Product Information
There are many changes that come with age. While some are more welcome than others, we still have to deal with the changes as they come. Presbyopia is an example of one of those less-than-desirable changes, but one that we must face nonetheless. As complex as the name sounds, presbyopia is simple condition ó itís the inability to focus on close-up objects that occurs with age. Reading glasses and bifocals were made to help people deal with the condition, but neither of those options are ideal for those who prefer the convenience of contact lenses.
Fortunately, some contact lens manufacturers have expanded their product lines to include a multifocal contact lens option for those with presbyopia. One of the most respected manufacturers, Johnson & Johnson, has a multifocal offering in their Acuvue Oasys line of contact lenses that can sharpen the vision of those with this condition. Acuvue Oasys for Presbyopia allows wearers to see clearly up close, even in low light situations. Theyíre also an incredibly comfortable and highly breathable alternative to bulky, inconvenient reading glasses.
Presbyopia occurs when the lens of the eye, which starts out flexible, begins to harden with age. Due to its inability to properly adjust to focus, objects appear blurry. People most often begin to notice this shift in their vision sometime around the age of 40. From then until about the age of 65, presbyopia will progressively get worse. Those who think they are exempt due to the fact that they have always had perfect eyesight are likely still out of luck, as presbyopia eventually catches up with practically everyone. When presbyopia shows up, you may notice an inability to focus on reading material thatís close up. Others may experience headaches or eye strain while looking at things up close.
Acuvue Oasys Presbyopia contacts are a great solution for those who need vision correction due to presbyopia but who donít want to wear glasses. The lenses are made using STEREO PRECISION TECHNOLOGYô, which allows wearers to see clearly up close, at a distance, and everywhere in between, no matter the lighting condition. Itís also worth mentioning that these lenses feel extraordinarily comfortable. Like the other lenses in the Acuvue product line, Acuvue Oasys for Presbyopia with Hydraclear Plus maintains moisture throughout the day, offers high levels of UV-A and UV-B protection, and is as smooth and breathable as contact lenses can be.
Acuvue Oasys contacts are 1-2 week disposable contact lenses which means they can be worn for up to 2 weeks with daily wear before replacing them. Simply clean daily at night for the next dayís use and replace every two weeks, or wear continuously for up to six days and replace with a fresh pair of contacts upon removal.
If youíre noticing a change in your close-up vision, it may be time to have your eyes checked by an eye care professional. The Acuvue Oasys for Presbyopia design brings the world into focus and keeps your eyes healthy and feeling great. If youíre considering presbyopia contact lenses, be sure to check out Lens.com.
Product Availability
This item normally ships within 1 - 2 business days.
Price Comparison
| Our Lowest Price | Retail Price | Your Savings |
| --- | --- | --- |
| $47.99 | $68.00 | $20.01 |
Material Content
62% Polymer (senofilcon A)