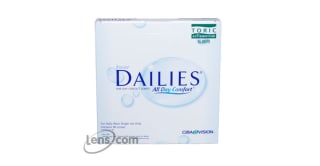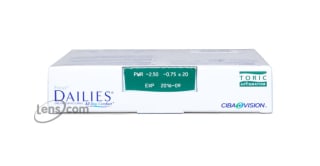 Focus Dailies Toric 90 Pack Contact Lenses
1
Choose Package Size & Savings
2
Choose Quantity & Enter Prescription for Right and Left Eye
Prescription Information:
OD

right eye

OS

left eye

Brand name

eg. Acuvue

BC / Base Curve

a number between 8.0 and 10.0

DIA / Diameter

a number between 13.0 and 15.0

Power / Sphere / Rx

a number between -20 and +20
In Addition for astigmatic patients:
Cylinder

a number between -4.00 and +4.00

Axis

a number between 0 and 180

Cylinder and Axis are usually separated by a x
For Multifocal, Bifocal lenses or Presbyopia:
"Addition" or "add" is usually preceded by "+" or is listed as "low", "mid" or "high" depending on the lens manufacturer.
MONEY BACK GUARANTEE Complete Details

HASSLE FREE RETURNS Complete Details
Focus Dailies Toric 90 Pack Contact Lenses

Reviews
137 people found the following review helpful:
Eyes are moist all day with Focus Dailies Toric
My eyes get all dried up with certain brands of contacts, but not Focus Dailies Toric lenses. Somehow, they are able to keep my eyes moist all day long, no mater what kind of conditions I may be in.
131 people found the following review helpful:
Focus Dailies Toric are excellent
I have loved wearing Focus Dailies Toric contacts from day one. They sustain their wearability all day long, and never make my eyes dry. These are the best contacts out there.

140 people found the following review helpful:
best deal anywhere
Just Bought my Focus Dailies Toric for a ridiculously low price! I never knew that they sold them for so cheap! I can forget going to my doctor for contacts now.

136 people found the following review helpful:
I love Focus Dailies Toric
Focus Dailies Toric are the most convenient, comfortable contact lens out there. I love being able to take them out at night and put in fresh ones every day. My eyes are never dry either, which is a huge benefit.

148 people found the following review helpful:
nice contacts
As I have been a contact wearer my whole life, I have heard about Focus Dailies Toric from a lot of people. After a previous brand had not worked out for me, I gave them a try, and continue to love them to this day.

148 people found the following review helpful:
Awesome
I have ordered from Lens.com for the past 2 years for my son. He wears Focus Dailies Toric. He is a college student. Lots of computer and studying time. He loves these contacts and we couldn't be happier with them or Lens.com.
Focus Dailies Toric 90 pack - #1 Torics
The Focus Dailies Toric contact lenses are the most comfortable contacts for astigmatism there are! I have tried everything from daily disposables to gas permeable contact lenses and these are my favorites. I never have any problems with the Focus Dailies Toric contact lenses and they are always comfortable. I get amazing sight with the Focus Dailies Toric lenses and they are very easy to care for.
Love these Focus Daily Toric contact lenses!
I absolutely have loved these Focus daily toric contact lenses since first getting them 1 1/4 years ago. I love not having to clean them, and my sight with them is quite good. My eye doctor just had me try a newer brand, just to compare, and though I couldn't see a difference between the two, the Focus Daily Toric contact lenses are about half the price of the other one.
Focus Dailies Toric are the perfect lens
I use Ciba Focus Dailies Toric contacts and it is excellent, it does not bother when putting it in and does not feel like you are wearing them, I recommend Focus Dailies Toric contact lenses 100%. It is the perfect lens, Try it.
Product Information
Contact lenses are very popular with those who need vision correction but who don't want to deal with the awkwardness of wearing eyeglasses. Sometimes glasses can get in the way of an active lifestyle, and in other cases a person may just prefer his or her overall look to not include glasses. Either way, contact lenses provide that 'no glasses' option to those who need glasses. People newly diagnosed with astigmatism might assume that contact lenses are not an option when in truth, there are many contact lens choices for people with astigmatism. Focus Dailies Toric contact lenses by CIBA Vision are specifically crafted to correct astigmatism and stay comfortable while doing it.
Astigmatism is a condition that can cause blurry or distorted vision. Rather than being spherically shaped, the lens or cornea of a person with astigmatism is elongated. The atypical shape causes the light coming into the eye to bounce off of the retina in multiple locations instead of in one focused spot — causing fuzzy vision. Fortunately, astigmatism is an extremely common eye condition that can easily be corrected by using corrective lenses and Focus Dailies Toric contacts are a wonderful choice for the task.
Regular contact lenses shift around and rotate on the eye over the course of the day, but toric lenses are different. Toric contact lenses have different zones of correction to correct varying vision needs. Due to the multiple correction needs of those with astigmatism, toric lenses are made to stay relatively stationary on the eye to provide the proper vision correction where needed. Focus Dailies Toric are also made with all-day comfort in mind. These lenses feature AquaRelease, a special blink activated moisturizer — with each blink, moisturizing agents flow out onto the eye surface, keeping eyes comfortable for up to 16 hours at a time.
Rather than being on a monthly, bi-weekly, or even weekly replacement schedule, as many disposable lens wearers are, Focus Dailies Toric wearers get to insert a fresh new pair of contacts each and every day. Daily disposable contact lenses definitely have advantages over other disposable contact lenses, as they require far less time commitment. There's no cleaning needed at the end of the day, as the lenses are simply disposed of and replaced with a brand new pair in the morning. Speaking of no cleaning, wearing daily lenses also means there's no need to buy or store a range of different cleaning products, wetting solutions, and contact lens cases.
If you need toric lenses and are thinking of trying daily contact lenses, Focus Dailies Toric is a great option. Be sure to have a look at the ultra-low prices at Lens.com. With hassle-free returns, 100% money-back satisfaction, and quick shipping, you can't go wrong with purchasing your contact lenses from Lens.com.
Product Availability
This item normally ships within 1 - 2 business days.
Price Comparison
Package Size
Our Lowest Price
Retail Price
Your Savings

30

Pack
(

1

Month Supply)
$22.99
$32.00
$9.01

90

Pack
(

3

Month Supply)
$55.99
$78.00
$22.01
Material Content
31% Polymer (nelfilcon A)