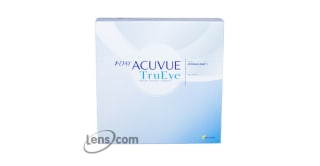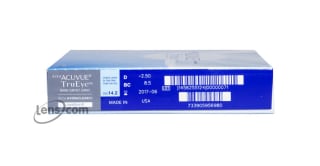 1-Day Acuvue TruEye
3 Month Supply

$84.99

$118.00 You Save $33.01

Buy 4 boxes for

$59.99 per

box

after rebate

Buy 2 boxes for

$64.99 per

box

after rebate

See Details See Details
Choose Quantity & Enter Prescription for Right and Left Eye
Prescription Information:
OD

right eye

OS

left eye

Brand name

eg. Acuvue

BC / Base Curve

a number between 8.0 and 10.0

DIA / Diameter

a number between 13.0 and 15.0

Power / Sphere / Rx

a number between -20 and +20
In Addition for astigmatic patients:
Cylinder

a number between -4.00 and +4.00

Axis

a number between 0 and 180

Cylinder and Axis are usually separated by a x
For Multifocal, Bifocal lenses or Presbyopia:
"Addition" or "add" is usually preceded by "+" or is listed as "low", "mid" or "high" depending on the lens manufacturer.
FREE SHIPPING

MONEY BACK GUARANTEE Complete Details

HASSLE FREE RETURNS Complete Details
1-Day Acuvue TruEye

Reviews
1 person found the following review helpful:
Light Weight Powerful Lens
These lenses are very light and comfortable. They are great for those with allergies.
Light Weight Powerful Lens
These lenses are very light and comfortable. They are great for those with allergies.
Quick and always dependable
I like the fact that lens.com is almost always the best value and the shipping is always quick and painless. Thank you!!
4 people found the following review helpful:
Prices have gone way up
Did not expect such a large increase in prices perhaps even anticipated a reduction.
4 people found the following review helpful:
Block Sweat
overall good except when you go for mid-long run in the heat. The sweat gets in your eyes and sticks to lense so if you are not prepared you will not be able to see clearly at all. I have learned to apply vaseline on eyelids and forehead prior which blocks most of the sweat dripping into eye. i do not recall having this issue with prior daily lenses.
4 people found the following review helpful:
Comfort!
These contacts are so comfortable!
I do suffer from allergies and dry eyes. But having a fresh lens everyday makes a huge difference with the length of wear that I get out of these lenses!!
4 people found the following review helpful:
Soon to be discontinued?
I've been hearing these lenses were to be discontinued. I'm glad Lens.com continues to have these lenses as they have served me well for years.
4 people found the following review helpful:
Easy ordering and quick delivery.
So glad I could get my contacts so quickly
5 people found the following review helpful:
Quick and reliable
Awesome to have new lens each day. I know when I not only are they at an awesome price but are quick to receive.
3 people found the following review helpful:
Product Information
As any wearer of disposable contact lenses knows, there's nothing better than that first day of wearing a fresh pair of lenses. You go through the day barely noticing you have your lenses in, and you don't have to rely on rewetting drops for comfort. Sadly, after a few days your lenses become noticeable again and you find yourself longing for that "new lens" feeling. Rather than live with the irritation associated with wearing lenses that have worn down or accumulated some build-up, you can have that clean lens feeling every single day with 1-Day Acuvue TruEye.
1-Day Acuvue TruEye contact lenses are daily disposable contact lenses, meaning they're meant to be worn for one day and then disposed of at the end of the day. In this way, you get to enjoy fresh lenses day after day. Even better, there's no time spent cleaning and rinsing lenses. You simply insert them at the beginning of the day and toss them at the end. On top of these benefits, wearers of daily disposable contact lenses avoid the hassle of buying all the usual contact lens extras such as solution, saline, and moisturizing eye drops.
1-Day Acuvue TruEye contact lenses are designed with ultimate comfort in mind. The lenses are made from an ultra-comfortable silicone hydrogel material. This material is highly breathable and has a 46 percent water content. Many other lenses on the market are made from a plastic hydrogel material. While these types of lenses are a step up from the contacts of the past, silicone hydrogel lenses are far more breathable and retain moisture better than their plastic hydrogel counterparts. The material used in TruEye contacts also incorporates a moisturizing agent right into the lens, which helps to keep lenses fresh and your eyes comfortable all day long.
The silicone hydrogel used in Acuvue 1-Day TruEye is also incredibly smooth. This texture allows tears to spread evenly over the surface of the lenses, making them feel like you're wearing no lenses at all. In addition, as with other Acuvue contact lenses, 1-Day Acuvue TruEye contacts protect eyes from harmful UV-A and UV-B rays. In fact, they have the highest levels of UV-A and UV-B protection currently available in daily wear contact lenses. Although Acuvue TruEye contacts include UV protection, it's advised that you continue to wear sunglasses that provide UV protection as contact lenses don't completely cover the surface of the eye.
If you currently wear monthly, bi-weekly, or weekly disposable contact lenses and are suffering from the eye discomfort that comes from reduced breathability, insufficient moisture, or irritating build-up, then it might be time to give a daily disposable contact lens a try. 1-Day Acuvue TruEye offers a wide range of comfort benefits which keep eyes looking and feeling healthy. When you decide to give these lenses a try, be sure to check out the prices at Lens.com.
Product Availability
This item normally ships within 1 - 2 business days.
Price Comparison
| Our Lowest Price | Retail Price | Your Savings |
| --- | --- | --- |
| $84.99 | $118.00 | $33.01 |
Material Content
54% Polymer (narafilcon A)