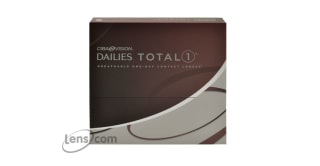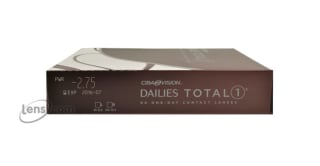 Dailies Total 1 Contact Lenses
3 Month Supply

$81.99

$133.00 You Save $51.01

Buy 4 boxes for

$61.99 per

box

after rebate

Buy 2 boxes for

$66.99 per

box

after rebate

See Details See Details
Choose Quantity & Enter Prescription for Right and Left Eye
Prescription Information:
OD

right eye

OS

left eye

Brand name

eg. Acuvue

BC / Base Curve

a number between 8.0 and 10.0

DIA / Diameter

a number between 13.0 and 15.0

Power / Sphere / Rx

a number between -20 and +20
In Addition for astigmatic patients:
Cylinder

a number between -4.00 and +4.00

Axis

a number between 0 and 180

Cylinder and Axis are usually separated by a x
For Multifocal, Bifocal lenses or Presbyopia:
"Addition" or "add" is usually preceded by "+" or is listed as "low", "mid" or "high" depending on the lens manufacturer.
FREE SHIPPING

MONEY BACK GUARANTEE Complete Details

HASSLE FREE RETURNS Complete Details
Dailies Total 1 Contact Lenses

Reviews
Cannot feel anything, paper thin
Because they are so thin a little harder to work with but well worth the effort.
Comfortable and perfect
I have made my switch to dailies a long time ago. I can feel a difference with the comfort and feel of them. I 100% recommend them to everyone I know. 10/10
great product
great product, worth the price. Fast shipping
Delivered as promised.
Good price but was surprised by the $35+ service charge. Was still less expensive than the eye doctor though.
Love
Received them quickly at a great price and no hassle
2 people found the following review helpful:
Great brand.
Very comfortable to wear. Love them.
Perfect fit
They're the same as from my doctor's office and they shipped faster than expected
Great product and service
Great lenses, easy to order and quick delivery
Comfortable
Thirst contacts restore needed moisture to my eyes making them very comfortable.
Product Information
These days, some of the most advanced consumer products are designed to feel like ďnothingĒ. From running shoes to smartphones, most manufacturers are trending towards making things smaller, more ergonomic, and less intrusive. In the case of contact lenses however, the feeling of ďnothingĒ might be biggest game changer yet. Dailies Total 1 are contact lenses that will change the way you feel about contact lens wear and comfort. With its revolutionary water gradient design, these contacts are quickly becoming favorites among those who seek all-day moisture and comfort.
Dailies Total 1 are made by Alcon, one of the premier names in the eye health industry. These lenses are the first and only contacts with a water gradient composition. Imagine a lens designed with different levels of moisture and with the ultimate wearing experience in mind. This is made possible by creating the lens with around 80 percent moisture at the innermost layer and nearly 100 percent moisture at the outermost layer. The comfort of such a high moisture content lens is practically unimaginable to those who are used to wearing regular daily disposable contact lenses.
As any regular contact lens wearer knows, breathability is another major factor in eye comfort and eye health. With breathability being about 6 times higher than most popular disposable lenses on the market, Dailies Total 1 is a clear cut above the rest. Even better, Dailies Total 1 by Alcon provides a high level of breathability across the entire lens surface. These lenses are so comfortable, in part, because the core of Dailies Total 1 contacts is made of silicone hydrogel. With a 33 percent water content, a high amount of oxygen passes through to the eye. More oxygen means eyes stay healthier, look clearer, and feel more comfortable.
Another big plus with Dailies Total 1 contact lenses is that you donít have to purchase a range of cleaning solutions or spend time disinfecting and rinsing these lenses each day. Dailies Total 1 are daily contact lenses, which means you simply insert a pair of lenses in the morning, wear them throughout the day, and toss them at night. You get to start each and every day with a fresh new pair of Dailies Total 1 contact lenses. This routine simplifies contact lens wear and keeps eyes healthier by preventing bacteria and protein deposits from accumulating on the lens.
In studies, Dailies Total 1 contacts were preferred an astonishing 13:1 over testersí regular lenses, and 9 out of 10 testers felt like they werenít wearing contacts at all. So, if youíre ready to give Dailies Total 1 a try, then head over to Lens.com. We actively check our competitorís prices so that we can provide our loyal customers the best value in contact lenses. With hassle-free returns, 100% money-back customer satisfaction, and quick shipping, you canít go wrong with purchasing your contact lenses from Lens.com.
Product Availability
This item normally ships within 4-7 business days.
Price Comparison
| Our Lowest Price | Retail Price | Your Savings |
| --- | --- | --- |
| $81.99 | $133.00 | $51.01 |
Material Content
67% Polymer (delefilcon A)