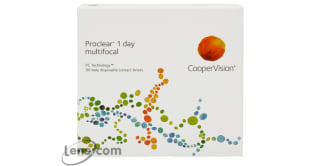 Proclear 1 Day Multifocal 90PK
3 Month Supply

$93.99

$125.00 You Save $31.01

Buy 4 boxes for

$70.95 per

box

after rebate

Buy 2 boxes for

$75.95 per

box

after rebate

See Details See Details
Choose Quantity & Enter Prescription for Right and Left Eye
Prescription Information:
OD

right eye

OS

left eye

Brand name

eg. Acuvue

BC / Base Curve

a number between 8.0 and 10.0

DIA / Diameter

a number between 13.0 and 15.0

Power / Sphere / Rx

a number between -20 and +20
In Addition for astigmatic patients:
Cylinder

a number between -4.00 and +4.00

Axis

a number between 0 and 180

Cylinder and Axis are usually separated by a x
For Multifocal, Bifocal lenses or Presbyopia:
"Addition" or "add" is usually preceded by "+" or is listed as "low", "mid" or "high" depending on the lens manufacturer.
MONEY BACK GUARANTEE Complete Details

HASSLE FREE RETURNS Complete Details
Proclear 1 Day Multifocal 90PK

Reviews
9 people found the following review helpful:
Great Service
Kept informed on order status, received shipment on time, competitive pricing.....
9 people found the following review helpful:
Impressed with the speed
It was easy and exceptionally fast.
12 people found the following review helpful:
Versitile Contact Lenses
The best thing I love about these contacts lenses, is I can read the dashboard on my car while driving, and I can also see the time on watch. In a pinch I can read some smaller print, but it is not perfect for me. I still have trouble seeing small print, or my computer, iPhone or iPad
12 people found the following review helpful:
Great products
I love the lenses, but the price is way too high.
16 people found the following review helpful:
sales girl was very helpful
they got them delivered in timely manner
15 people found the following review helpful:
Comfortable
I find that PROCLEAR is the most comfortable for me. I've tried other brands with same Rx, but found that Proclear works the best for me and have been requesting it by name to my eye doctor for several years (until they recently closed). I've never ordered online before, but I'm glad I found what I need at Lens.com.
16 people found the following review helpful:
Pro clear multi focal
I've used these for years, and they work great!
16 people found the following review helpful:
Comfortable lenses
Love my lenses, they are comfortable and affordable.
16 people found the following review helpful:
Proclear
They are comfortable...
16 people found the following review helpful:
Product Information
Presbyopia is one of the challenges that comes with getting older. If youíre unfamiliar with the term, it refers to the change in vision that happens to people typically around the age of 40. The condition makes objects that are close up difficult to focus on, especially when lighting is low. The reason for the vision shift is that the formerly flexible lens of the eye and surrounding tissues become stiffer over time. The harder lens is unable to bend to focus on objects that are up close. Fortunately, there are contact lenses available to correct his kind of focus issue.
Multifocal lenses correct vision at all distances so that wearers can go about their day without the hassle or inconvenience of glasses. Of course, wearing contact lenses has its challenges too; but many of the inconveniences can be avoided by choosing daily disposable contact lenses. Proclear 1 Day Multifocal are made to offer all the perks of contact lenses without bogging wearers down with the upkeep. With Proclear Multifocal 1 Dayís aspheric center-near design, vision is sharp at all distances. Unlike regular lenses which have the same curvature over the entire surface of the lens, aspheric lenses incorporate different curvatures to better focus the light coming into the eye. This higher level of focus results in clearer vision. Proclear 1 Day Multifocal contact lenses also provide near boost for the non-dominant eye to enhance close up vision and intermediate vision.
Another common challenge of aging eyes is eye dryness. Luckily, CooperVision has taken care of that in their Proclear Multifocal daily lenses. Using CooperVisionís exclusive PC Technology, lenses retain their moisture throughout the entire day. The material used (omafilcon A), attracts moisture and locks it in for lasting comfort. Proclear 1 Day Multifocal contact lenses hold onto an amazing 96 percent moisture over a 12 hour period.
†
Adding to the comfort level of Proclear 1 Day Multifocal contacts is the fact that each pair is only worn for one day. Weekly, bi-weekly, and monthly disposable contacts have an extended period of time for irritants to accumulate on lenses. With daily contact lenses, like Proclear 1 Day Multifocal, there is little time for build-up to occur and irritate eyes. Lenses are inserted in the morning and then tossed at the end of the day. The next day they are replaced with a fresh pair. This routine is especially good news for allergy sufferers and those who struggle with extra protein build-up.
If youíre looking for multifocal contact lenses that have all the bases covered, then Proclear Multifocal 1 Day may be the lenses for you. Quality lenses donít have to come at a steep price either when you shop on Lens.com. We make it our mission to stay on top of competitor prices so you donít have to. You can be sure you are getting the best value in contact lenses. With hassle-free returns, 100% money-back customer satisfaction, and quick shipping, you canít go wrong with purchasing your contact lenses from Lens.com.
Product Availability
This item normally ships within 1 - 2 business days.
Price Comparison
| Our Lowest Price | Retail Price | Your Savings |
| --- | --- | --- |
| $90.95 | $125.00 | $34.05 |
Material Content
40% Polymer (omafilcon A)