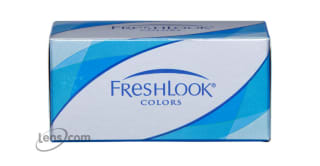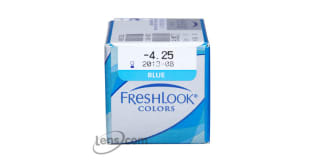 FreshLook Colors
3 Month Supply

$71.99

$95.00 You Save $23.01

$65.99 Buy 4+ per eye $95.00 You Save $29.01
Choose Quantity & Enter Prescription for Right and Left Eye
Prescription Information:
OD

right eye

OS

left eye

Brand name

eg. Acuvue

BC / Base Curve

a number between 8.0 and 10.0

DIA / Diameter

a number between 13.0 and 15.0

Power / Sphere / Rx

a number between -20 and +20
In Addition for astigmatic patients:
Cylinder

a number between -4.00 and +4.00

Axis

a number between 0 and 180

Cylinder and Axis are usually separated by a x
For Multifocal, Bifocal lenses or Presbyopia:
"Addition" or "add" is usually preceded by "+" or is listed as "low", "mid" or "high" depending on the lens manufacturer.
MONEY BACK GUARANTEE Complete Details

HASSLE FREE RETURNS Complete Details
Ordered new contacts
I was very satisfied with my whole experience
2 people found the following review helpful:
defective lens
I switched from 1-800 Contacts to your company overall I am very satisfied, however, a few times the box would have at least 1 defective lens. It wasn't until here lately that I decided to send them back and you guys have been awesome with the returns. Thank you!
4 people found the following review helpful:
Had my contacts that I needed
Everything went well. Had the contacts I needed. Only thing is I thought the shipping charge was a bit much.
4 people found the following review helpful:
Fast & Great Service
Fast & Great service love them
How do I feel with my contacts
The color exactly fits my complexion, and the fit is very comfortable.
Fast and correct delivery
This product is great if you don't like the dark circle around the colored contacts-make your pupils seem a tiny bit larger.
Contact fresh look
Lens.com was awesome! They had to order contact as they do not keep them in stock every box is defective from distributor. Went elsewhere and ordered a different kind. But lens. Com did replace 1 box that one is defective also so we just did not bother with it.
39 people found the following review helpful:
Very comfortable
They make my eyes look very natural.
39 people found the following review helpful:
will not last all day with out irritation.
For me they are not good for all day. They irritate my eyes with out fail.
65 people found the following review helpful:
Can't Beat IT
Ordering contacts is seamless with Lens.com. The savings is undeniably fantastic. When I was going to order through my Doctor's office I was given an outrageous price and told there were no coupons available. You don't need a coupon with Lens. Their prices are lower even if you had one!. It's not only about the price, it's also the about service. If I had a question it was answered immediately. Delivered right to my door. Without a doubt I will be a return customer over and over again. Thank-you
Product Information
Playing with color is captivating. Playing with eye color is even more intriguing. Whether you're in love with the natural shade of your eyes or have always wondered what you would look like with a different hue, having the option to change your eye color can be exciting. While there are plenty of colored contact lenses available, many people also need contact lenses that can correct nearsightedness or farsightedness. With FreshLook Colors, you can have the "wow" factor and sharper vision all in one convenient package.
Nature has created a spectacular spectrum of eye colors, but it's always nice to change things up. Similar to when people dye their hair blonde to see if blondes really do have more fun, changing your eye color can make you feel like a different person. With four alluring shades (blue, green, hazel and violet) to choose from, you can really keep people guessing. Made by Alcon, an undeniable leader in vision correction, you can trust that FreshLook Colors contacts are not just a fashion accessory. While they come in a range of striking shades, these lenses are also constructed to give you clear sight. You can order FreshLook colored contacts in prescriptions ranging from +6.00 to -8.00.
Comfort is a huge concern for contact lens wearers. After all, what's the point of wearing a great looking pair of contacts if your eyes are bloodshot and uncomfortable? With these lenses you don't have to worry about that sandpaper feeling at the end of the day. FreshLook color contact lenses boast an impressive 55 percent water content. No matter the activity, these lenses will keep eyes comfortable from morning until night. FreshLook Colors are 1-2 week disposable lenses, meaning that they can be worn daily for 14 days and then replaced with a fresh pair. These contacts need to be removed and cleaned at the end of each day to keep lenses fresh. To make insertion even easier, Alcon created these lenses with a special indicator to let you know when they're inside out.
If you're looking to add a little something extra to your current look, then colored contacts may be just the thing to take your personal style to the next level. In fact, with the prices at Lens.com, you can afford to keep changing your eye color day after day. If you want to get quality contact lenses from premium brands offered at the same price as cheap contact lenses on the market, then Lens.com is the place to look.
Product Availability
In stock - Orders normally ship within 1-2 Days
Price Comparison
| Our Lowest Price | Retail Price | Your Savings |
| --- | --- | --- |
| $65.99 | $95.00 | $29.01 |
Material Content
45% Polymer (phemfilcon A)