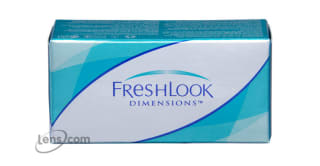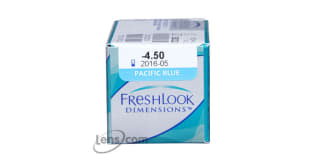 FreshLook Dimensions
3 Month Supply

$71.99

$96.00 You Save $24.01

$66.99 Buy 2+ per eye $96.00 You Save $29.01
Choose Quantity & Enter Prescription for Right and Left Eye
Prescription Information:
OD

right eye

OS

left eye

Brand name

eg. Acuvue

BC / Base Curve

a number between 8.0 and 10.0

DIA / Diameter

a number between 13.0 and 15.0

Power / Sphere / Rx

a number between -20 and +20
In Addition for astigmatic patients:
Cylinder

a number between -4.00 and +4.00

Axis

a number between 0 and 180

Cylinder and Axis are usually separated by a x
For Multifocal, Bifocal lenses or Presbyopia:
"Addition" or "add" is usually preceded by "+" or is listed as "low", "mid" or "high" depending on the lens manufacturer.
MONEY BACK GUARANTEE Complete Details

HASSLE FREE RETURNS Complete Details
FreshLook Dimensions

Reviews
FAST SHIPPING
I have used lens.com for awhile now and they are always great at delivery my product in a timely manner.
1 person found the following review helpful:
Love my contacts
Product came quickly. And like them!
3 people found the following review helpful:
4 people found the following review helpful:
Ease of ordering
Ordering online is great no hassle and order is shipped quickly.
3 people found the following review helpful:
excellent customer service and fast shipping
love their customer service and fast shipping, best prices online
7 people found the following review helpful:
Excellent service
Always fast service. Convenient during the Covid crisis
7 people found the following review helpful:
Len.Com Prices
I researched many companies on line before I placed my order. Len.com had the best prices by far of any company I researched. Their service is quick, convenient, and easy. My lens arrived within one week and I received the best price on line that I could find. I paid at least $25.00 less per box than other companies. Lens.Com is the company I will be ordering from now and in the future. Thank you so much Lens.Com! I am one very satisfied customer!
7 people found the following review helpful:
Great product & fast service!
These contacts are comfortable and affordable!
Thank you Lens.com!
7 people found the following review helpful:
great lenses
these are great lenses..almost as good as the focus lenses I used to get..which they discontinued.. and speaking of discontinued, my eye doc tells me that these are meeting the same fate. these are contacts that I love and manufacturers I love to hate
7 people found the following review helpful:
Product Information
With Wesley Jessen's FreshLook Dimensions contact lenses, changing your personal appearance and enhancing your eye color has never been more comfortable, natural-looking, or breathtaking. From the moment you insert the lenses, the outstanding 55 percent water content of FreshLook contact lenses keep your eyes feeling fresh and moist for a full day of wear. Whether you're spending hours staring at a computer screen, enjoying the outdoors on a blustery day, or out on the town for a fun-filled evening, FreshLook lenses are guaranteed to stay comfortable from morning to night.
Under the recommendations and instructions of your eye-care professional, FreshLook Dimensions Colors can be worn for up to six days and nights of continuous wear, affording you the unique luxury of wearing a contact lens that truly fits in with your busy lifestyle. Remove and clean these weekly contact lenses each night before bed, and insert a new pair of FreshLook Dimensions contacts on the recommended weekly schedule.
FreshLook Dimensions takes color lenses to the next level by fusing a flattering charcoal starburst pattern with the original FreshLook colors to create a look thatís sure to capture the attention and admiration of anyone who looks into your eyes. By adding extra depth and dimension to your irises, FreshLook Dimensions enhance your eyes in an instant by making them appear bigger and brighter than ever before. Wearers of FreshLook Color contact lenses can choose from three gorgeous and unique colors inspired by the pristine beauty of the ocean: Caribbean Aqua, Pacific Blue, and Sea Green.
Despite the dramatic enhancement the lenses create, they blend naturally with your eyes so no one would guess you're wearing colored contacts. These FreshLook lenses make this possible because their tints are translucent rather than opaque for results that are realistic and individual to the lens wearer. With this feature in mind, they are specifically designed for lighter-colored eyes, including those with gray and hazel irises.
As beautiful as they are to wear, FreshLook Dimensions color contact lenses are not just for cosmetic use. Available in powers ranging from +6.00 to -8.00, they are available for prescription and non-prescription lens wearers, which allows wearers to enjoy visual acuity, the convenience and proven comfort of FreshLook lenses, and a striking appearance Ė even if vision correction isnít necessary. Additionally, these lenses are now manufactured with a UV absorber to help protect your eyes from harmful UV rays.
If you want to change your look in an innovative, unexpected, and exotic way that can be easily incorporated into your daily routine, try FreshLook Dimensions color contact lenses. Since we have over 12 million contact lenses in stock, weíll immediately fill your order with your exact prescription Ė in fact, most orders are shipped within 48 hours of purchase!
Product Availability
This item normally ships within 1 - 2 business days.
Price Comparison
| Our Lowest Price | Retail Price | Your Savings |
| --- | --- | --- |
| $66.99 | $96.00 | $29.01 |
Material Content
45% Polymer (phemfilcon A)