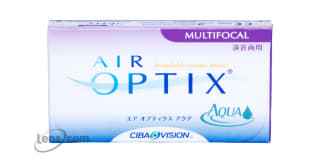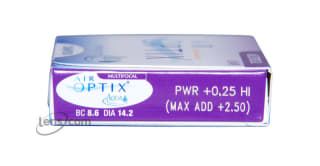 Air Optix Aqua Multifocal
6 Month Supply

$46.99

$100.00 You Save $53.01

Buy 4 boxes for

$31.99 per

box

after rebate

Buy 2 boxes for

$39.49 per

box

after rebate

See Details See Details
Choose Quantity & Enter Prescription for Right and Left Eye
Prescription Information:
OD

right eye

OS

left eye

Brand name

eg. Acuvue

BC / Base Curve

a number between 8.0 and 10.0

DIA / Diameter

a number between 13.0 and 15.0

Power / Sphere / Rx

a number between -20 and +20
In Addition for astigmatic patients:
Cylinder

a number between -4.00 and +4.00

Axis

a number between 0 and 180

Cylinder and Axis are usually separated by a x
For Multifocal, Bifocal lenses or Presbyopia:
"Addition" or "add" is usually preceded by "+" or is listed as "low", "mid" or "high" depending on the lens manufacturer.
MONEY BACK GUARANTEE Complete Details

HASSLE FREE RETURNS Complete Details
Air Optix Aqua Multifocal

Reviews
Good contacts
Meets all my needs and are easy to order and fairly quick delivery.
I can see!!
Title says it! Order fulfillment was prompt and shipping was swift. Lens are perfect and I can see. Will be buying more when needed. Thanks Lens.com!!
Very comfortable
The lenses do not dry out my eyes. Very comfortable to wear all day.
Great multifocal lenses
I have tried a couple of other multifocal lenses, but none compare to the Air Optix Aqua. These have worked really wonderful for me.
Thanks
As a retiree, I have limited resources and I THANK YOU LENS for helping me fulfill my contact lens RX!
Price and services
Fast services and better deal.
Very Fast Delivery
I was out of contacts, and needed an emergency refill. Covid-19 caused a delay in seeing my eye-doctor, and my prescription had expired.
So, my eye-doc gave me a temporary prescription, and Lens.com rushed my order.
Thanks
great contact lens
So happy to have found same lens as retail store at a lesser price.
2 people found the following review helpful:
Great service
Ordered and had in three days. And half the price of dr office!
1 person found the following review helpful:
Product Information
As you age, so do your eyes. Over time, the lenses of your eyes begin to lose elasticity and thicken, which makes focusing on nearby objects more and more difficult. You may find yourself reading restaurant menus at armís length, or experiencing eyestrain, fatigue, or headaches while texting or sewing a button back onto a shirt. You may think this is caused by nearsightedness or astigmatism, but like you, millions of people around the world are experiencing the same thing Ė presbyopia, or the inability to focus on close-up objects.
Fortunately, presbyopia doesnít require a pair of reading glasses or bulky bifocals. Thanks to advancements in health and science, nearly every vision impairment Ė presbyopia included Ė can be resolved with a pair of multifocal contact lenses. Especially designed for individuals with this condition, CIBA Vision's Air Optix Multifocal contact lenses can provide better vision for a wide range of activities. Thanks to their unique Precision Profile, they function naturally with your eyes to return clear vision to you. Whether youíre reading the fine print on a medicine bottle or a road sign that is yards ahead, your visual transitions will also be smooth and seamless with consistent acuity.
With an 86 percent first-fit success rating, Air Optix Aqua Multifocal contacts ensure ultimate comfort for emerging presbyopia. Their incredible breathable design features moisture and oxygen components, which keep your eyes healthy and comfortable throughout wear. The patented surface treatment of Air Optix Aqua Multifocal contact lenses is resistant to protein deposits and protects against debris, so your eyes stay cleaner and free from irritation. These lenses are also available in a wide range of powers, from +6.00D to -10.00D.
In addition to improved vision, convenience is yours with Air Optix Aqua Multifocal monthly contact lenses. Eye care professionals recommend daily or extended wear for a maximum of six nights if you do not want to remove and clean your lenses every night. These instructions ensure limited complications and ideal visual correction from your lenses. Additionally, Air Optix Aqua Multifocal contacts are tinted to facilitate easier handling of your contacts without changing the color of your eye when applied. Finally, a 3 ADD system is designed to fit individuals at different stages of presbyopia, which allows you to wear your lenses for a longer amount of time.
If you are beginning to experience the symptoms of presbyopia and want to regain the clear close-up sight you remember without resorting to reading glasses or bifocals, try Air Optix Aqua Multifocal contact lenses. If you want to get quality contact lenses from premium brands offered at the same price as cheap contact lenses, then Lens.com is the place to look.
Product Availability
This item normally ships within 1 - 2 business days.
Price Comparison
| Our Lowest Price | Retail Price | Your Savings |
| --- | --- | --- |
| $46.99 | $100.00 | $53.01 |
Material Content
67% Polymer (lotrafilcon B)