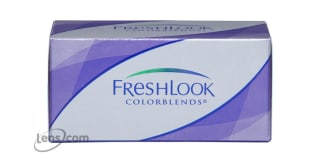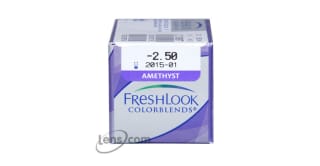 FreshLook ColorBlends
3 Month Supply

$72.99

$86.00 You Save $13.01

Buy 4 boxes for

$57.99 per

box

after rebate

Buy 2 boxes for

$62.99 per

box

after rebate

See Details See Details
Choose Quantity & Enter Prescription for Right and Left Eye
Prescription Information:
OD

right eye

OS

left eye

Brand name

eg. Acuvue

BC / Base Curve

a number between 8.0 and 10.0

DIA / Diameter

a number between 13.0 and 15.0

Power / Sphere / Rx

a number between -20 and +20
In Addition for astigmatic patients:
Cylinder

a number between -4.00 and +4.00

Axis

a number between 0 and 180

Cylinder and Axis are usually separated by a x
For Multifocal, Bifocal lenses or Presbyopia:
"Addition" or "add" is usually preceded by "+" or is listed as "low", "mid" or "high" depending on the lens manufacturer.
MONEY BACK GUARANTEE Complete Details

HASSLE FREE RETURNS Complete Details
FreshLook ColorBlends

Reviews
12 people found the following review helpful:
Not impressed
Find that the quality and feel are not the same as in the past. Will not purchase in future looking for another company to provide.
8 people found the following review helpful:
Very great customer service
I like the service havent recieved product as yet
10 people found the following review helpful:
Internet
I love that I can order my contacts for a cheaper price than at my local optical store and they come right to my house
10 people found the following review helpful:
great price
love my new contacts
10 people found the following review helpful:
Love this color!!
I have been wearing Freshlook ColorBlends for several years. This is my favorite color by far, the sterling grey. The prices are affordable and shipping is usually pretty quick.
9 people found the following review helpful:
Great service
Product is awesome !
9 people found the following review helpful:
Most awesome color ever
The color of these lenses is phenomenal! They're also very comfortable and are not prone to drying out in my eyes. You just have to be extremely gentle when handling them because they are fragile.
9 people found the following review helpful:
Beautiful Blue Eyes
I love that I don't have to take readers on and off all day anymore! I have one contact that is +1.5 and the other has no prescription -o.oo, it took me about a week for my eyes to adjust but now I ❤️ the True Sapphire Colorblends they Really Enhance my once Blue eyes that have turned more Hazel these Days. So Easy to Order too! Thanks lens.com
8 people found the following review helpful:
Quick service
Correct RX sent in a timely manner with a competitive price as well.
10 people found the following review helpful:
Product Information
If youíve ever thought about subtly enhancing your eye color, you can finally get the eye color youíve always wanted with FreshLook ColorBlends contact lenses. Since ColorBlend contacts take the beauty of your own eyes and subtly change their color, the results are so natural-looking that nobody will ever guess youíre wearing contacts. Wesley Jessenís FreshLook ColorBlends contacts can give your dull eyes a stunning and more appealing appearance without detracting from their natural beauty, and are available in a wide range of beautiful colors.
By using a patented 3-in-1 technology, three different colors are blended into one, allowing your eyes to take on a new, deep color while retaining their natural appearance. Some colors, such as FreshLook ColorBlends Pure Hazel or FreshLook Sterling Gray (Grey) contacts will subtly change the color of your eyes, while others, such as the gemstone green contacts, will create a more dramatic change. Regardless of the specific color you choose, these soft contact lenses will keep your vision sharp all day without discomfort or irritation.
FreshLook ColorBlends are available in a variety of new dramatic shades, including Sterling Gray (Grey), Brilliant Blue, and Gemstone Green. If youíre interested in taking a more subdued approach, choose from one of the classic ColorBlends hues, including honey, gray (grey), amethyst, pure hazel, or brown. Unlike other inexpensive colored contact lenses, ColorBlend contacts retain the stylish appearance and comfortable fit associated with some of the more exclusive brands on the market, and are available for individuals with either light or dark-colored eyes.
These disposable lenses are available with power [0.00], making it easy for those with perfect vision to change, enhance, or illuminate their natural eye color without vision correction. Since contact lenses are prescription medical devices, even those with perfect vision must visit an optometrist before purchasing. ColorBlend contacts contain 55 percent water and are designed to be bi-weekly contact lenses, meaning the lenses should be removed and cleaned each night for two weeks. To avoid irritation and discomfort, follow the wear and replacement schedule and lens care instructions provided by your eye doctor.
Since FreshLook ColorBlends are available to those with astigmatism and to those with perfect vision, theyíre a great addition to any wardrobe. When your eyes need a splash of vibrant, natural color, FreshLook ColorBlends give you everything youíre looking for in a pair of soft, comfortable contact lenses. Take advantage of our discount prices by ordering your ColorBlend contacts from Lens.com today!
Product Availability
In stock - Orders normally ship within 1-2 Days
Price Comparison
| Our Lowest Price | Retail Price | Your Savings |
| --- | --- | --- |
| $72.99 | $86.00 | $13.01 |
Material Content
45% Polymer (phemfilcon A)