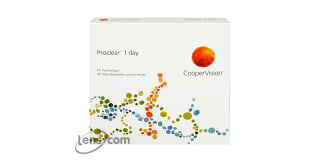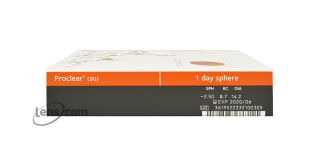 Proclear 1 Day
3 Month Supply

$49.99

$93.00 You Save $43.01

Buy 4 boxes for

$29.99 per

box

after rebate

Buy 2 boxes for

$42.49 per

box

after rebate

See Details See Details
Choose Quantity & Enter Prescription for Right and Left Eye
Prescription Information:
OD

right eye

OS

left eye

Brand name

eg. Acuvue

BC / Base Curve

a number between 8.0 and 10.0

DIA / Diameter

a number between 13.0 and 15.0

Power / Sphere / Rx

a number between -20 and +20
In Addition for astigmatic patients:
Cylinder

a number between -4.00 and +4.00

Axis

a number between 0 and 180

Cylinder and Axis are usually separated by a x
For Multifocal, Bifocal lenses or Presbyopia:
"Addition" or "add" is usually preceded by "+" or is listed as "low", "mid" or "high" depending on the lens manufacturer.
FREE SHIPPING

MONEY BACK GUARANTEE Complete Details

HASSLE FREE RETURNS Complete Details
Great service
Good product and dependable service.
Good lenses
Have been wearing them for years. They're comfortable and I've had no issues.
Time Line
Contracts came quick from the day I ordered them!
4 people found the following review helpful:
Reliable
Great product! Thank you.
5 star- fast and reasonably priced
They are a perfect fit and tend to last a little longer
Perfect fit.
They last long and don't get irritated like other contacts.
comfort
I love the Proclear lens ,They don't dry my eyes out
Great! Great! Great!
Great product at great price!
Excellent customer service!
Product Information
For contact lens wearers, end-of-the-day eye discomfort is an all too common problem, and for many, the irritation starts even before the day is over. It can be very distracting to have eye discomfort while trying to carry on with day-to-day activities. The dryness, blurriness, itching, soreness, and resulting issues, such as headaches and eye strain, can really become a significant burden. There is a solution though, and it doesnít have to involve switching to glasses. Proclear 1 Day contacts provide all day comfort along with remarkable vision and clarity- theyíre the only daily disposable contact lenses approved by the FDA for improving the comfort levels of those who experience discomfort or dryness during normal lens wear.
Imagine wearing a pair of contact lenses that feel as good at the end of the day as they did when you put them in. Thatís the kind of comfort offered by Proclear 1 Day daily contact lenses. CooperVision, a very dependable name in eye care, has created a lens from a material that draws in and latches onto moisture. This process helps keep the lens properly situated on the eye throughout the day and provides unprecedented comfort and clear, sharp vision. In fact, CooperVision Proclear 1 Day lenses hold onto 96 percent of moisture for up to 12 hours at a time.
Proclear daily contacts also feature an aspheric design. Unlike traditional contact lenses which have an even curvature over the entire surface, an aspheric lens has varying amounts of curvature on different areas of the lens. This updated design better focuses the light entering the eye, resulting in sharper vision for the wearer. While the aspheric construction can benefit anyone in need of vision correction, people with corneal aberrations may find this design particularly helpful in achieving clear vision.
As with other daily contact lenses, Proclear daily contacts are meant to be used for a single day. Instead of removing and cleaning the lenses at the end of the day, simply throw them away and insert a brand new pair the next morning. Having new lenses each day helps keep eyes healthy and enhances breathability, as the lenses are not worn long enough to develop a layer of eye irritating protein build-up.
When youíre ready to give daily contacts a try, donít be put off by presumed high costs. Lens.com offers all the best daily contacts brands for the same prices as cheap contact lenses found on other sites. At Lens.com, weíre constantly checking competitorís prices so we can bring you the lowest prices on brand name contact lenses, Proclear 1-Day included.
Product Availability
This item normally ships within 2-4 business days.
Price Comparison
| Our Lowest Price | Retail Price | Your Savings |
| --- | --- | --- |
| $49.99 | $93.00 | $43.01 |
Material Content
40% Polymer (omafilcon A)