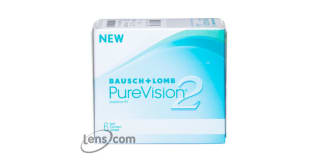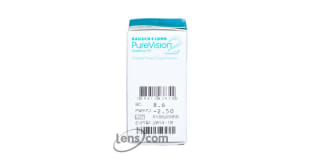 PureVision 2 HD
6 Month Supply

$49.99

$60.00 You Save $10.01

Buy 4 boxes for

$35.39 per

box

after rebate

Buy 2 boxes for

$40.39 per

box

after rebate

See Details See Details
Choose Quantity & Enter Prescription for Right and Left Eye
Prescription Information:
OD

right eye

OS

left eye

Brand name

eg. Acuvue

BC / Base Curve

a number between 8.0 and 10.0

DIA / Diameter

a number between 13.0 and 15.0

Power / Sphere / Rx

a number between -20 and +20
In Addition for astigmatic patients:
Cylinder

a number between -4.00 and +4.00

Axis

a number between 0 and 180

Cylinder and Axis are usually separated by a x
For Multifocal, Bifocal lenses or Presbyopia:
"Addition" or "add" is usually preceded by "+" or is listed as "low", "mid" or "high" depending on the lens manufacturer.
MONEY BACK GUARANTEE Complete Details

HASSLE FREE RETURNS Complete Details
1 person found the following review helpful:
That these contacts are the real deal.
Love that Lens.com sells the real thing!

Good quality, fast delivery
Got them in the mail pretty fast, like the contacts
The first pair I opened looked out of shape
I opened the first two pairs of contacts and the were wrinkled looking. I tried wearing them for 2 days but they hurt my eyes. Maybe just a couple were bad?? The next pair I opened seem fine so far.
4 people found the following review helpful:
Comfort
I hate these contacts. I can only wear them 1-2 days and then I have to switch back to my contacts because they get dry and irritated to the point where you can't wear them.
4 people found the following review helpful:
Fast service - Friendly
You came through with delivery when I thought my prescription expired. Thanks for being efficient.
4 people found the following review helpful:
These are the best
Awesome contact's. I have worn them for year's
4 people found the following review helpful:
Received on time in perfect condition
I always enjoy these lenses. They are consistently comfortable and I see very well with them.
4 people found the following review helpful:
Quality
I have had my lenses for 25 years. I always use the same contact lenses. But sometimes they're not the same if I use them somehow too big and flabby. This is a pity. Once they offered me a replacement, but I can't always call. But the price is fair.
4 people found the following review helpful:
Great contacts
These are the best contacts ever! Many other cheaper brands out there but these are worth the extra $ so comfortable and clear.
4 people found the following review helpful:
Product Information
Everything looks better in HD—especially your eyesight. With PureVision 2 HD you get to enjoy crystal clear vision without all the drawbacks that sometimes make contact lens wearers contemplate switching back to eyeglasses. For those who desire high-quality contact lenses that can keep up with their on-the-go lifestyle, PureVision 2 HD contact lenses are the way to go. Made for modern day living, these cutting-edge lenses are comfortable, convenient, and packed with the latest contact lens technology.
The idea of technology is to ultimately make everything easier—including wearing contact lenses. Long time eyewear innovators, Bausch and Lomb, have debuted High Definition Optics with their PureVision 2 contact lenses. So what does 'high definition' mean in the world of contact lenses? Well, not only will wearers experience sharp vision with PureVision 2, but that clear sight won't be spoiled by the glare and halos that commonly occur from spending much of the day looking at various light sources. Even in lower light conditions, PureVision provides clear, crisp sight. Of course, what good are contacts if they're not comfortable and convenient for the wearer? PureVision 2 HD lenses excel in this regard; Bausch and Lomb's PureVision 2 HD uses the patented ComfortMoist Technology to take comfort to the next level. PureVision 2 contacts are packed in a slow-release moisture solution to deliver extended comfort. The lenses are also made from a material called AerGel which resists build-up, keeping the surface of the lenses comfortable and irritant free.
With PureVision 2 HD you get phenomenal clarity in all kinds of situations, as well as extended comfort and incredible convenience. PureVision 2 are monthly contact lenses, which means that they can be worn for up to 30 days before being replaced with a new pair of lenses. Even better, these contacts are approved for extended wear—its ultra-thin design makes them highly breathable, which means that they are safe to wear continuously for up to 30 days at a time. So, whether you're heading out of town or extra busy at work, inserting and removing your contact lenses on a daily basis doesn't have to be a major concern.
If the upkeep of disposable contacts is bogging down your day-to-day living, then Bausch and Lomb PureVision 2 HD may be the lenses for you. With their advanced clarity and comfort factors, these lenses are real performers. When you shop with Lens.com, you can rest assured knowing you're getting the best value. We regularly visit competitor sites to make sure we're offering quality contact lenses at reasonably low prices.With hassle-free returns, 100% money-back customer satisfaction, and quick shipping, you can't go wrong with purchasing your contact lenses from Lens.com.
Product Availability
This item normally ships within 1 - 2 business days.
Price Comparison
| Our Lowest Price | Retail Price | Your Savings |
| --- | --- | --- |
| $50.39 | $60.00 | $9.61 |
Material Content
64% Polymer (balafilcon A)