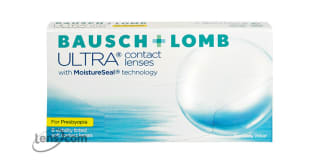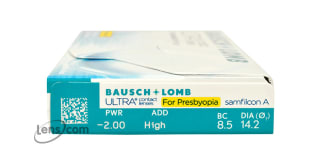 ULTRA for Presbyopia
6 Month Supply

$55.99

$117.00 You Save $61.01

Buy 4 boxes for

$35.99 per

box

after rebate

Buy 2 boxes for

$40.99 per

box

after rebate

See Details See Details
Choose Quantity & Enter Prescription for Right and Left Eye
Prescription Information:
OD

right eye

OS

left eye

Brand name

eg. Acuvue

BC / Base Curve

a number between 8.0 and 10.0

DIA / Diameter

a number between 13.0 and 15.0

Power / Sphere / Rx

a number between -20 and +20
In Addition for astigmatic patients:
Cylinder

a number between -4.00 and +4.00

Axis

a number between 0 and 180

Cylinder and Axis are usually separated by a x
For Multifocal, Bifocal lenses or Presbyopia:
"Addition" or "add" is usually preceded by "+" or is listed as "low", "mid" or "high" depending on the lens manufacturer.
MONEY BACK GUARANTEE Complete Details

HASSLE FREE RETURNS Complete Details
ULTRA for Presbyopia

Reviews
Great product! Very comfortable and convenient!
I work in IT, and getting older means reading glasses. I also have to read a lot of smaller text. These lenses are perfect- I can read small print again and don't have to have things at an arm's length to do it. Fantastic!
Order Convenience & Shipping
My order was placed Tuesday 11-10. The order was at my home on Friday 11-13.
4 people found the following review helpful:
Shipping and availability
My only request is I wish there was a faster shipping option.
Great product
Fast service and great product
Authentic and filled correctly!
I trust Lens.com to send me authentic and safe contact lenses with no fuss or issues
Service
How quick and easy the process and mailing was.
ULTRA for Presbyopia
Contacts are spot on but the timeframe from shipping to actual received date takes way too long for my liking. If you're paying such an hefty processing fee, then contacts should be shipped in a more timely basis.
Not usable as extended wear
The product is so thin the most wear I gotten out of them is 3-4 days before they fall apart. I have worn contacts for years and never had this problem.
price n delivery
delivery was long
Product Information
Introducing Bausch + Lomb ULTRA contact lenses for Presbyopia. Harness the comfort and breathability of Bausch + Lomb's ULTRA contacts, now available for those with age-related farsightedness. Thanks to advanced MoistureSeal technology and an innovative 3-Zone Progressive Design, Bausch + Lomb ULTRA for Presbyopia contact lenses offer all-day comfort and stellar vision at any distance. Whether you spend your days staring at a computer screen or driving long distances, Bausch + Lomb ULTRA for Presbyopia provides hydrating, breathable comfort for up to 16 hours ó all at an affordable price through Lens.com.
Why Bausch + Lomb ULTRA for Presbyopia?
Presbyopia shouldn't interfere with your quality of life. Now, it doesn't have to thanks to Bausch + Lomb's ULTRA contact lenses, formulated specifically for those with farsightedness. With incredible MoistureSeal technology, these contact lenses retain 95 percent of their moisture content to provide up to 16 hours of comfortable wear. They're so comfortable, you'll hardly notice you're wearing them at all.
But comfort doesn't just mean being able to wear contacts without feeling like there's something in your eye. It also means being able to see things clearly without having to strain or squint.
Thanks to Bausch + Lomb's 3-Zone Progressive Design, ULTRA contact lenses for Presbyopia offer seamless transition between near, intermediate and faraway distances. Imagine being able to see the things that matter most to you with ease: your grandson's baseball game, a birthday card from a friend, the latest email to hit your inbox. Now, that's freedom.
Key features:
Breathable, comfortable design: Bausch + Lomb's proprietary MoistureSeal technology features a combination of silicone and PVP to create a breathable, hydrophilic lens that's comfortable enough for all-day wear.
Seamless, clear vision at any distance: 3-Zone Progressive design allows you to see clearly from any distance. Whether it's reading your favorite magazine to navigating your daily commute, these contact lenses work with your eyes to provide smooth transitions throughout your day.
Excellent longevity: Bausch + Lomb ULTRA contact lenses for Presbyopia are comfortable enough to wear for 16+ hours every day, and they only need to be replaced once a month.
For all-day, hydrating comfort at any distance, there's no better choice than Bausch + Lomb ULTRA for Presbyopia. Shop now with Lens.com to score the lowest prices on these contact lenses for farsightedness.
Product Availability
This item normally ships within 3-5 business days.
Price Comparison
| Our Lowest Price | Retail Price | Your Savings |
| --- | --- | --- |
| $55.99 | $117.00 | $61.01 |
Material Content
54% Polymer (samfilcon A)