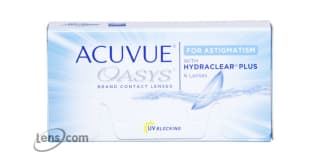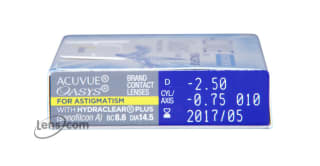 Acuvue Oasys for Astigmatism
3 Month Supply

$38.99

$57.00 You Save $18.01

Buy 4 boxes for

$23.99 per

box

after rebate

Buy 2 boxes for

$28.99 per

box

after rebate

See Details See Details
Choose Quantity & Enter Prescription for Right and Left Eye
Prescription Information:
OD

right eye

OS

left eye

Brand name

eg. Acuvue

BC / Base Curve

a number between 8.0 and 10.0

DIA / Diameter

a number between 13.0 and 15.0

Power / Sphere / Rx

a number between -20 and +20
In Addition for astigmatic patients:
Cylinder

a number between -4.00 and +4.00

Axis

a number between 0 and 180

Cylinder and Axis are usually separated by a x
For Multifocal, Bifocal lenses or Presbyopia:
"Addition" or "add" is usually preceded by "+" or is listed as "low", "mid" or "high" depending on the lens manufacturer.
MONEY BACK GUARANTEE Complete Details

HASSLE FREE RETURNS Complete Details
Acuvue Oasys for Astigmatism

Reviews
Lens.com is my favorite place to buy contacts
I never have any issues with my orders and they ship out very quickly.
Same contacts I know and trust...for less$
I love how easy it is to get my contacts, in the brand I know and trust, for so much less! Delivered right to my door, and Lens.com always exceeds my expectations!
Good product
Great product. But a little slow on the shipping.
1 person found the following review helpful:
Something was different
I always order these same contacts but this new order for some reason, doesn't feel like it fits properly. I can see just fine but it always feels irritated.
Awesome Contact
Love the contacts!!
Dry spots
Contacts get dry areas on them and useless when they do so.
Acuvue Oasys for Astigmatism Contact Lenses
Love the lens, love the reminders, love the service. What else is there to say.
You get exactly what you order!
Loved how fast they arrived and were so much cheaper than any other website had to offer!! Great product!!
Great Service
Arrived promptly and at great price.
Product Information
If you have astigmatism, you may have been told that the unique curvature of your eyes prevents you from wearing contact lenses. Fortunately, thatís no longer the case. Historically, the irregular curvature of eyes with astigmatism made finding contacts difficult, but Acuvueís Accelerated Stabilization Design technology solves that problem. Since Acuvue Oasys for Astigmatism contact lenses are toric lenses that take advantage of Accelerated Stabilization Design technology, the pressure of your eyelids are used to prevent the lens from rotating while you go about your day. Now, even those with astigmatism can enjoy the comfort and convenience of contact lenses.
Whether youíve been told you canít wear contacts in the past or are experiencing blurred or fluctuating vision with your current contact lenses, Acuvue Oasys for Astigmatism are one of the best astigmatism contacts available on the market. By combining the visual stability of Acuvueís Blink Stabilized lens design with the exceptional comfort of Hydraclear Plus technology, youíll enjoy consistently clear and comfortable vision Ė even if you lead an active lifestyle.
In addition to the Accelerated Stabilization Design technology, Acuvue Oasys for Astigmatism contact lenses take advantage of Hydraclear technology. By working a wetting agent into the silicone hydrogel contact lens material, these toric contact lenses are sure to stay wet and smooth Ė the perfect formula for all-day comfort. In addition to keeping your eyes moist, the silicon hydrogel material allows 98 percent of the oxygen available in the air to pass through the lens to your eyes. Acuvue Oasys for Astigmatism contacts have one of the highest UV protection ratios available in any toric contact lens on the market; blocking 96 percent of UV-A radiation and 100 percent of UB-B radiation.
Each pair of Acuvue Oasys for Astigmatism contact lenses are lightly tinted blue so you can easily spot them in your lens case. With the patented Hydraclear technology and Accelerated Stabilization Design technology, Acuvue Oasys for Astigmatism contact lenses will provide consistently clear vision thatís remarkably comfortable, especially when compared to other lenses on the market.
You can wear these toric lenses as a daily lens for two weeks or if your eye doctor prescribes the lenses as an extended wear contact lens, for six consecutive days and nights. Speak with your eye doctor about which wearing schedule is appropriate for you and your lifestyle, and be sure to follow the cleaning and replacement schedule he or she recommends. With all the technology packed into these toric contact lenses, even people with astigmatism can take off their glasses and enjoy the freedom and comfort of contact lenses.
Product Availability
This item normally ships within 3-5 business days.
Price Comparison
| Our Lowest Price | Retail Price | Your Savings |
| --- | --- | --- |
| $38.99 | $57.00 | $18.01 |
Material Content
62% Polymer (senofilcon A)