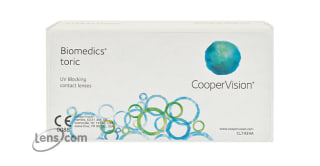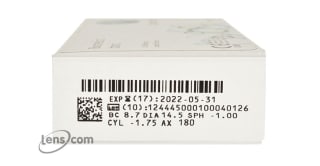 Biomedics Toric
3 Month Supply

$35.99

$48.00 You Save $12.01

Buy 4 boxes for

$30.95 per

box

after rebate

See Details See Details
Choose Quantity & Enter Prescription for Right and Left Eye
Prescription Information:
OD

right eye

OS

left eye

Brand name

eg. Acuvue

BC / Base Curve

a number between 8.0 and 10.0

DIA / Diameter

a number between 13.0 and 15.0

Power / Sphere / Rx

a number between -20 and +20
In Addition for astigmatic patients:
Cylinder

a number between -4.00 and +4.00

Axis

a number between 0 and 180

Cylinder and Axis are usually separated by a x
For Multifocal, Bifocal lenses or Presbyopia:
"Addition" or "add" is usually preceded by "+" or is listed as "low", "mid" or "high" depending on the lens manufacturer.
MONEY BACK GUARANTEE Complete Details

HASSLE FREE RETURNS Complete Details
7 people found the following review helpful:
Great!
Comfortable and at the end of the month the clarity is the same as the first day I used them.
7 people found the following review helpful:
cost
They get dry after 12 hours..
126 people found the following review helpful:
All day long freshness
I love how my Biomedics Toric lenses are able to stay fresh all day long, which is often 12-13 hours for me. My eyes never feel dry throughout the day, which is awesome!

127 people found the following review helpful:
I got a fantastic deal on my Biomedics Toric
I got my Biomedics Toric contacts for such a great price on here! It's a shame I had been buying contacts for so much more in the past.

127 people found the following review helpful:
impressive lenses for astigmatisms
Biomedics Toric contacts are perfect for anyone with astigmatism. They will always fit the shape of your eyes, and will not feel unnatural whatsoever.

175 people found the following review helpful:
nice high quality contacts
I find that Biomedics Toric Lenses are great choice in that they're not so expensive you can't swap them out regularly, but they're also made well, so they last longer than a lot of the others. They're tear-resistant and they're very comfortable.

179 people found the following review helpful:
good luck with Biomedics
I can pretty easily wear Biomedics toric lenses for two weeks. I wear mine daily for 12-15 hours on average and have had good luck with them.

179 people found the following review helpful:
Great contacts
I can wear Biomedics toric contacts a bit more than they recommend sometimes, but I have sensitive eyes so I prefer to change them out frequently. Great contacts!

181 people found the following review helpful:
Lovin my lenses
I've been very happy with Biomedics toric contact lenses. I just started buying these online because I found my doctor's prices to be outrageous.

133 people found the following review helpful:
Product Information
Have you dismissed wearing soft contact lenses because you have astigmatism? There's good news for you — toric contact lenses are specifically designed with astigmatism in mind. Unlike spherical contact lenses, toric contacts are designed with different powers in their meridians in order to correct the variations of nearsightedness or farsightedness within the eye. In addition, toric contacts are designed to only move vertically and not rotate with blinking, keeping the contact lens snug against your eye.
Because of these factors, being fitted with toric lenses takes a higher level of skill from an eye-care professional and may involve trial and error with multiple brands to find the best match. However, it doesn't have to be a huge hassle. Patients with astigmatism can now enjoy maximum comfort and performance from soft contact lenses with CooperVision Biomedics Toric contact lenses. As you know, the condition is a refractive error in the eye that often causes blurred vision for the patient. Biomedics Toric contact lenses are specially designed to provide clear vision and exceptional comfort for a full day of wear. With a two-week wear cycle, you can also enjoy optimum quality and convenience by switching to a fresh new pair every fourteen days.
So what specifically makes Biomedics Toric contacts a unique and superior soft contact lens for astigmatism? An incredibly thin, patented edge ensures lasting comfort and limited irritation. Indeed, Biomedics Toric contact lenses are considered the most stable toric lens on the market because of their crispness, clarity, and long-lasting quality of visual acuity. They contain 55 percent water and 45 percent Ocufilcon D, an innovative silicone hydrogel. A recent clinical study revealed that eight out of ten patients prefer the Biomedics Toric brand to their current lens in terms of overall satisfaction. For simple and hassle-free handling, they're tinted from edge to edge for higher visibility, but will not alter the eyes' appearance. Plus, to help provide additional protection from the sun, Biomedics Toric contact lenses are UV-absorbing.
Talk to your eye-care professional to see if Biomedics Toric contact lenses are available for your unique needs. But when it comes to buying them at the lowest cost with quick home delivery and excellent customer service, shop Lens.com. Due to their higher complexity of design, toric contacts are more expensive to replace than spherical contacts.
Product Availability
This item normally ships within 3-5 business days.
Price Comparison
| Our Lowest Price | Retail Price | Your Savings |
| --- | --- | --- |
| $35.95 | $48.00 | $12.05 |
Material Content
45% Polymer (ocufilcon D)