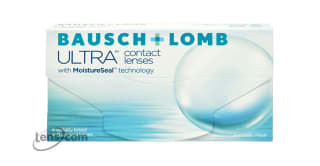 ULTRA
6 Month Supply

$49.99

$84.00 You Save $34.01

Buy 4 boxes for

$27.49 per

box

after rebate

Buy 2 boxes for

$29.99 per

box

after rebate

See Details See Details
Choose Quantity & Enter Prescription for Right and Left Eye
Prescription Information:
OD

right eye

OS

left eye

Brand name

eg. Acuvue

BC / Base Curve

a number between 8.0 and 10.0

DIA / Diameter

a number between 13.0 and 15.0

Power / Sphere / Rx

a number between -20 and +20
In Addition for astigmatic patients:
Cylinder

a number between -4.00 and +4.00

Axis

a number between 0 and 180

Cylinder and Axis are usually separated by a x
For Multifocal, Bifocal lenses or Presbyopia:
"Addition" or "add" is usually preceded by "+" or is listed as "low", "mid" or "high" depending on the lens manufacturer.
FREE SHIPPING

MONEY BACK GUARANTEE Complete Details

HASSLE FREE RETURNS Complete Details
3 people found the following review helpful:
They fit the best
I love this contact Bausch + Lomb are the best!
3 people found the following review helpful:
Great price
This brand is the most comfortable I've found and lenses.com has the best price by far.
3 people found the following review helpful:
Ordering was a Breeze!!!
Lens.com made on line ordering simple, Getting my prescription from Optometrist was as easy as putting his name in the space and Lens.com did the rest. Sitting back and waiting about 10 days-2 weeks my contacts arrive in my mailbox. Best of all price was lower than every other place I checked.
3 people found the following review helpful:
Bauch and Lomb Ultra contact lenses are great.
I couldn't believe the quality, for the price. Lens.com, saved me over half what I would have paid at the eye doctor. My contacts are so comfortable and clear. I'm glad my Mom kept on me, to check Lens.com's prices before buying the same contacts for a much higher price. Thanks Lens.com!
3 people found the following review helpful:
Absolutely no good
Don't feel right come off very easy I wish I didn't waste my money.
3 people found the following review helpful:
They are very comfortable.
I like their comfort and my ability to see well with them.
3 people found the following review helpful:
Great prices!
Great price along + a refund is a good value.
3 people found the following review helpful:
New lenses
I have Ultra contact lenses. I have no trouble with at all. Not sure what to say. I put them in and they stay on my eye without any irritation or discomfort.
3 people found the following review helpful:
Review
Great prices just wished that the rebate was deducted when the order shipped.
3 people found the following review helpful:
Product Information
Do you find it exhausting looking at screens all day? Are you tired of having dry, burning eyes? If so, you are certainly not alone. In todayís technologically advanced society, itís hard to get through the day without spending at least some time staring at a screen. Whether itís on your phone, computer, or tablet, all of the time we spend gazing at screens can cut down on blinking which, in turn, can lead to eye discomfort. Luckily, ULTRA by Bausch and Lomb was created to combat this specific issue.
The clever engineers at Bausch and Lomb have put some serious thought into the computer age conundrum of screens and irritated eyes. The fact is that the more society advances, the more time we spend looking at screens; so developing contact lenses that overcome the symptoms of reduced blinking is of the utmost importance. Bausch and Lomb contacts have long been among the most trusted in the industry and now the company has created a lens to keep up with our ever evolving needs.
The ULTRA lens is made of a new hydrogel material that allows for phenomenal breathability and remarkable moisture retention. Bausch and Lomb ULTRA contacts have a 46 percent water content. By combining two layers of material (silicone and PVP), Bausch and Lomb has created a lens that not only holds onto, but bathes eyes in moisture for up to 16 hours at a time. The MoistureSeal Technology built into ULTRA makes these lenses perfect for anyone with device-induced eye discomfort. These lenses tackle common eye complaints such as eye strain, tired eyes, and blurry vision.
Bausch and Lomb ULTRA contacts are made to correct both nearsightedness and farsightedness. They are monthly contact lenses, meaning that they can be worn daily for a month and then disposed of. With monthly contact lenses, you simply remove the lenses, disinfect them each night, and re-insert your clean contacts in the morning. At the end of 30 days simply toss out the old pair and put in a fresh, new pair. The process is quick and easy and keeps eyes healthy and comfortable.
With Bausch and Lomb ULTRA contact lenses you can enjoy all-day eye comfort while still keeping up with your regular day-to-day screen time. When you shop with us you will get the contact lens brands you love and trust for the price of other cheap contact lenses on the market. There is no need to scour the web for deals, as we regularly check competitor prices so that we can sell to you for less.
Product Availability
This item normally ships within 3-5 business days.
Price Comparison
| Our Lowest Price | Retail Price | Your Savings |
| --- | --- | --- |
| $49.99 | $84.00 | $34.01 |
Material Content
54% Polymer (samfilcon A)