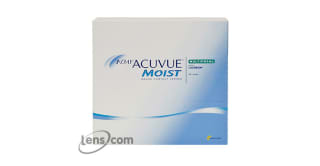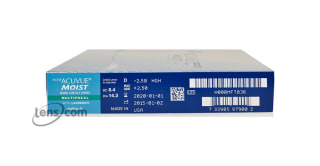 1-Day Acuvue Moist Multifocal
1
Choose Package Size & Savings
when you buy

4

boxes

after rebate

when you buy

4

boxes

after rebate

when you buy

2

boxes

after rebate
2
Choose Quantity & Enter Prescription for Right and Left Eye
Prescription Information:
OD

right eye

OS

left eye

Brand name

eg. Acuvue

BC / Base Curve

a number between 8.0 and 10.0

DIA / Diameter

a number between 13.0 and 15.0

Power / Sphere / Rx

a number between -20 and +20
In Addition for astigmatic patients:
Cylinder

a number between -4.00 and +4.00

Axis

a number between 0 and 180

Cylinder and Axis are usually separated by a x
For Multifocal, Bifocal lenses or Presbyopia:
"Addition" or "add" is usually preceded by "+" or is listed as "low", "mid" or "high" depending on the lens manufacturer.
FREE SHIPPING

MONEY BACK GUARANTEE Complete Details

HASSLE FREE RETURNS Complete Details
1-Day Acuvue Moist Multifocal

Reviews
Comfort
I love the one day disposals. Very convenient
Great For Dry Eyes
These lenses allow me to see far, near, and with much greater comfort because of their extra-moist consistency. Great for older folks who still want to wear contact lenses!
Comfortable and practical
Love the convenience and practicality.
1 person found the following review helpful:
Love these contacts, but wish they came in colors
I really love these contacts;however, I wish they came in colors. Before these contacts I wore Acuvue soft colored contact lenses. I much preferred the color, but it's nice to have the Multifocal...make Multifocal in colors!!!!
1 person found the following review helpful:
Back-ordered
Ordering experience was simple and easy, however, my purchase was based on receipt date. After placing order received notice specific contacts were not in stock and took additional time to receive.
Cost savings!
Loved that I was able to save so much money.
4 people found the following review helpful:
Product
Liked product. Need lower price
3 people found the following review helpful:
Perfect fit
These are the best for sports, peripheral View covered.
3 people found the following review helpful:
Great product
Love these contacts.. knowing that everyday you're putting clean contacts in your eyes!!
3 people found the following review helpful:
Been using for 4 years great product
Simple, easy to use, no cleaning, inexpensive. I am a nurse and only wear them to work 3 days a week. Working 12 hours shifts I have never had any problems and I don't have to keep track of my glasses or worry about keeping them on my head.
Product Information
If you've been diagnosed with presbyopia, you may have a difficult time reading small print or seeing clearly in low lighting. Presbyopia is a common condition that affects a significant amount of people, but with the proper contact lenses, it can be corrected. 1-Day Acuvue Moist Multifocal contact lenses by Johnson & Johnson are designed to treat this condition while keeping your eyes comfortable and hydrated. Available in a 30-pack or a 90-pack, these daily multifocal contacts offer a convenient and effective solution to the challenges brought on by presbyopia.
Acuvue Multifocal contacts are daily disposable contact lenses that treat a wide range of needs. These multifocal lenses are available from a -9.00 to a +6.00 prescription and include low, mid, and high ADD powers. Equipped with Acuvue's exclusive LACREON Technology, these 1-Day Multifocal contact lenses remain hydrated all day long, eliminating irritation and keeping your vision sharp and clear from the moment you put them in until you're ready to take them out. Additionally, these 1-Day Acuvue Moist Multifocal lenses provide some of the highest UV protection available in daily disposable contacts, so you can be assured that your lenses aren't only operating at the highest capability, but that they're also shielding your eyes from harmful UV rays.
Acuvue Multifocal contact lenses present you the convenience of starting every day with a new pair of lenses. This ensures that your lenses are always fresh and clean, avoiding the buildup that inevitably forms on long-term lenses. Acuvue Daily Moist Multifocal contact lenses are available in two different pack sizes, so you can decide how long you'd like your supply to last. The 1-Day Acuvue Moist Multifocal 30 pack provides a one-month supply, while the 1-Day Acuvue Moist Multifocal 90 pack provides as much as three months' worth of daily contact lenses.
If you're looking to enhance your vision and overcome the challenges brought on by presbyopia, then Acuvue Multifocal contact lenses are a great solution for you. These daily multifocal contact lenses are equipped to treat individuals who are experiencing difficulty in seeing clearly from all distances and in different lighting. Along with the convenience that comes with daily disposable lenses, 1-Day Acuvue Moist Multifocal contacts offer a high level of UV protection and superior comfort due to their moisture-rich LACREON technology.
If you think this product is right for you, then you can be assured that you'll be getting the best possible value on Lens.com. Since Lens.com sells 1-Day Acuvue Moist Multifocal 30 packs and 90 packs at the lowest price that Johnson & Johnson will allow, you can be certain that you won't find this product for a lower price anywhere else—guaranteed!
Product Availability
This item normally ships within 2-4 business days.
Price Comparison
Package Size
Our Lowest Price
Retail Price
Your Savings

30

Pack
(

1

Month Supply)
$53.99
$62.00
$8.01

90

Pack
(

3

Month Supply)
$86.99
$138.00
$51.01
Material Content
42% Polymer (etafilcon A)