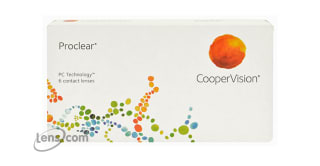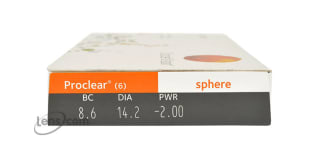 Proclear Compatibles
6 Month Supply

$37.99

$60.00 You Save $22.01

Buy 4 boxes for

$27.99 per

box

after rebate

Buy 2 boxes for

$30.49 per

box

after rebate

See Details See Details
Choose Quantity & Enter Prescription for Right and Left Eye
Prescription Information:
OD

right eye

OS

left eye

Brand name

eg. Acuvue

BC / Base Curve

a number between 8.0 and 10.0

DIA / Diameter

a number between 13.0 and 15.0

Power / Sphere / Rx

a number between -20 and +20
In Addition for astigmatic patients:
Cylinder

a number between -4.00 and +4.00

Axis

a number between 0 and 180

Cylinder and Axis are usually separated by a x
For Multifocal, Bifocal lenses or Presbyopia:
"Addition" or "add" is usually preceded by "+" or is listed as "low", "mid" or "high" depending on the lens manufacturer.
FREE SHIPPING

MONEY BACK GUARANTEE Complete Details

HASSLE FREE RETURNS Complete Details
Proclear Compatibles

Reviews
1 person found the following review helpful:
Most comfortable contacts available
I have been wearing these contacts for years and they are by far the most comfortable contacts I've tried. The only downside to these is that they rip more easily than other contacts. Small price to pay for total comfort. In addition, I see better with these than others. I recently started to experience difficulty reading small print and seeing things up close, so my doctor suggested B&L contacts that are designed to help with that. He also thought I should move up to 7.0 from 6.5, which I have worn for years. After trying the B&L out for a month, with no improvement in distance vision or up close, I went back to my 6.5 Proclear Compatibles. I see much better distance and close up than I did with the Bausch & Lomb 7.0 and the Proclear are so much moister and more comfortable. If they stop making these lenses, I would probably need to have corrective eye surgery.
Great Service
I always bought my contacts from the ophthalmologist's office because I have a unusual prescription. I was happy to see that Lens.com had my contacts at a much better price.
High Power
I like the fact that I can use a disposable lens with a high power.
Reliable
I've been using this lens and service for a years now. I've never had any issue getting what I need. While occasionally having had some lens that may have been defective due to their lack of durability, overall I've been happy with this product.
You guys are dependable
All likes no dislikes
3 people found the following review helpful:
Easy to order
Very consistent company! I recommend it!
3 people found the following review helpful:
Contact lenses
The cost is less compared to purchasing from the eye clinic and i received them fast!
3 people found the following review helpful:
See below.
They are very comfortable to wear. They do seem to brake easily. Whether that is do to how I take them out, I cannot say. But overall I am happy for them.
4 people found the following review helpful:
Not very durable
These contact lenses seem to rip or tear within a very short time of taking out of the package. I'm not sure if I have a defective box but I am now at five out of the six lenses have torn within a couple of days of taking out of the box!
3 people found the following review helpful:
insurance won't reimburse for handling fee
My insurance will not reimburse me for the large amount that was charged for handling fee but will only reimburse for the cost of the lenses so even though your total cost was less when I compared you with other companies selling my lenses, I lost money because of how you billed me. I'll be factoring this in the next time I shop around for lenses.
Product Information
If you're about to give up on wearing contact lenses because they cause dry, irritated eyes and blurry vision, the choice is clear for dependable comfort and clarity: Proclear Compatibles by CooperVision, a leading manufacturer of soft contact lenses. Proclear Compatibles, a monthly disposable lens designed to correct nearsightedness or farsightedness, can provide up to twelve hours of comfortable wear at a time.
The all-day comfort of these contact lenses is created by PC Technology. The "PC" in PC Technology refers to phosphoryl choline, a substance that occurs naturally in human cell membranes. The lens material contains PC molecules, which attract and surround themselves with water. This keeps Proclear Compatibles contacts moist, deposit-free, and comfortable. This is a huge advantage over other contact lenses, which can start to feel itchy and dry after several hours. In fact, they're the only lenses approved by the FDA for the claim that they "may provide improved comfort for contact lens wearers who experience mild discomfort or symptoms relating to dryness during lens wear."
With a 96 percent water content, Proclear Compatibles, also manufactured under the name Proclear Sphere, has a proven technological edge over other monthly contact lenses. For your convenience, Proclear Compatibles are easy to handle. They contain a slight tint, making the contact lenses easier to see in and out of the solution. The tint, however, will not change the color of your eyes. Of course, Proclear Compatibles contacts should be worn and cared for like any other monthly contact lenses. It's recommended that the wearer follow the replacement schedule determined by his or her eye-care professional, even if it differs from the manufacturer's recommendations.
Every removal requires cleaning, rinsing, and disinfecting using lens care products specifically designed for soft contact lenses. Avoid solutions that are recommended for conventional hard contact lenses, and never mix different solutions together. On the first day, the maximum wearing time of Proclear Compatibles contact lenses is limited to six hours; but by the sixth day, they can be worn for up to twelve hours at a time.
Since they're disposable monthly contacts, each box of Proclear Compatibles contains six lenses. If you decide to purchase two boxes from Lens.com, you can be absolutely confident that you're receiving the guaranteed lowest price allowed by the manufacturer. With Lens.com's hassle-free ordering you can have them delivered directly to your door with one simple click.
Product Availability
In stock - Orders normally ship within 1-2 Days
Price Comparison
| Our Lowest Price | Retail Price | Your Savings |
| --- | --- | --- |
| $37.99 | $60.00 | $22.01 |
Material Content
38% Polymer (omafilcon B)