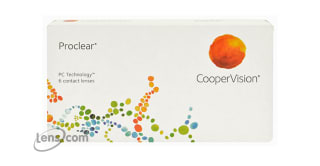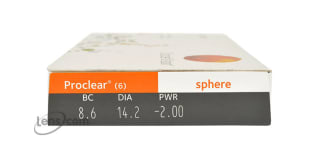 Proclear Compatibles
6 Month Supply

$39.99

$60.00 You Save $20.01

Buy 4 boxes for

$29.99 per

box

after rebate

Buy 2 boxes for

$32.49 per

box

after rebate

See Details See Details
Choose Quantity & Enter Prescription for Right and Left Eye
Prescription Information:
OD

right eye

OS

left eye

Brand name

eg. Acuvue

BC / Base Curve

a number between 8.0 and 10.0

DIA / Diameter

a number between 13.0 and 15.0

Power / Sphere / Rx

a number between -20 and +20
In Addition for astigmatic patients:
Cylinder

a number between -4.00 and +4.00

Axis

a number between 0 and 180

Cylinder and Axis are usually separated by a x
For Multifocal, Bifocal lenses or Presbyopia:
"Addition" or "add" is usually preceded by "+" or is listed as "low", "mid" or "high" depending on the lens manufacturer.
FREE SHIPPING

MONEY BACK GUARANTEE Complete Details

HASSLE FREE RETURNS Complete Details
Proclear Compatibles

Reviews
great price!!! quick delivery!!!
great price!!! quick delivery!!!
Quality
I like this product better, because it doesn't break as easily as it use to.
I wish the delivery was quicker .

Marge Healy
service is outstanding
No issues with product
Consistently
I have always had great luck with Proclear, however the last order had 2 contacts that I could not use. Everything I tried, they just were uncomfortable and felt like they were torn.
This is my Second Order! My last order was perfect
It was easy to order. It was fast to get. The contacts feel perfect in my eyes.
How long does it take for the order to come.
My lens came within a couple of weeks. They fit perfect and they do last a month. Enjoy wearing my Proclear Compatibles. I recommend them to all that wear contacts.
4 people found the following review helpful:
Only brand that makes my strength
If I had any choice in what contents i could wear it would not be proclear. I find them to be very uncomfortable. They are always dry and they have a pinching feeling to them . I used to wear another brand and loved them but they whir doing my strength. The service and delivery from lens.com was great no problems with them.
4 people found the following review helpful:
monthly vs weekly
I feel these are 5 day comfort instead of monthly...i wish i had daily lenses for me.
4 people found the following review helpful:
Easy to wear and breathable
Thin and if eye is dry it can split the contact.
4 people found the following review helpful:
Product Information
If you're about to give up on wearing contact lenses because they cause dry, irritated eyes and blurry vision, the choice is clear for dependable comfort and clarity: Proclear Compatibles by CooperVision, a leading manufacturer of soft contact lenses. Proclear Compatibles, a monthly disposable lens designed to correct nearsightedness or farsightedness, can provide up to twelve hours of comfortable wear at a time.
The all-day comfort of these contact lenses is created by PC Technology. The "PC" in PC Technology refers to phosphoryl choline, a substance that occurs naturally in human cell membranes. The lens material contains PC molecules, which attract and surround themselves with water. This keeps Proclear Compatibles contacts moist, deposit-free, and comfortable. This is a huge advantage over other contact lenses, which can start to feel itchy and dry after several hours. In fact, they're the only lenses approved by the FDA for the claim that they "may provide improved comfort for contact lens wearers who experience mild discomfort or symptoms relating to dryness during lens wear."
With a 96 percent water content, Proclear Compatibles, also manufactured under the name Proclear Sphere, has a proven technological edge over other monthly contact lenses. For your convenience, Proclear Compatibles are easy to handle. They contain a slight tint, making the contact lenses easier to see in and out of the solution. The tint, however, will not change the color of your eyes. Of course, Proclear Compatibles contacts should be worn and cared for like any other monthly contact lenses. It's recommended that the wearer follow the replacement schedule determined by his or her eye-care professional, even if it differs from the manufacturer's recommendations.
Every removal requires cleaning, rinsing, and disinfecting using lens care products specifically designed for soft contact lenses. Avoid solutions that are recommended for conventional hard contact lenses, and never mix different solutions together. On the first day, the maximum wearing time of Proclear Compatibles contact lenses is limited to six hours; but by the sixth day, they can be worn for up to twelve hours at a time.
Since they're disposable monthly contacts, each box of Proclear Compatibles contains six lenses. If you decide to purchase two boxes from Lens.com, you can be absolutely confident that you're receiving the guaranteed lowest price allowed by the manufacturer. With Lens.com's hassle-free ordering you can have them delivered directly to your door with one simple click.
Product Availability
In stock - Orders normally ship within 1-2 Days
Price Comparison
| Our Lowest Price | Retail Price | Your Savings |
| --- | --- | --- |
| $39.99 | $60.00 | $20.01 |
Material Content
38% Polymer (omafilcon B)