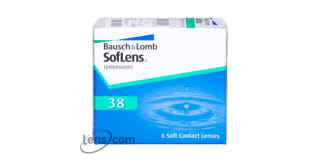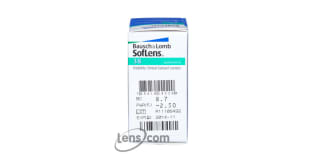 SeeQuence II (SofLens 38)
3 Month Supply

$17.95

$24.00 You Save $6.05

$13.99 Buy 4+ per eye $24.00 You Save $10.01
Choose Quantity & Enter Prescription for Right and Left Eye
Prescription Information:
OD

right eye

OS

left eye

Brand name

eg. Acuvue

BC / Base Curve

a number between 8.0 and 10.0

DIA / Diameter

a number between 13.0 and 15.0

Power / Sphere / Rx

a number between -20 and +20
In Addition for astigmatic patients:
Cylinder

a number between -4.00 and +4.00

Axis

a number between 0 and 180

Cylinder and Axis are usually separated by a x
For Multifocal, Bifocal lenses or Presbyopia:
"Addition" or "add" is usually preceded by "+" or is listed as "low", "mid" or "high" depending on the lens manufacturer.
MONEY BACK GUARANTEE Complete Details

HASSLE FREE RETURNS Complete Details
SeeQuence II (SofLens 38)

Reviews
52 people found the following review helpful:
great price, service and quality getting my lenses
The price and quality of these SeeQuence II contacts are unbeatable! I love the 1-2 week replacement schedule, and they provide perfect vision and comfort all day every day!
58 people found the following review helpful:
stays fresh throughout the whole day
These SeeQuence II contacts are the most comfortable lenses that I have ever worn! They provide all-day comfort and keep my eyes moist throughout the entire day!
58 people found the following review helpful:
I would recommend SeeQuence II
I love the convenient 1-2 week replacement schedule of these SeeQuence II contacts. Switching to a fresh pair every 7-14 days is perfect for my schedule. I recommend these contacts to all of my friends.

105 people found the following review helpful:
Easier than any other lens I've tried
I have no issues inserting these amazing SeeQuence II lenses. They are lightly tinted, making them easy to find and insert, without changing my eye color. I highly recommend these easy-to-use lenses.

118 people found the following review helpful:
SeeQuence II have many great qualities
When I don't have contacts or glasses on, it's really hard to see my contacts to put them in. Luckily, SeeQuence II comes slightly tinted, so I can see them more easily in the solution. They also didn't dye or discolor my eyes when wearing them, even though they have a tint in solution!

132 people found the following review helpful:
these are my favorite lenses right here
No more dry eyes! I was afraid to wear contacts long-term because I always got eye irritation after a while. With SeeQuence II I noticed I can wear them all day, and they stay comfortable without the dryness. I will definitely keep wearing these in the future!

130 people found the following review helpful:
my eyesight is all good close and far away
Bifocals no more! With SeeQuence II I was able to go back to wearing contacts despite needing bifocal glasses. I can see great up close and far away without squinting, and no one can tell I'm wearing contacts!

124 people found the following review helpful:
SeeQuence II - clear vision all day every day
After the inconvenience of years of using glasses and bifocals, I finally decided to try these SeeQuence II lenses. These lenses perfectly correct my vision issues, providing clear vision all day every day!
Nothing else compares to SeeQuence II
I have worn the SeeQuence II contact lenses every since my doctor gave me a trial pair of them about 4 years ago. Every lens that I get always gives me perfect vision and feels great in my eyes. Whenever a new lens comes out or my doctor has some other trial pairs I always try them out and nothing has been able to compare so I don't switch!
SeeQuence II
This is a versatile contact lens! I can wear the SeeQuence II contact lens daily or extended wear, which is nice for me because I always forget to take them out. And you will forget about taking these out because they are extremely comfortable, you don't even know you are wearing them!
Product Information
Bausch & Lomb's SeeQuence II contact lenses feature an innovative and ultra-comfortable design identical to SofLens 38 contacts. The lenses are designed to correct both nearsighted and farsighted conditions, so you can enjoy clearer vision without the inconvenience of glasses or bifocals. A time-tested, deposit-resistant material ensures optimum comfort and zero visual interference. Lens wearers can count on easy handling and insertion of SeeQuence II contact lenses with a convenient tint, which makes the contacts easier to detect in solution without changing the color of your eyes.
A 1-2 week replacement schedule is easy to remember and highly convenient, giving lens wearers the opportunity to switch to a fresh new pair of SeeQuence II contacts every 7 to 14 days as needed. Count on comfortable moisture throughout a full day of wear with a 38 percent water content, which prevents dehydration and eliminates the need for eye drops and other wetting agents. Made from a 62 percent polymer material, SeeQuence II contact lenses offer a smooth, comfortable fit and ultimate stability no matter how much you move.
For contact lenses that provide optimum comfort and high-performance at an affordable price, choose SeeQuence II to start seeing clearly today.
Product Availability
In stock - Orders normally ship same day if ordered by 2 PM CST
Price Comparison
| Our Lowest Price | Retail Price | Your Savings |
| --- | --- | --- |
| $13.99 | $24.00 | $10.01 |
Material Content
62% Polymer (polymacon)