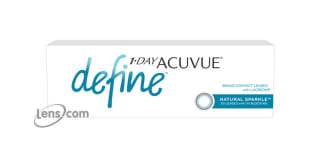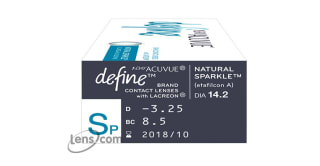 1-Day Acuvue Define 30PK
1 Month Supply

$38.99

$56.00 You Save $17.01

Buy 4 boxes for

$28.99 per

box

after rebate

Buy 2 boxes for

$28.99 per

box

after rebate

See Details See Details
Choose Quantity & Enter Prescription for Right and Left Eye
Prescription Information:
OD

right eye

OS

left eye

Brand name

eg. Acuvue

BC / Base Curve

a number between 8.0 and 10.0

DIA / Diameter

a number between 13.0 and 15.0

Power / Sphere / Rx

a number between -20 and +20
In Addition for astigmatic patients:
Cylinder

a number between -4.00 and +4.00

Axis

a number between 0 and 180

Cylinder and Axis are usually separated by a x
For Multifocal, Bifocal lenses or Presbyopia:
"Addition" or "add" is usually preceded by "+" or is listed as "low", "mid" or "high" depending on the lens manufacturer.
MONEY BACK GUARANTEE Complete Details

HASSLE FREE RETURNS Complete Details
1-Day Acuvue Define 30PK

Reviews
Came on time
During the pandemic, came early as promised.
Great pop of color for brown eyes!
Love how comfortable they are and how ads a little sparkle to my brown eyes, looks natural.
Perfectly Covers Pigmentation Loss
I purchased Acuvue Define Natural Shine to cover the pigmentation loss in my eyes. The loss looks like a white or bluish ring next the black ring. These lenses cover that ring perfectly without changing my eye color. My eyes look bigger and more youthful. They're beautiful!
Great deal
Great price. Great delivery time.
Very comfortable
These are the most comfortable lenses I have ever worn. I have tried others but always come back to these.
86 people found the following review helpful:
I feel good wearing my oasys lenses
Acuvue Oasys is a great choice for anyone who suffers from contact irritation. These make wearing contacts such a breeze that you won't even notice they're there! Best of all you can even wear them for up to a week without removal!
151 people found the following review helpful:
Acuvue Oasys are my first and only lenses
I've been using Acuvue Oasys contacts ever since I first started wearing contacts. These keep my eyes comfortable, and I have never had an issue with them.
140 people found the following review helpful:
Acuvue oasys are the most comfortable
My doctor just recently turned me on to Acuvue Oasys contacts, and they are by far and away the most comfortable lenses I have ever worn.
136 people found the following review helpful:
good price and service for my Oasys contacts
Just purchased Acuvue Oasys contacts here online. Got these at a great cost, and had great service along the way.

136 people found the following review helpful:
Product Information
Introducing 1-Day Acuvue Define contact lenses, a new category of prescription eye enhancement lenses that accentuate the eye's natural beauty with expressiveness and radiance.
Instead of masking the iris, Johnson & Johnson's innovative contact lenses add natural-looking definition to the limbal ring, or the dark ring around the iris of the eye. Made with LACREON™ Technology, 1-Day Acuvue Define contacts offer great lens performance, long-lasting comfort with cushioning moisture, and the convenience of daily contact lenses. No daily cleaning or storing of the lenses is required, which is ideal for new wearers or for those who wear contacts on a part-time basis. Simply insert a new pair every morning, and toss them out at the end of the day.
1-Day Acuvue Define comes in five options to blend with all eye colors: Natural Sparkle, Natural Shimmer, Natural Shine, Accent Style, and Vivid Style. Natural Sparkle brings highlights and contrast to light eyes, softer highlights and depth to medium eyes, and brightening contrast to dark eyes. Natural Shimmer lends striking sharpness to light eyes, a balance of highlights and sharpness for dimension to medium eyes, and nuanced highlights and contrast to dark eyes. And, Natural Shine gives high-impact contrast and enlargement with light eyes, greater contrast and dimension to medium eyes, and enlargement and dimension to dark eyes.
Each of the three types of lenses feature clean edges for an enlarged look and an iris-inspired design for realistic results that are unique to you. Accent Style mimics the iris for greater depth, with a smooth edge for a more distinctive appearance and variations in translucence for shine. Vivid Style is designed with fine brown spokes that complement the iris's pattern to enliven the eyes. Since each option has its own unique features, it's easy to choose a style for the specific effect you desire.
One study claimed that nine out of ten subjects who tried 1-Day Acuvue Define lenses reported having more beautiful, natural-looking eyes. For those who regularly wear prescription contact lenses, 1-Day Acuvue Define is available in a wide range of powers, making it easy to enhance your eyes every day. To protect your eyes from harmful UV rays, Acuvue Define contacts block 97 percent of UVB rays and 81 percent of UVA rays. While Acuvue Define contacts protect your eyes from UV rays, it's still recommended that you wear UV-blocking sunglasses, as contact lenses alone will not fully cover the surface of your eyes.
To bring out the best features of your eyes in a natural and convenient way, 1-Day Acuvue Define brand contact lenses are your clear choice. Plus, Lens.com is proud to offer 1-Day Acuvue Define for the lowest price allowed by the manufacturer. We offer 1-Day Acuvue Define in a 30 pack (1 month supply) or 90 pack (3 month supply). When you purchase your 1-Day Acuvue Define contact lenses from Lens.com, you can rest assured that you're getting the best price possible—we guarantee it!
Product Availability
This item normally ships within 3-5 business days.
Price Comparison
| Our Lowest Price | Retail Price | Your Savings |
| --- | --- | --- |
| $38.99 | $56.00 | $17.01 |
Material Content
42% Polymer (etafilcon A)