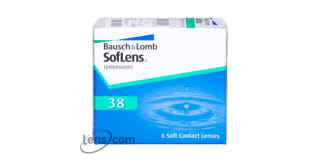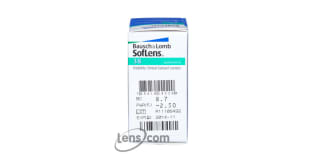 SofLens 38 (Optima FW)
3 Month Supply

$23.99

$33.00 You Save $9.01

$13.99 Buy 4+ per eye $33.00 You Save $19.01
Choose Quantity & Enter Prescription for Right and Left Eye
Prescription Information:
OD

right eye

OS

left eye

Brand name

eg. Acuvue

BC / Base Curve

a number between 8.0 and 10.0

DIA / Diameter

a number between 13.0 and 15.0

Power / Sphere / Rx

a number between -20 and +20
In Addition for astigmatic patients:
Cylinder

a number between -4.00 and +4.00

Axis

a number between 0 and 180

Cylinder and Axis are usually separated by a x
For Multifocal, Bifocal lenses or Presbyopia:
"Addition" or "add" is usually preceded by "+" or is listed as "low", "mid" or "high" depending on the lens manufacturer.
MONEY BACK GUARANTEE Complete Details

HASSLE FREE RETURNS Complete Details
SofLens 38 (Optima FW)

Reviews
7 people found the following review helpful:
Love these lenses because they aren't as fragile
I have been using these for years and I like there durability.. I don't have comfort issues with them but I hear some of the more permeable ones are more comfortable.. I have no complaints though. Awesome easy process with lens.com. The free case is no good though..:) Like the plastic snapover ones, use less solution and easier to use.
7 people found the following review helpful:
Fast and Easy
The ordering of my contacts was simple and quick. No questions asked. I just ordered and had them at my door quickly, although I don't remember exactly how long it took; I believe it was less than a week. A very pleasant experience.
Lens dry out so quickly
I usually use accuve osyas but wanted to try a more affordable brand. Well let me tell you these lense dry out so quick and are constantly moving in your eye. They said it suppose to last for two weeks, but by the end of the first it feels like the lenses are scratching my eyes. I would not recommend the lenses.
78 people found the following review helpful:
I'm glad I bought these, will buy again
These SofLens 38 lenses are a great value! Their low price, comfortable design and easy-to-use combination, make them perfect for my lifestyle. I will be re-purchasing these soon!
87 people found the following review helpful:
SofLens 38 are just as awesome as Optima FW
I found out that SofLens 38 were the replacement for Optima FW, so I quickly made the switch over to them. They fit and worked just as great, and felt just as comfortable on my eyes! Still no dryness or irritation, making them great for all day wear.
106 people found the following review helpful:
Everything about these lenses are awesome
If you have trouble putting in and taking out your contacts, these SofLens 38 lenses are perfect for you! They are slightly tinted, and have an inversion indicator, to alert you when they are inside out. I can insert and remove them with no issues. Thank you SofLens 38!

127 people found the following review helpful:
Really impressed with my SofLens 38
SofLens 38 are a great and affordable lens! They fit well in my budget and lasted a long time, making them even better for the price. I had no problems with wear after two weeks of use, and my eyes didn't feel dried out either.

131 people found the following review helpful:
I think its a great value getting SofLens 38
Six lenses per box meant I don't have to purchase SofLens 38 as often, helping me save money. They fit really well and felt flexible and easy to put in my eye. I didn't have red eyes at the end of the day either, so I can wear them long term without problems.

129 people found the following review helpful:
SofLens 38 are all good
I stare at computers all day, and tend to get irritated eyes after a while. While wearing SofLens 38 I noticed I didn't get any irritation and my eyes still felt pretty good at the end of the day! I feel I can wear these at work all day and not have to worry.

125 people found the following review helpful:
I'm loving SofLens 38 contact lenses
I recently purchased these SofLens 38 lenses, and so far I love them! The 1-2 week disposable schedule is perfect, with a fresh pair of contacts every 7-14 days. I love that I can wear them continuously or take them out at night, depending on my day!

Product Information
If you're searching for contact lenses that allow you to see clearly and comfortably, SofLens 38 is an outstanding choice. Whether you're just making the switch from wearing eyeglasses to contact lenses or are a long-time contact lens wearer, Bausch and Lomb's SofLens 38 will suit any lifestyle.
SofLens 38 contact lenses, manufactured by Bausch & Lomb and formerly known as Optima FW, feature a high-performance, ultra-thin design. For those who have worn Optima FW, SofLens 38 is completely identical, providing you with the same comfort and clarity you're used to. The lens material, known as polymacon, provides sharp vision, comfort, and deposit-resistance that you can count on. As indicated by their name, the lenses are composed of 38 percent water, which is ideal for wearers who suffer from dry eyes. Their lower water content helps decrease irritation caused by looking at a computer screen or the dryness of air conditioning.
Each pair of Bausch and Lomb SofLens 38 contact lenses are manufactured using Reverse Process III, a patented cast molding technology. The extremely low center thickness of the lenses allows the best possible oxygen transmission to the eye for ultimate comfort and hydration, not to mention enhanced flexibility. SofLens 38 contact lenses are also designed with convenience in mind. They're 1-2 week disposable contact lenses, meaning you'll have the crisp vision of fresh, new contacts every other week. Depending on your eye-care professional's recommendations, you may wear the lenses up to seven days continuously or remove them at night on a daily basis.
SofLens 38's increased mid-peripheral thickness also facilitates easy handling. For increased convenience, SofLens 38's have a very light tint that allows the wearer to easily locate them when they're in the solution; this tint, however, will not change the color of the eye. The lenses even have an inversion indicator, which indicates to wearers that the lens is inside out, making the SofLens 38 lens easy to work with, even when you're in a hurry. Furthermore, they are available in three base curves in powers that range from +4.00D to -9.00D, so most people will find the lens in their prescription. As a matter of fact, almost every Bausch & Lomb SofLens 38 review rates the lenses very highly, with many individuals being repeat buyers.
Since they're weekly contact lenses, each box of Bausch and Lomb SofLens 38 comes with six lenses per box. In other words, you won't find SofLens 38 contact lenses at a lower price—anywhere on the web or in stores, guaranteed!
Product Availability
In stock - Orders normally ship within 1-2 Days
Price Comparison
| Our Lowest Price | Retail Price | Your Savings |
| --- | --- | --- |
| $13.99 | $33.00 | $19.01 |
Material Content
62% Polymer (polymacon)