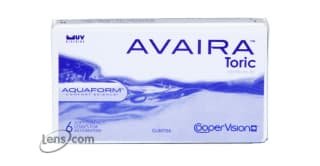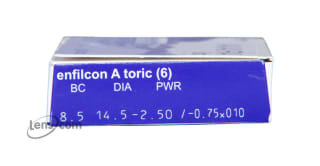 Avaira Toric
3 Month Supply

$32.99

$51.00 You Save $18.01

$29.99 Buy 3+ per eye $51.00 You Save $21.01
Choose Quantity & Enter Prescription for Right and Left Eye
Prescription Information:
OD

right eye

OS

left eye

Brand name

eg. Acuvue

BC / Base Curve

a number between 8.0 and 10.0

DIA / Diameter

a number between 13.0 and 15.0

Power / Sphere / Rx

a number between -20 and +20
In Addition for astigmatic patients:
Cylinder

a number between -4.00 and +4.00

Axis

a number between 0 and 180

Cylinder and Axis are usually separated by a x
For Multifocal, Bifocal lenses or Presbyopia:
"Addition" or "add" is usually preceded by "+" or is listed as "low", "mid" or "high" depending on the lens manufacturer.
MONEY BACK GUARANTEE Complete Details

HASSLE FREE RETURNS Complete Details
Love these
Love avaira toric lenses. So sad they are discontinued. Avaira Vitality not the same...i find those uncomfortable.
55 people found the following review helpful:
Best lenses ever for astigmatism!
These are so comfortable! Avaira Toric contacts are unparalleled when it comes to comfort. They have a special moisturized, and my eyes can really feel the difference! I no longer feel like I need to take them out and put in eye drops.

56 people found the following review helpful:
I'm very happy with my Avaira Toric contacts
Avaira Toric contacts are my top choice! I have astigmatism so I really needed a contact that would work with my eyes without pain. These contacts live up to the test and fit great all day long. I am so happy I made the switch, and my eyes are too!

57 people found the following review helpful:
MY eyes stayed moist all day long
Avaira Toric makes wearing contacts easy! I have bad astigmatism and regular contacts often dry out my eye or feel painful. These didn't feel like that at all! My eyes felt moist the whole day, and the contact stayed in place all day long.

59 people found the following review helpful:
Avaira Toric contacts have been perfect for me
I enjoy the ease of use of Avaira Toric. They are easy to put on, fit well over my eye and then are taken out and cleaned at night. They last up to two weeks so I don't have to worry about wearing out my contacts, or if I tear them.

62 people found the following review helpful:
I finally have lenses I can wear all day long!
I tried out Avaira Toric as a solution to my astigmatism. I am so glad that they fit comfortably and give me great vision all day long! I was really worried that I would have to deal with eye drops or taking out my contacts, but that was not the case!
62 people found the following review helpful:
My vision is perfect for the entire 2 weeks now
Avaira Toric is a great contact that is very affordable! I love that they last 1-2 weeks at a time without messing up my vision at all. They are easy to use and my eyes feel moisturized and comfortable the entire day through!
113 people found the following review helpful:
Good bye to headaches for real
I constantly get headaches with contact lenses caused by my astigmatism, but not with Avaira Toric contacts. Somehow, they are able to keep my vision clear, and never leave my head feeling fuzzy.

112 people found the following review helpful:
Avaira Toric is perfect for my lifestyle
I am outside almost all day for work, so having my Avaira Toric contacts protect me from UV radiation is amazing. And that is just one of their many great benefits!

115 people found the following review helpful:
Product Information
If you suffer from astigmatism, you may have a difficult time choosing a contact lens that fits comfortably and works effectively. Since astigmatism causes blurred or unclear vision, often due to the irregular curvature of the cornea or the lens in the eye, people with astigmatism do not always benefit from wearing traditional contact lenses. If you have astigmatism and are not satisfied with your current contact lenses, Avaira Toric lenses may be the right fit for you.
Traditional contact lenses have a spherical shape and don't always provide the necessary comfort or visual benefits for people with astigmatism. Toric contact lenses, however, are made to fit the irregular shape of the eye that causes astigmatism. Avaira Toric lenses provide stability, consistency, and comfort throughout the day. Avaira Toric contacts use patented AQUAFORM Comfort Science Technology, which keeps your contact lenses moist throughout the day, eliminating the need for wetting agents or other treatments. They also shield your eyes from harmful UV rays through their unique UV-blocking protection.
For those who suffer from astigmatism, vision may be made unclear by the difference in refraction of the vertical and horizontal planes of the eye. Avaira Toric contact lenses address this issue by featuring Optimized Lens Geometry, a multifaceted design that provides additional stability, precision, and comfort. Avaira contact lenses that feature Optimized Lens Geometry will improve accuracy and decrease the irritation that you may experience from ordinary contact lenses.
CooperVision Avaira Toric lenses are among the best when it comes to cheap contact lenses, offering maximum comfort and visual support at a significantly lower cost than the common retail price. If you suffer from astigmatism and are not satisfied with your current contact lenses due to dryness, irritation, or lack of precision, then Avaira Toric lenses by CooperVision may be the perfect solution for you.
If you've been unhappy with the comfort of your current lenses or have never worn contacts before, try CooperVision's Avaira Toric lenses. Since Avaira Toric lenses are 1-2 week disposable contact lenses they come in packs with six lenses per box. If you purchase a 6 pack of Avaira contacts from Lens.com, you'll enjoy cheap contact lenses and fast shipping. Since Lens.com sells Avaira lenses at the lowest price allowed by the manufacturer, you won't find Avaira contacts online or in stores at a cheaper price – guaranteed!
Product Availability
This item normally ships within 5-8 business days.
Price Comparison
| Our Lowest Price | Retail Price | Your Savings |
| --- | --- | --- |
| $29.99 | $51.00 | $21.01 |
Material Content
54% Polymer (enfilcon A)