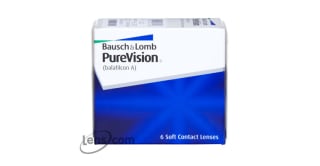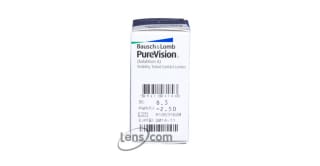 PureVision
6 Month Supply

$54.99

$77.00 You Save $22.01

Buy 4 boxes for

$40.39 per

box

after rebate

Buy 2 boxes for

$42.89 per

box

after rebate

See Details See Details
Choose Quantity & Enter Prescription for Right and Left Eye
Prescription Information:
OD

right eye

OS

left eye

Brand name

eg. Acuvue

BC / Base Curve

a number between 8.0 and 10.0

DIA / Diameter

a number between 13.0 and 15.0

Power / Sphere / Rx

a number between -20 and +20
In Addition for astigmatic patients:
Cylinder

a number between -4.00 and +4.00

Axis

a number between 0 and 180

Cylinder and Axis are usually separated by a x
For Multifocal, Bifocal lenses or Presbyopia:
"Addition" or "add" is usually preceded by "+" or is listed as "low", "mid" or "high" depending on the lens manufacturer.
MONEY BACK GUARANTEE Complete Details

HASSLE FREE RETURNS Complete Details
Love my Contacts
MT optometrist prescribe Pure Vision 2 at Costco. They no longer carry the original. I was miserable with them and my eyes were marred shut every morning. I can see again and my eyes are clear. They don't fold up in my eyes like PV2 did.
Great lenses
I like the price of these lenses and quality.
Contacting my doctor for my prescription
Quick and accurate service. Receaved lenses in a very timely matter.
4 people found the following review helpful:
Ease of purchase
I love my lenses and the ease of ordering from you. I think my prescription has changed- my exam is this summer.
3 people found the following review helpful:
Quick and reliable business
Placed my order to make sure I have contacts while during a shutdown quarantine situation in my state. Price was reasonable and received my order quickly and in tact no damage as usual.
4 people found the following review helpful:
Ordering is extremely easy
I like that my prescriptions is kept on file. Just have to go to the site and order. Wasn't all that complicated to change my prescription, either.

4 people found the following review helpful:
PureVision
Excellent, fit very comfortable.
4 people found the following review helpful:
Look no further.
You won't find a better price any where. Fast delivery. Great product. Have been wearing these contacts for over 20 years. I get two months at least out of a pair. Great customer service.
5 people found the following review helpful:
Pure Vision pricing
Pure Vision proving had a huge 60% price increase over the last year. What gives? Will ask my doctor to prescribe something else. They worked well for me so this is disappointing. Wonder if they are discouraging purchase to push folks to a different lens?
4 people found the following review helpful:
Product Information
While a stylish pair of eyeglasses may make a fashion statement, many who require vision correction choose to wear contacts for three reasons: clear vision, comfort, and convenience. Bausch and Lomb PureVision lenses deliver on all three, providing up to thirty days of continuous wear – day and night, night and day for an entire month.
The secret behind Bausch and Lomb's PureVision contact lenses is that they're constructed of a unique AerGel silicone hydrogel material. AerGel, along with a Performa surface, delivers an enhanced ability to retain moisture and resist the buildup of protein deposits. This special material does not impede the flow of oxygen or fluid, keeping the eyes comfortable all day. As the first lenses made with AerGel, PureVision contacts contain 36 percent water and provide the eyes with an exceptional level of oxygen. Additionally, the surface is treated to stay moist using the eyes' natural tears. For crystal-clear clarity that brings detail to life, the high-definition aspheric optical design of PureVision contacts provide enhanced focus and vision.
Bausch and Lomb's PureVision are monthly contact lenses, providing visual clarity and comfort that will fit even the busiest of lifestyles. You can wear them continuously during this period; throughout the day and night, and even while sleeping. Once the lenses are removed and replaced with a new pair of PureVision contacts, it is recommended that you let your eyes rest by not wearing contact lenses for at least one night. Under your doctor's recommendation, you can also select daily wear use and wear them during the day, remove them before bed, and replace with a new pair after thirty days of wear.
Since PureVision contacts can correct nearsightedness (myopia) or farsightedness (hyperopia), they're an option for virtually everyone who may require vision correction. The length of time you can continuously wear PureVision lenses will depend on the recommendations of your eye-care professional. In clinical trials, 94 percent of subjects were able to continuously wear such lenses for thirty days; if your eyes become irritated or inflamed, your eye care professional may recommend a shorter wearing period. Finally, there are some situations or conditions in which wearing contact lenses isn't advised, such as while swimming. In order to prevent infection or complications, ask your eye-care professional for more details.
At Lens.com, we're constantly checking our competitor's prices so we can bring you the best prices on contact lenses from top brands, Bausch and Lomb PureVision lenses included. Order now to get the clear, comfortable vision of Bausch and Lomb PureVision contacts offered at an unbeatable value – you won't find cheaper lenses anywhere online or in stores, guaranteed!
Product Availability
This item normally ships within 2-4 business days.
Price Comparison
| Our Lowest Price | Retail Price | Your Savings |
| --- | --- | --- |
| $50.39 | $77.00 | $26.61 |
Material Content
64% Polymer (balafilcon A)