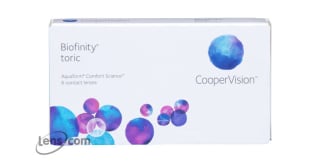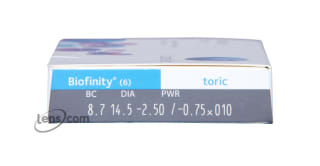 Biofinity Toric
6 Month Supply

$50.99

$75.00 You Save $24.01

Buy 4 boxes for

$40.99 per

box

after rebate

Buy 2 boxes for

$43.49 per

box

after rebate

See Details See Details
Choose Quantity & Enter Prescription for Right and Left Eye
Prescription Information:
OD

right eye

OS

left eye

Brand name

eg. Acuvue

BC / Base Curve

a number between 8.0 and 10.0

DIA / Diameter

a number between 13.0 and 15.0

Power / Sphere / Rx

a number between -20 and +20
In Addition for astigmatic patients:
Cylinder

a number between -4.00 and +4.00

Axis

a number between 0 and 180

Cylinder and Axis are usually separated by a x
For Multifocal, Bifocal lenses or Presbyopia:
"Addition" or "add" is usually preceded by "+" or is listed as "low", "mid" or "high" depending on the lens manufacturer.
MONEY BACK GUARANTEE Complete Details

HASSLE FREE RETURNS Complete Details
Perfect
They are great same as the ones I got from my doctors office but half the price !
6 people found the following review helpful:
great contact lens
So far I am happy with the lens. Occasionally there will be one that is flawed, but so far I have only had one that was bad. I won't know if there are any more that all not good.
9 people found the following review helpful:
Very comfortable
I really like these lenses. Toric's can be uncomfortable because of the thickness in high correction prescriptions. I find these to be very comfortable all day, up to 20 hours a day. Great pricing online makes these my go to lenses.
10 people found the following review helpful:
Best price
Came quickly. Dislike waiting for rebate
10 people found the following review helpful:
I have tried other lens distributors.
Very please with the quick response in getting my order prepared and shipped.
9 people found the following review helpful:
Extremely comfortable
I started out with gas permeable contacts. After I tried Biofinity Toric, I'll never go back!
10 people found the following review helpful:
9 people found the following review helpful:
Fast delivery
Easy ordering and fast delivery.
10 people found the following review helpful:
Exactly as expected !!
Love the contacts period! My only dislike is a better container for the contacts.
10 people found the following review helpful:
Price & condition contacts arrived in
Your price was the best I found. I received the contacts in a very timely manner & in perfect condition. These lenses work very well for me. I have astigmatism in both eyes & my eyes are pretty sensitive. These lenses are very comfortable.
Product Information
Show your astigmatism who's the boss with Biofinity toric contacts. Manufactured by CooperVision and made from a unique silicon hydrogel material, these revolutionary, high-performance toric lenses are comfortable, convenient, and are sure to provide clean, clear vision from the minute you put them in to the minute you take them out. Known for their unique Aquaform Science Technology, CooperVision's Biofinity toric contact lenses are among the best contacts for astigmatism available anywhere online or in stores. Each lens features Optimized Lens Geometry, a multifaceted design that ensures your lenses will remain stable and accurate.
FDA approved for up to 30 days of wear, Biofinity toric contact lenses are manufactured specifically for patients with astigmatism. If your eyesight is blurry or distorted when looking at both near and far objects, CooperVision Biofinity toric contacts can help correct your vision. Even better, they're cleared by the FDA for up to seven days continuous wear Ė whether you're heading out of town or are completely swamped at work, these monthly contact lenses are sure to stay moist and comfortable from insertion to removal, even when worn for more than one day.
If you find yourself dependent on wetting drops due to dryness or irritation, Biofinity astigmatism contacts may be the perfect solution. Through the unique Biofinity Aquaform Comfort Science Technology, Biofinity toric contacts are some of the longest lasting, most comfortable toric lenses you'll find in stores or online. With no additives, wetting agents, or surface treatments, nothing will come between you and a more comfortable lens-wearing experience Ė not even your astigmatism!
Thanks to the exclusive Aquaform Technology, Biofinity toric lenses allow oxygen to easily travel in and out of the lens. Not only does this prevent irritation, but it'll keep your eyes healthy and your sclera white. When compared to other toric lenses on the market, Biofinity toric contacts are made with a softer and smoother material so your eyes will stay comfortable and your eyesight clear, without having to rely on rewetting drops. If your astigmatism has been holding you back from the convenience of contact lenses, ask your eye care professional about Biofinity contact lenses.
Those with astigmatism know how important a properly fitting, high performance silicone hydrogel lens can be, and Biofinity toric contacts won't disappoint. With 6 lenses per box, you'll enjoy the guaranteed lowest price allowed by CooperVision. In other words, you won't find Biofinity toric monthly contact lenses online or in stores at a cheaper price Ė guaranteed!
Product Availability
This item normally ships within 2-4 business days.
Price Comparison
| Our Lowest Price | Retail Price | Your Savings |
| --- | --- | --- |
| $50.99 | $75.00 | $24.01 |
Material Content
52% Polymer (comfilcon A)