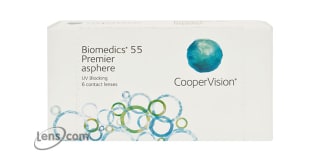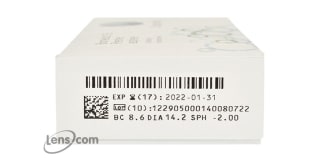 Biomedics 55 Premier Asphere
3 Month Supply

$28.99

$38.00 You Save $9.01

Buy 4 boxes for

$21.49 per

box

after rebate

Buy 2 boxes for

$23.99 per

box

after rebate

See Details See Details
Choose Quantity & Enter Prescription for Right and Left Eye
Prescription Information:
OD

right eye

OS

left eye

Brand name

eg. Acuvue

BC / Base Curve

a number between 8.0 and 10.0

DIA / Diameter

a number between 13.0 and 15.0

Power / Sphere / Rx

a number between -20 and +20
In Addition for astigmatic patients:
Cylinder

a number between -4.00 and +4.00

Axis

a number between 0 and 180

Cylinder and Axis are usually separated by a x
For Multifocal, Bifocal lenses or Presbyopia:
"Addition" or "add" is usually preceded by "+" or is listed as "low", "mid" or "high" depending on the lens manufacturer.
MONEY BACK GUARANTEE Complete Details

HASSLE FREE RETURNS Complete Details
Biomedics 55 Premier Asphere

Reviews
Contacts
I like these contacts, they are a little on the dryer side though. I'm hoping it my allergies and not the contacts
They tear very easily.
I like this product, however they tear very easily, which I don't like.
Perfect
The order was received promptly and the prescription was spot on. It was easy to place the order and sending the prescription was a piece of cake. I'd recommend this to anyone needing contacts.
3 people found the following review helpful:
Excellent Contacts!
These contact lenses are very comfortable and I never have problems with them. I highly recommend these, they're great!
3 people found the following review helpful:
Excellent service.
I have been ordering lenses from lens.com for years and remain pleased with their excellent service and ease with reordering lenses.
3 people found the following review helpful:
Great Lens!
Came fast and very good quality. Great Price. I will be buying again
3 people found the following review helpful:
Comfort
Very, very comfortable.
3 people found the following review helpful:
Wonderful Product
Contacts are soft and comfortable. Easy to put in and take out of your eyes. Would recommend this product to anyone who wears contacts.
7 people found the following review helpful:
poor quality
They tear way too easy.
7 people found the following review helpful:
Product Information
Contact lenses have come a long way since their humble, often uncomfortable beginnings. The quality of the materials used and the advancements in technology and design have led to a new era of contact lenses that provide lasting comfort and maintain eye health at the same time. Unfortunately, sometimes improvement comes at a cost. Many of todayís disposable lenses arenít exactly budget friendly, but why should you have to compromise your eye health to save money? The people at CooperVision believe you shouldnít, which is why theyíve created Biomedics contact lenses. Biomedics 55 Premier contacts are widely available, but you may not recognize the name, as theyíre often sold as the store brand lenses at many retailers across the country. Despite their relative anonymity, Biomedics 55 Premier have a lot of great features at an amazingly low price point.
One of the most notable features of Biomedics 55 is that they are aspheric lenses. If you havenít heard of aspheric lenses, the concept is pretty easy to understand. Regular contact lenses have an even, spherical curve over the entire lens. With aspheric lenses, the curve is varied over the lens, causing the light coming into the eye to focus more precisely on the retina. The idea is that the sharper focus should provide clearer vision compared to when light is focused in a general area. You donít have to sacrifice comfort or convenience when you save on contact lenses. Biomedics 55 contacts have a special rounded edge that helps make these lenses incredibly comfortable. Biomedics 55 Premier lenses also have a 55 percent water content, keeping your eyes moist all day.
Biomedics 55 contact lenses are 1-2 week disposable contact lenses, which means they can be worn daily for up to 14 days. However, they should be removed and sanitized each night and reinserted in the morning. After 2 weeks, they should be discarded and replaced with a brand new pair of contact lenses. Using a shorter replacement schedule helps keep eyes fresh, clear, and healthy as there is little time for build-up and allergens to accumulate and irritate eyes. For current contact lens wearers who experience irritation and discomfort, Biomedics 55 may be the alternative youíve been looking for.
Whether the cost of your usual disposable lenses is getting you down or you just want to try an effective contact lens at a great price point, then Biomedics 55 contacts are an optimal choice. Of course, when you shop with Lens.com you can save even more money. We actively stay on top of competitorsí prices so that we can be sure we are offering the best value around to our valued customers. With hassle-free returns, 100% money-back satisfaction, and quick shipping, you canít go wrong with purchasing your contact lenses from Lens.com.
Product Availability
This item normally ships within 2-4 business days.
Price Comparison
| Our Lowest Price | Retail Price | Your Savings |
| --- | --- | --- |
| $28.99 | $38.00 | $9.01 |
Material Content
45% Polymer (ocufilcon D)