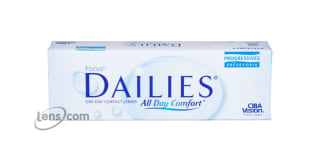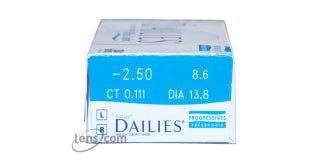 Focus Dailies Progressives Contact Lenses
1 Month Supply

$24.99

$35.00 You Save $10.01

$19.99 Buy 5+ per eye $35.00 You Save $15.01
Choose Quantity & Enter Prescription for Right and Left Eye
Prescription Information:
OD

right eye

OS

left eye

Brand name

eg. Acuvue

BC / Base Curve

a number between 8.0 and 10.0

DIA / Diameter

a number between 13.0 and 15.0

Power / Sphere / Rx

a number between -20 and +20
In Addition for astigmatic patients:
Cylinder

a number between -4.00 and +4.00

Axis

a number between 0 and 180

Cylinder and Axis are usually separated by a x
For Multifocal, Bifocal lenses or Presbyopia:
"Addition" or "add" is usually preceded by "+" or is listed as "low", "mid" or "high" depending on the lens manufacturer.
MONEY BACK GUARANTEE Complete Details

HASSLE FREE RETURNS Complete Details
Focus Dailies Progressives Contact Lenses

Reviews
Lens.com apparently knows what customer service is
I was very impressed with how quickly my prescription was filled and delivered to me. Keep doing what you're doing the way you're doing it!! Thank you.
Moist
I've worn other contact lenses that were dry my eyes out after two or three hours these seem to be moist and last me throughout the day
Daily progressives
I love these contacts. I can see perfectly!!!
Purchase and delivery
Excellent
121 people found the following review helpful:
Totally high quality contacts
Lots of daily contacts I have worn were flimsy and cheap, but not Focus Dailies Progressives. They are strong and sturdy, and are able to make it through the day.

123 people found the following review helpful:
Focus Dailies Progressives are so convenient
I love wearing Focus Dailies Progressives, and having a fresh pair every day makes it all the better. I love how convenient they are.

117 people found the following review helpful:
I enjoy wearing my Focus Dailies
Having daily contacts is such a convenience to me. It is even better when they are comfortable, which is the case with Focus Dailies Progressives. I really enjoy wearing these.

115 people found the following review helpful:
perfect for one day wear
Focus Dailies Progressives lenses only need to last one day, and they do perfectly. My eyes are never dry when they are in, which is a great feeling to have.

"No Cleaning, No Worries"
These lenses are great. They are very comfortable so they are a better alternative to glasses. I never thought I would be able to wear contact lenses but theses are actually very easy to deal with. After a few tries I was able to put them in fairly easily and there is no cleaning involved. I also don't need to wear them every day if I don't want to since they are daily disposable.
Product Information
If youíre in your early forties or older, thereís a good chance you might have presbyopia. As a matter of fact, the condition happens to everyone sooner or later. Itís characterized by having difficulty focusing on fine print and close-up objects, like having to read the newspaper at armís length or experiencing eye strain from writing notes. Having trouble seeing in the dark and needing the light to be brighter to see clearly are other symptoms. How is it caused? The lenses of the eyes become stiffer and less flexible with age, which results from the weakening of the muscle surrounding the lenses. Also, individuals who spend a lot of time working on the computer or engaging in other activities that require close vision can get the condition sooner.
However, the convenience and comfort of daily disposable contacts is not out of reach for those with presbyopia. Focus Dailies Progressives contact lenses by Alcon are the only daily disposable multifocal lenses available for patients with presbyopia. In addition to correcting this visual ailment, Focus Dailies Progressives provide clear vision in a wide range of lighting conditions. The daily disposable design of the lens makes it easy to stay on schedule and ensures optimum convenience with no cleaning or solution necessary. You simply enjoy a full day of wear, toss them at bed time, and insert fresh new lenses at the beginning of the next dayóitís that easy.
The Focus Dailies Progressives lenses are also designed for the utmost comfort. They feature specialized, blink-activated moisture thatís released gradually from the inside of the lens to the surface, consistently refreshing your eyes for a full day. In addition, patented proprietary technology creates an innovative thin-edge design for a consistent fit, easier insertion, and a natural blend. A deposit-resistant surface prevents irritation and interference for clearer vision with no blurring or discomfortótrust us, youíll notice the difference.
So, if youíre accustomed to the ease and comfort of daily disposable contact lenses and presbyopia is affecting your sight, Alconís Focus Dailies Progressives is the obvious choice. The five-star reviews for this product speak for their superior performance and quality. Purchasing your Focus Daily Progressives from Lens.com is also a smart choice. With hassle-free returns, 100% money-back customer satisfaction, and quick shipping, you canít go wrong with purchasing your contact lenses from Lens.com.
Product Availability
This item normally ships within 1 - 2 business days.
Price Comparison
| Our Lowest Price | Retail Price | Your Savings |
| --- | --- | --- |
| $19.99 | $35.00 | $15.01 |
Material Content
31% Polymer (nelfilcon A)