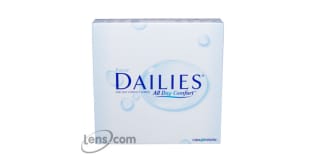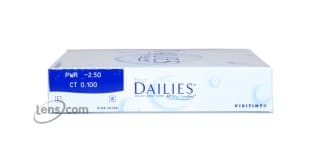 Focus Dailies Contact Lenses
3 Month Supply

$56.99

$69.99 You Save $13.00

Buy 4 boxes for

$36.99 per

box

after rebate

Buy 2 boxes for

$36.99 per

box

after rebate

See Details See Details
Choose Quantity & Enter Prescription for Right and Left Eye
Prescription Information:
OD

right eye

OS

left eye

Brand name

eg. Acuvue

BC / Base Curve

a number between 8.0 and 10.0

DIA / Diameter

a number between 13.0 and 15.0

Power / Sphere / Rx

a number between -20 and +20
In Addition for astigmatic patients:
Cylinder

a number between -4.00 and +4.00

Axis

a number between 0 and 180

Cylinder and Axis are usually separated by a x
For Multifocal, Bifocal lenses or Presbyopia:
"Addition" or "add" is usually preceded by "+" or is listed as "low", "mid" or "high" depending on the lens manufacturer.
FREE SHIPPING

MONEY BACK GUARANTEE Complete Details

HASSLE FREE RETURNS Complete Details
Focus Dailies Contact Lenses

Reviews
Focus Dailies 90pk
I love it
Fast Service
Fast service and excellent quality. Inexpensive compared to other companies.
3 people found the following review helpful:
Good service, rare mistake
Staff always very helpful. Unfortunately contacts were back-ordered by a few months, and I received an email informing order status changed and was later informed that order was cancelled (when I did not cancel the order). Ended up placing a new order, BUT the original order was later shipped anyway (although I was informed it had been cancelled) and was charged for two separate orders.

3 people found the following review helpful:
Comfortable
These are the most comfortable contacts ever! Lightweight and easy to wear for 14 hours a day.
3 people found the following review helpful:
Great!
best price around for the exact same lenses! fast shipping and hassle free!
7 people found the following review helpful:
Years of Comfort
I've been wearing Focus Dailies for years, probably for decades. They are sanitary, moist and sharp.
7 people found the following review helpful:
Manager
Had to wait many weeks to get my order. Normally get it in 1-2. Kept getting an automated message it would ship 4 weeks after order placement. It was more like 8 weeks. I kept order in place and ordered from another vendor the same order and had it in a week. Although I paid more for it. Still happy with pricing from these folks.
8 people found the following review helpful:
Lens.com always has the best price for my lenses.
I've been using the same brand of lenses for a decade. I appreciate that Lens.com has the best price I can find on the internet. That's why I've been a customer for over a decade.
7 people found the following review helpful:
Product Information
Contact lenses make a lot of activities more convenient than theyíd be while wearing glasses. However, cleaning and rinsing contacts at the beginning and end of each day can take up valuable time and become quite tedious. On top of that, some contact lenses donít always remain comfortable throughout a long, hectic day. Regularly stopping to put in moisturizing drops can be a pain, especially when you are in the middle of a meeting or even a movie. Fortunately, thereís a way to stay comfortable and have the flexibility of contacts without the hassle of cleaning and upkeep. Focus Dailies allow for all the perks of wearing contact lenses without any of the inconvenience.
Made by trusted vision health brand CIBA Vision, Focus Dailies contact lenses are designed for maximum comfort and convenience. Unlike weekly or monthly lenses, Focus Dailies contacts donít require daily cleaning since they are daily disposable contact lenses. You simply insert them in the morning and throw them out each night. In the morning, you get to enjoy the fresh feeling of a brand new pair of lenses. Your eyes will feel great because thereís no time for residue to build up on the contacts. Wearing daily contact lenses also helps keep eyes healthy as you are inserting a fresh pair of uncontaminated lenses each day.
If youíve ever had a problem with eye dryness, especially after extended contact lens wear, then the special AquaRelease moisturizing agent in Focus Dailies contacts will change the way you view contacts. This advanced formula releases slowly over the course of the day, each and every time you blink your eyes. Thereís no need for moisturizing eye drops, as the AquaRelease technology is like having built-in moisture drops. Additionally, Focus Dailies are made of an ultra-thin and comfortable material and have Ďthe comfort edgeí to create an undeniable fit.
However, Focus Dailiesí all day comfort is just one of the many reasons to try these lenses. Anyone who has trouble with excess protein deposits should find relief with these lenses as they are only worn for one day. Allergy sufferers can benefit too from wearing Focus Dailies as there is less accumulation of pollen and other allergens on a lens thatís tossed out at the end of each day. If youíre tired of relying on moisturizing eye drops, switching to Focus Dailies may be the best solution for you.
Some people avoid trying daily contact lenses because theyíre worried about the cost. What they donít know is that buying a yearís supply of Focus Dailies costs about the same as a good pair of glasses. Even better, when you order your Focus Dailies 90 pack from Lens.com youíll be getting the best price available on the market. Why buy cheap contact lenses when you can get quality ones for the same great price?
Product Availability
This item normally ships within 1 - 2 business days.
Price Comparison
| Our Lowest Price | Retail Price | Your Savings |
| --- | --- | --- |
| $56.99 | $69.99 | $13.00 |
Material Content
31% Polymer (nelfilcon A)