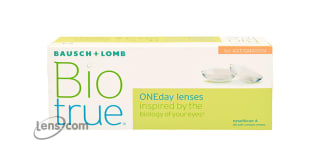 Biotrue ONEday for Astigmatism 30PK
1 Month Supply

$32.99

$41.00 You Save $8.01

Buy 4 boxes for

$22.99 per

box

after rebate

Buy 2 boxes for

$25.49 per

box

after rebate

See Details See Details
Choose Quantity & Enter Prescription for Right and Left Eye
Prescription Information:
OD

right eye

OS

left eye

Brand name

eg. Acuvue

BC / Base Curve

a number between 8.0 and 10.0

DIA / Diameter

a number between 13.0 and 15.0

Power / Sphere / Rx

a number between -20 and +20
In Addition for astigmatic patients:
Cylinder

a number between -4.00 and +4.00

Axis

a number between 0 and 180

Cylinder and Axis are usually separated by a x
For Multifocal, Bifocal lenses or Presbyopia:
"Addition" or "add" is usually preceded by "+" or is listed as "low", "mid" or "high" depending on the lens manufacturer.
MONEY BACK GUARANTEE Complete Details

HASSLE FREE RETURNS Complete Details
Biotrue ONEday for Astigmatism 30PK

Reviews
7 people found the following review helpful:
These contacts are so comfortable!
I had Lasik 3 years ago and it didn't turn out the way I'd hoped. I did not have an astigmatism before surgery and had worn the same contacts with the same prescription for over 30 years. This past year I went on the hunt for contacts that would help me see clearly and keep my eyes from feeling dry and scratchy. I found them. I love these contacts and feel like I'm back to myself again.
9 people found the following review helpful:
So dry
I haven't used contacts much but have tried a few others and these were what my doctor prescribed so I felt obligated to get them but they are just so dry and present on my eye I can't wear them more than a couple hours. So dry it's really so uncomfortable and I'm so disappointed.
8 people found the following review helpful:
They fit great!
One thing i do not like about the product is they becoming very dry towards the end of the day.
6 people found the following review helpful:
Product Information
Experience Biotrue Astigmatism daily disposable contact lenses for consistently clear vision and comfort throughout the day. Maintains 98% of its moisture for up to 16 hours. With high definition optics for consistently clear vision all day, outstanding breathability provides the oxygen eyes need to stay healthy and white, and UVA/UVB protection to help protect your eyes along with sunglasses. All in the convenience and comfort of a daily disposable lens.
Product Availability
This item normally ships within 3-5 business days.
Price Comparison
| Our Lowest Price | Retail Price | Your Savings |
| --- | --- | --- |
| $32.99 | $41.00 | $8.01 |
Material Content
22% Polymer (nesofilcon A)