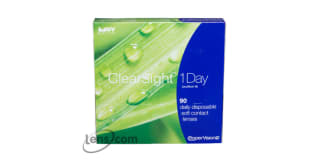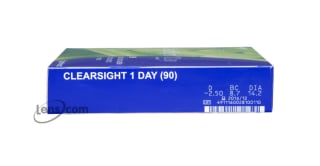 Biomedics 1 Day (ClearSight 1 Day)
3 Month Supply

$46.99

$76.00 You Save $29.01

Buy 4 boxes for

$37.95 per

box

after rebate

See Details See Details
Choose Quantity & Enter Prescription for Right and Left Eye
Prescription Information:
OD

right eye

OS

left eye

Brand name

eg. Acuvue

BC / Base Curve

a number between 8.0 and 10.0

DIA / Diameter

a number between 13.0 and 15.0

Power / Sphere / Rx

a number between -20 and +20
In Addition for astigmatic patients:
Cylinder

a number between -4.00 and +4.00

Axis

a number between 0 and 180

Cylinder and Axis are usually separated by a x
For Multifocal, Bifocal lenses or Presbyopia:
"Addition" or "add" is usually preceded by "+" or is listed as "low", "mid" or "high" depending on the lens manufacturer.
MONEY BACK GUARANTEE Complete Details

HASSLE FREE RETURNS Complete Details
Biomedics 1 Day (ClearSight 1 Day)

Reviews
Great price
Great value - easy to order - speedy delivery.
3 people found the following review helpful:
Fast shipping
The product came correct and shipped fast.
8 people found the following review helpful:
Recieved contact on time and work as expected
These are my first daily contacts, so I do not have anything to compare them to, other than my two weeks. These feel a little thinner and from a vision perspective work fine. I find that I can't wear them a full day (morning 8:00 am to evening @9:00 pm) without having re-wetting drops. They start to feel dry around 6:00 pm. If I am home, I just end up removing them and then put on my glasses.
8 people found the following review helpful:
Good Stuff
Above average contacts and arrived ahead of schedule.
8 people found the following review helpful:
Lighter than other dailies
I have tried a number of different contacts. As a long time wearer The other types dry my eyes out faster and feel heavier putting pressure on my eyes. I LOVE Biomedics and will not wear any other kind.
Biomedics 1 day contact lenses are perfect for me
I like to switch between contact lenses and glasses so the Biomedics 1 day contact lenses are perfect for me. These daily disposable lenses give me a lot more freedom to choose when I want to wear glasses and when I want to wear contact lenses. I don't have to keep them in contact lens case until they are dry and I am no longer able to use them They are very comfortable as well and keep my eyes feeling great!
Biomedics makes the best dailies out there
Biomedics makes the best dailies out there. I am very active and often have to travel for work. These dailies are ideal, perfectly clear vision and no messy solution to worry about at the baggage check. Biomedics 1 day is a great product at reasonable price.
Product Information
If you're a regular wearer of monthly, bi-weekly, or weekly contact lenses, you're likely a big fan of peeling the packaging off of a new pair of contact lens. Nothing is better than the feeling—or rather the absence of a feeling—of wearing a fresh pair of lenses. That's not to say that disposable contacts aren't a huge upgrade from the contact lenses of the past, but wearing contacts that are fresh out of the box is the best it gets for contact lenses wearers. Wouldn't it be great if lenses could feel that good each and every day?
Introducing the daily disposable contact lens—eyes have gotten a big comfort boost since daily contacts first hit the market. If you're still unfamiliar with daily contacts, such as Biomedics 1 Day by CooperVision, these contacts are made to be worn for a single day and then replaced with a fresh pair. This process not only keeps eyes feeling comfortable, but also promotes good eye health as there is practically no time for irritating deposits to build up on lenses. Allergy sufferers can also greatly benefit from wearing Biomedics 1 Day contacts as there is also reduced allergen accumulation on a daily lens. Adding to Biomedics 1 Day contact lenses' comfort level is the fact that these lenses have a 55 percent water content. This keeps eyes moist from morning until night, even in dry conditions. In fact, these lenses keep eyes feeling good for up to 11 hours of continual wear.
The convenience of Biomedics 1 Day contact lenses cannot be beat either. Daily contact lenses can shave time off an already packed day-to-day routine. Unlike monthly, bi-weekly, or weekly contact lens wearers who have to deal with cleaning and storing contact lenses each night and rinsing them each morning, wearers of daily disposable contact lenses can simply toss their lenses at the end of the day. There's no hassle and no extra products to buy. Additionally, they won't have to mark their calendars or remember a replacement schedule.
So, if you're looking for a high-quality contact lens to correct your nearsighted or farsightedness, and you don't want to fuss with cleaning and rinsing lenses, then Biomedics 1 Day may be the solution. When you're ready to give these daily disposable contact lenses a try, have a look at the prices on Lens.com. With hassle-free returns, 100% money-back customer satisfaction, and quick shipping, you can't go wrong with purchasing your contact lenses from Lens.com.
Product Availability
This item normally ships within 2-4 business days.
Price Comparison
| Our Lowest Price | Retail Price | Your Savings |
| --- | --- | --- |
| $42.95 | $76.00 | $33.05 |
Material Content
48% Polymer (ocufilcon B)