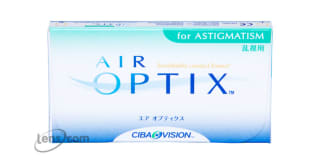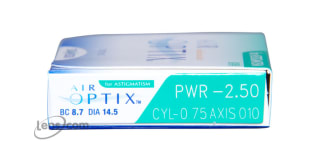 Air Optix for Astigmatism
6 Month Supply

$57.99

$69.00 You Save $11.01

Buy 4 boxes for

$45.45 per

box

after rebate

Buy 2 boxes for

$47.95 per

box

after rebate

See Details See Details
Choose Quantity & Enter Prescription for Right and Left Eye
Prescription Information:
OD

right eye

OS

left eye

Brand name

eg. Acuvue

BC / Base Curve

a number between 8.0 and 10.0

DIA / Diameter

a number between 13.0 and 15.0

Power / Sphere / Rx

a number between -20 and +20
In Addition for astigmatic patients:
Cylinder

a number between -4.00 and +4.00

Axis

a number between 0 and 180

Cylinder and Axis are usually separated by a x
For Multifocal, Bifocal lenses or Presbyopia:
"Addition" or "add" is usually preceded by "+" or is listed as "low", "mid" or "high" depending on the lens manufacturer.
MONEY BACK GUARANTEE Complete Details

HASSLE FREE RETURNS Complete Details
Air Optix for Astigmatism

Reviews
The fit is great.
Goes in smoothly and the fit is great.
Good contacts
Took a little long to receive my contacts, but it's because they had to source out of their factory. Contacts fit perfectly, by the end of the day my eyes are dry, but I'm sure I just need drops. Good price, I will purchase contacts again from Lens.com.
Perfect at a fraction of the cost!
Same lenses as the ones I paid twice as much for. Air Optix are the only lenses I wear.
2 people found the following review helpful:
Comfort
As a first responders working a 24 hour shift I can leave these in the entire shift and still not feel like I'm wearing them. Tried the acuve Oasis and eyes got irritated after about 4 hours
Always the best customer service
The product is perfect and shipping has a hiccup but they fixed it right away. I have been ordering from lens.com for several years and I have never been disappointed.
reliable
Speedy delivery, easy to reorder, never had a problem. Good on rebates.
Quick delivery
Get what you order quickly.
4 people found the following review helpful:
Comfortable fit contacts
Quick delivery
4 people found the following review helpful:
Product Information
Having completely spherical shaped eyes is far less common than youíd think. In fact, many people have at least one eye thatís not perfectly round. The spherical shape of eyes is important in that it allows light to properly focus on the retina. When the cornea or lens is abnormally shaped, the light comes into the retina from multiple areas, causing blurry vision. The condition, known as astigmatism, can occur whether youíre nearsighted, farsighted, or otherwise perfectly sighted. Astigmatism can be very slight and cause little to no issue or it can make vision quite blurry.
Wearing regular contact lenses typically works great for anyone with nearsighted or farsighted issues, but astigmatism brings a whole new set of complications. If you are a contact lens wearer who has been diagnosed with astigmatism and have begun to notice that your contacts arenít giving you the sharp vision they used to, you may need to switch to toric contact lenses made especially for astigmatism. Air Optix for Astigmatism offers ultra-clear vision, comfort, and breathability in one convenient package.
As the name suggests, Air Optix for Astigmatism was created to allow for high oxygen transmission. Our eyes need to be able to breathe in order to maintain their health and properly function. Unlike other organs, our corneas get their oxygen directly from the air rather than from the blood travelling through blood vessels. Since the oxygen enters the eyes through the coating of tears at the front of the eye, contact lens wearers need to be sure theyíre wearing contact lenses that allow for oxygen to pass through at a high percentage, such as Air Optix Aqua for Astigmatism.
Not only are Air Optix for Astigmatism contact lenses incredibly breathable, but they are also amazingly clear. In order to properly correct vision, lenses made for astigmatism must stay in place throughout the day. Fortunately, Air Optix contacts for Astigmatism are stabilized at two points on the lens, rather than just one, to offer greater clarity. Even more, these Air Optix toric contact lenses have a special ultra-smooth coating to resist irritating protein build-up.
Air Optix for Astigmatism are monthly contact lenses, approved for extended wear of up to six nights. After 30 days of use, the lenses should be disposed of and replaced with a brand new pair. With all of these benefits you may think that finding cheap Air Optix for Astigmatism pricing is impossible. The truth is, when you shop at Lens.com you can get the best brands for the same price as cheap contact lenses found on other sites.
Product Availability
This item normally ships within 3-5 business days.
Price Comparison
| Our Lowest Price | Retail Price | Your Savings |
| --- | --- | --- |
| $57.95 | $69.00 | $11.05 |
Material Content
67% Polymer (lotrafilcon B)