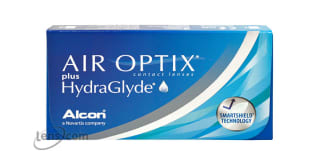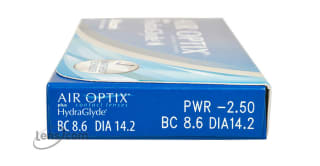 Air Optix plus HydraGlyde
6 Month Supply

$29.99

$53.00 You Save $23.01

Buy 4 boxes for

$20.00 per

box

after rebate

Buy 2 boxes for

$22.50 per

box

after rebate

See Details See Details
Choose Quantity & Enter Prescription for Right and Left Eye
Prescription Information:
OD

right eye

OS

left eye

Brand name

eg. Acuvue

BC / Base Curve

a number between 8.0 and 10.0

DIA / Diameter

a number between 13.0 and 15.0

Power / Sphere / Rx

a number between -20 and +20
In Addition for astigmatic patients:
Cylinder

a number between -4.00 and +4.00

Axis

a number between 0 and 180

Cylinder and Axis are usually separated by a x
For Multifocal, Bifocal lenses or Presbyopia:
"Addition" or "add" is usually preceded by "+" or is listed as "low", "mid" or "high" depending on the lens manufacturer.
MONEY BACK GUARANTEE Complete Details

HASSLE FREE RETURNS Complete Details
Air Optix plus HydraGlyde

Reviews
1 person found the following review helpful:
Comfortable wear
It is my second year that I am ordering this brand. It is perfect!
Nice surprise
They were instantly more comfortable than my previous contacts. Perhaps it was the curvature but they were also quite hydrating.
How they feel....
They are comfortable! Enough said.
Comfortable
Best contacts I've had hands down!
3 people found the following review helpful:
Worst lens ever
Very drying
4 people found the following review helpful:
Comfortable
Just perfect, ❤️ this brand.
3 people found the following review helpful:
I highly suggest to give it a try!
If you're first time and want to purchase,I suggest you to give it try. The lenses here in this website is great. :)
4 people found the following review helpful:
Air optic hydra glade contacts review
They fit well and are comfortable & durable.
4 people found the following review helpful:
Comfortable
Great service. Very comfortable. Like not wearing contacts
6 people found the following review helpful:
Product Information
Two innovative contact lens technologies in the same monthly replacement contact lens? Thank Alcon (a division of Novartis) for the new AIR OPTIX plus HydraGlyde, the latest in Lens.com's selection of monthly contact lenses and considered among the best contacts for dry eyes.
Setting these silicone-based hydrogel lenses apart from others, is the AIR OPTIX HydraGlyde "SmartShield" technology (for protection against deposits) and its "HydraGlyde Moisture Matrix" (which offers longer-lasting lens surface moisture). Combined, these features make AIR OPTIX plus HydraGlyde monthly contacts as comfortable as they are dependable.
About Smart Shield Technology
Alcon has patented an ultra-thin protective shield that helps the lens resist lipid deposits, while also delivering high "wettability." This shield also provides protection against changes that can happen to the contact lens through everyday cosmetics' use.
About the HydraGlyde Moisture Matrix and the benefits for dry-eye sufferers
Designed specifically for silicone hydrogel lenses, this is a wetting agent that helps pull surface moisture to the contact lens and keep it there. The result, more comfort for dry-eye sufferers.
Insider Intel: What Sets AIR OPTIX From The Rest?
In a 2015 in-vitro study by Alcon, AIR OPTIX silicone hydrogel lenses provided longer-lasting wettability after 16 hours…proving their ability to deliver both lens surface moisture and lens surface hydration.
By combining both Smart Shield Technology and the HydraGlyde Moisture Matrix in the same lens, AIR OPTIX plus HydraGlyde contact lenses are the newest and best option for dry-eye sufferers who crave a reliable monthly replacement lens that also delivers supreme comfort and all-day wettability.
Product Availability
This item normally ships within 3-5 business days.
Price Comparison
| Our Lowest Price | Retail Price | Your Savings |
| --- | --- | --- |
| $30.00 | $53.00 | $23.00 |
Material Content
67% Polymer (lotrafilcon B)