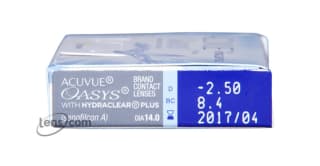 Acuvue Oasys
1
Choose Package Size & Savings
when you buy

4

boxes

after rebate

when you buy

2

boxes

after rebate

when you buy

4

boxes

after rebate

when you buy

2

boxes

after rebate
2
Choose Quantity & Enter Prescription for Right and Left Eye
Prescription Information:
OD

right eye

OS

left eye

Brand name

eg. Acuvue

BC / Base Curve

a number between 8.0 and 10.0

DIA / Diameter

a number between 13.0 and 15.0

Power / Sphere / Rx

a number between -20 and +20
In Addition for astigmatic patients:
Cylinder

a number between -4.00 and +4.00

Axis

a number between 0 and 180

Cylinder and Axis are usually separated by a x
For Multifocal, Bifocal lenses or Presbyopia:
"Addition" or "add" is usually preceded by "+" or is listed as "low", "mid" or "high" depending on the lens manufacturer.
FREE SHIPPING

MONEY BACK GUARANTEE Complete Details

HASSLE FREE RETURNS Complete Details
Great price
The price was great. They arrived on stated date, in excellent condition. The ordering process was easy!
Fast delivery
I got them like 2 days after I ordered them. Love these contact.
Sales Professional
I have been using the product for years and it is very simple to order.
Comfortable quality.
I love the new prescription my Optometrist gave me. These lenses are awesome. Very comfortable, I sometimes forget if they're in my eyes!
Customer service was awesome
Quick shipping.
2 people found the following review helpful:
Contacts
Love this product - they stay moist and at so easy to wear.
Contacts
Great product and good customer service.
3 people found the following review helpful:
Not these
they do not seem to hold up as well as my preferred lenses acuvue2. Numerous contacts have opened and were dried with no solution in packaging. Another the contact was split/ripped in the center. I just feel for the price there shouldn't be these problems.
Product Information
Acuvue Oasys with Hydraclear Plus contact lenses help eyes stay moist and comfortable, even when worn for extended periods of time. If you suffer from dry eyes or find that your current lenses become dry and uncomfortable during normal, daily use, talk to your eye doctor about switching to Acuvue Oasys by Johnson & Johnson.
These revolutionary 2-week disposable lenses feature senofilcon A, a new generation of silicone hydrogel. The new lens material includes a higher volume of moisture-rich wetting agents and allows oxygen to easily travel in and out of the lenses, providing more comfortable wear. This unique technology results in more wettable silicone hydrogel contact lenses for all-day comfort, even in challenging environments. Even in the driest environments, some Acuvue Oasys contact lens wearers seem to forget theyíre wearing lenses at all.
Ideal for individuals who experience contact lens dryness and may find themselves dependent on rewetting drops, Acuvue Oasys contact lenses can significantly reduce the need for eye drops throughout the day. Whether you spend most of your time outdoors or in an office, challenging environments and hours spent in front of the computer can leave your eyes craving moisture. Acuvue Oasys with Hydraclear Plus are the perfect lenses for anyone looking to put down the rewetting drops and live their lives without the inconvenience of dry and irritated eyes.
With a visibility tint and inside-out marks, you wonít have to worry about inserting your contacts the wrong way ever again. These lenses come with one of the highest UV protection levels available in any contact lens, blocking at least 96% of UV-A radiation and 99% of UV-B radiation. Additionally, Acuvue Oasys lenses are high in breathability; in fact, they provide 98% of available oxygen to the open eye.
These†1-2 week disposable contact lenses†can be worn for 2 weeks with daily wear, or for six consecutive days and nights, under an extended wear model. Simply clean daily and replace every two weeks, or wear continuously for up to six days and replace with a fresh pair of contacts upon removal. Before deciding on a bi-weekly or weekly contact lens wearing schedule, speak with your eye doctor about which is right for you.
Acuvue Oasys with Hydraclear Plus technology are ideal for contact lens wearers who suffer from both near and farsightedness, in addition to those with astigmatism. If youíd like to say bye to dry eyes and hello to all-day comfort and UV protection, talk to your eye care professional today about trying Acuvue Oasys with Hydraclear Plus technology.
Acuvue Oasys comes in three different pack sizes: 6 pack, 12 pack, and 24 pack (1 year supply). Acuvue Oasys 6 pack has been discontinued by Johnson & Johnson and is offered while supplies last. Lens.com is proud to sell Acuvue Oasys at the lowest price allowed by the manufacturer. When you purchase your Acuvue Oasys contact lenses from Lens.com, you can rest assured that you wonít find a lower price anywhere online or in storesóguaranteed!
Since 1995, Lens.com has been providing the best value in contact lenses. Order your Acuvue Oasys contact lenses from Lens.com and take advantage of our special discount pricing.
Product Availability
This item normally ships within 1 - 2 business days.
Price Comparison
Package Size
Our Lowest Price
Retail Price
Your Savings
6 Pack
(

3

Month Supply)
$22.99
$54.99
$32.00
12 Pack
(

6

Month Supply)
$59.99
$99.50
$39.51
24 Pack
(

1

Year Supply)
$99.99
$180.00
$80.01
Material Content
62% Polymer (senofilcon A)