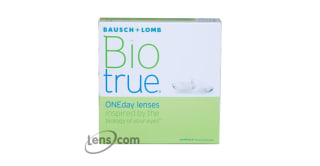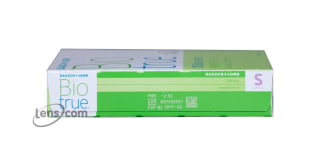 Biotrue ONEday
3 Month Supply

$57.99

$88.00 You Save $30.01

Buy 4 boxes for

$37.99 per

box

after rebate

Buy 2 boxes for

$42.99 per

box

after rebate

See Details See Details
Choose Quantity & Enter Prescription for Right and Left Eye
Prescription Information:
OD

right eye

OS

left eye

Brand name

eg. Acuvue

BC / Base Curve

a number between 8.0 and 10.0

DIA / Diameter

a number between 13.0 and 15.0

Power / Sphere / Rx

a number between -20 and +20
In Addition for astigmatic patients:
Cylinder

a number between -4.00 and +4.00

Axis

a number between 0 and 180

Cylinder and Axis are usually separated by a x
For Multifocal, Bifocal lenses or Presbyopia:
"Addition" or "add" is usually preceded by "+" or is listed as "low", "mid" or "high" depending on the lens manufacturer.
FREE SHIPPING

MONEY BACK GUARANTEE Complete Details

HASSLE FREE RETURNS Complete Details
Better than 30 day
Love how durable they are
Quick delivery
Quick delivery and great price!
Great Customer Service: Reshipment of lens
After the courier misdelivered my lenses and was unable to locate where they had been delivered, I called Lens.com and they immediately overnighted a new shipment which I received a day and a half later. Great response: there was no haggling. I'll definitely be sticking with these guys - plus the pricing is terrific!
Consistency
The product remains to be of high quality.
4 people found the following review helpful:
they arrived and they work.
Very easy to order.

Very comfortable lens for wear all day long
I like the fact that for me, they are very comfortable to wear. I sometimes forget that I am wearing these contacts until I try to read something up close. The only thing that I dislike about them is that I find it very difficult to determine if they are inside out or not when putting them in. Sometimes they get reversed when you dump them out into the palm of your hand and I sometimes am not sure if I have them turned the right way. Another brand that I tried previous to these were a bit easier to discern whether they were inside out or not. But it is not often that this problem occurs.
Contacts are convenient except when they aren?t.
Sometimes your eyes are dry the entire day, sometimes it hurts terribly to put them in. Of course, it's still better than my foggy/dirty glasses
Great price and fast shipping!
I've used your company for years and will continue! I always get exactly what I ordered and fast shipping is the best. Thank you!
Quality
These contacts are exactly the same ones o get from my doctor only a few dollars less
Product Information
As a contact lens wearer, youíve probably wished that your eyes could feel the same when youíre wearing contacts as they do when youíre not. Many contact lenses start out comfortable and relatively undetectable, but over the course of the day become dry and irritating. If theyíre monthly, bi-weekly, or weekly lenses, they probably also lose some comfort after multiple days of wear. While wearing daily disposable contact lenses can cut down on a lot of discomfort, not all dailies are the same. Biotrue ONEday lenses, manufactured by the trusted name in eye health, Bausch and Lomb, are on the cutting edge of daily disposable contact lens technology.
Manufactured with a unique material called HyperGel, Biotrue ONEday are daily contact lenses that truly stand apart from the rest. Many hydrogel lenses are made of either a plastic or silicone material that, despite being somewhat breathable and moisture retaining, have a ways to go when it comes to mimicking the layers of the eye itself. With Biotrue contacts you get a lens that is so similar to the outer layers of the eye that itís practically imperceptible. At 78 percent water content, Biotrue ONEday lenses have the exact same water content as the cornea. In addition, this moisture is built right into the lenses. While some contacts are packaged in a moisturizing solution to try to combat dryness, the moisture in Biotrue is part of the lens so it doesnít disappear over the course of the day.
Breathability is another big factor in contact lens comfort. Biotrue contact lenses allow oxygen to pass easily through the lens, providing the cornea with the oxygen it needs. Consequently, eyes stay healthy and look clear and bright. Of course, we cannot forget about the reason for wearing contact lenses in the first place ó vision correction. Bausch and Lomb Biotrue ONEday contacts are made in prescriptions to correct nearsightedness, farsightedness, and astigmatism. With their High Definition Optics, these lenses offer sharp vision all day long. As an added benefit, Biotrue contacts also provide some UV protection to help shield eyes from damaging rays.
Whether youíre a long time daily contacts wearer or are just thinking about making the switch to 1-day lenses, Biotrue ONEday is a great option. In fact, Biotrue is so popular among daily disposable lens wearers that 91 percent say theyíre pleased with these contacts. When youíre ready to try them for yourself, be sure to check out the low prices at Lens.com.
Product Availability
This item normally ships within 2-4 business days.
Price Comparison
| Our Lowest Price | Retail Price | Your Savings |
| --- | --- | --- |
| $57.99 | $88.00 | $30.01 |
Material Content
22% Polymer (nesofilcon A)