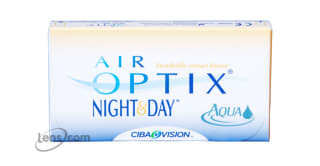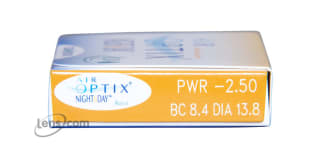 Air Optix Night & Day Aqua
6 Month Supply

$49.99

$79.00 You Save $29.01

Buy 4 boxes for

$34.99 per

box

after rebate

See Details See Details
Choose Quantity & Enter Prescription for Right and Left Eye
Prescription Information:
OD

right eye

OS

left eye

Brand name

eg. Acuvue

BC / Base Curve

a number between 8.0 and 10.0

DIA / Diameter

a number between 13.0 and 15.0

Power / Sphere / Rx

a number between -20 and +20
In Addition for astigmatic patients:
Cylinder

a number between -4.00 and +4.00

Axis

a number between 0 and 180

Cylinder and Axis are usually separated by a x
For Multifocal, Bifocal lenses or Presbyopia:
"Addition" or "add" is usually preceded by "+" or is listed as "low", "mid" or "high" depending on the lens manufacturer.
MONEY BACK GUARANTEE Complete Details

HASSLE FREE RETURNS Complete Details
Air Optix Night & Day Aqua

Reviews
1 person found the following review helpful:
Air optix
Great product. Good price.
1 person found the following review helpful:
Top Notch Customer Service
I am a repeat customer that has always had a great experience. I ran into a hiccup with this order and the customer service reps helped clear it up quickly. Great quality every time!
1 person found the following review helpful:
Comfortable, Clear and Precise
They are comfortable, clear and precise.
1 person found the following review helpful:
Legal consultant
You are a shining example of what an internet -based business should be.
High quality products, very reasonable prices, excellent customer service and follow up.
Thank you.
1 person found the following review helpful:
Comfort
I have been wearing these contacts for over 15 years and have never had any issues.
The best long term contacts
These contacts are my saving grace. No need to take them out for like 2 or 3 weeks!
5 people found the following review helpful:
Contacts
I love the day/night optix. They seem to last longer than others!
Best contacts I?ve ever owned
Been wearing them for years, very comfortable, never know they're in.
great service
Fit and feels great! Amazing product.
Product Information
Life can be busy. Sometimes, it feels like youíre on the go from the time you crawl out of bed in the morning until you climb into bed each night. On the busiest of days, youíre lucky if you have time to brush your teeth or comb your hair. Stopping to rinse, insert, remove, and clean contact lenses are just a few of the more tedious tasks on a long list of time-consuming daily duties. However, for those who require corrective lenses, wearing contacts can make a lot of activities more convenient and comfortable. So whatís a busy person to do? Well, switching to Air Optix Night & Day by CIBA Vision is a big step in the right direction.
If you have a hectic lifestyle and need an ultra-comfortable contact lens that requires little upkeep, then Air Optix Night and Day contacts might be for you. Air Optix Night and Day are monthly disposable contact lenses, meaning that after 30 days of either daily or continuous use you simply discard the lenses and replace them with a fresh new pair. Since you have the option of wearing them continuously or removing and cleaning at the end of each night, you wonít feel guilty about accidently falling asleep with your contact lenses on.
The great advantage of Air Optix Night & Day Aqua is that, unlike a lot of other contact lenses, these contacts wonít give out before you do. The truth is that you can wear Air Optix Night & Day for up to 30 days and nights in a row. Imagine the amount of time freed up by not having to remove and clean your lenses each night or rinse and re-insert them each morning.
Sleeping with regular contact lenses on is a bad idea ó as anyone who has ever accidently fallen asleep while wearing a pair knows all too well. The problem with wearing regular contact lenses continuously is that they donít allow enough oxygen to get to the cornea. Just like the rest of the body, our corneas need plenty of oxygen in order to stay healthy. Rather than getting oxygen from blood circulating through the body, the cornea gets it from air coming into the eye. Air Optix Night and Day allow for the highest levels of oxygen to pass through the lenses. In fact, these lenses are about six times more breathable than traditional soft contacts available on the market. This advanced breathability means that eyes stay healthy, even through the night, and theyíll look clear and white too.
With our lowest price guarantee, Lens.com is an excellent place to purchase Air Optix Day & Night Aqua lenses. With hassle-free returns, 100% money-back customer satisfaction, and quick shipping, you canít go wrong with purchasing your contact lenses from Lens.com.
Product Availability
This item normally ships within 1 - 2 business days.
Price Comparison
| Our Lowest Price | Retail Price | Your Savings |
| --- | --- | --- |
| $49.99 | $79.00 | $29.01 |
Material Content
76% Polymer (lotrafilcon A)