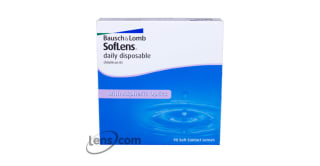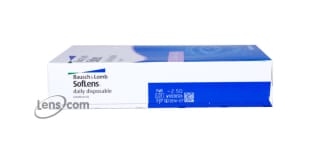 SofLens Daily Disposable Contact Lenses
3 Month Supply

$47.99

$67.00 You Save $19.01

Buy 4 boxes for

$27.99 per

box

after rebate

Buy 2 boxes for

$32.99 per

box

after rebate

See Details See Details
Choose Quantity & Enter Prescription for Right and Left Eye
Prescription Information:
OD

right eye

OS

left eye

Brand name

eg. Acuvue

BC / Base Curve

a number between 8.0 and 10.0

DIA / Diameter

a number between 13.0 and 15.0

Power / Sphere / Rx

a number between -20 and +20
In Addition for astigmatic patients:
Cylinder

a number between -4.00 and +4.00

Axis

a number between 0 and 180

Cylinder and Axis are usually separated by a x
For Multifocal, Bifocal lenses or Presbyopia:
"Addition" or "add" is usually preceded by "+" or is listed as "low", "mid" or "high" depending on the lens manufacturer.
FREE SHIPPING

MONEY BACK GUARANTEE Complete Details

HASSLE FREE RETURNS Complete Details
SofLens Daily Disposable Contact Lenses

Reviews
These are the only contacts I can wear
They are comfortable to my eyes, they do not cause any irritation like other brands I have tried so many over the years. I am allergic to preservatives in solutions and this is the only brand I have been able to tolerate. Great Prices and quality.
Great Job Lens.com
I'm very happy with my lenses. They came at a reasonable time, and fit perfectly like I need them to. I have no complaints.
Comfortable
I like how comfortable they are. They are tinted so they are also easy to see.
DRY AS THE DESERT 💀🔥
These contacts are SOOOOO dry. It could be my eyes because I had this problem a little with monthly contacts, but this is WAY WORSE! I got dailies thinking they wouldn't be so dry and they would be easier than cleaning contacts and keeping them for a month, but I was WRONG! Okay drama over. If I ever buy daily contacts again, I will try a different brand.
No quality control
I have ordered this product for years and have yet to receive a single box that did not feature damaged lenses. Every box has at least 2-3 damaged and unusable lenses, I am essentially paying for nothing
They?re easy to use
They work better for me than other products on the market.
Service is excellent. Good comfortable lens.
Great price. Easy placement within the eyes. Comfortable. Lubrication is good. I heard this product is being discontinued. Too bad. However Lens.com has been #1 for delivery and service. Hope I can continue to receive contacts from the company.
Perfect!
I've had this brand before and they are so comfortable! Not to mentioned that it shipped really fast!
31 people found the following review helpful:
Always A+
The most comfortable lenses at a good price, always delivered earlier than quoted date. Thanks much!
66 people found the following review helpful:
1 day wear contacts are well worth it
SofLens Daily Disposable contact lenses have made wearing contacts super easy! They are tinted to make them easy to find when grabbing and putting them in, and at the end of the day you just toss and go! No messy solution or cleaning schedules needed.
Product Information
Wearing contact lenses is convenient; however, the chore of maintaining and storing them is not. Clean, rub, rinse, store, repeat — you know the drill all too well. But now you can avoid the daily hassle of disinfecting and storing your contact lenses with SofLens Daily Disposable from Bausch & Lomb. As daily disposable contact lenses, it'll give you all-day comfort and visual precision that you can simply toss away at bedtime.
Of course, the sheer convenience of SofLens Daily Disposable contact lenses doesn't stop at just wearing them once. Application is simplified with an easy-grip tab, tear-away label on the lens pack, and an ergonomic blister pack that ensures smooth lens removal without slipping. To improve handling, SofLens Daily Disposable contact lenses are tinted to make them easier to find in the solution without actually changing the color or appearance of your eyes.
Furthermore, with High Definition Optics, you'll experience a noticeable reduction in blurs, halos, glares, and other visual glitches that can often occur with conventional contact lenses. This feature enables you to enjoy clear, crisp, vision each and every hour you wear them and ensures full visual acuity in a wide range of lighting conditions. You can enjoy clearer vision during a day in the office or a night on the town in low light. Plus, you can count on maximum comfort and limited irritation with ComfortMoist technology. Specially developed by Bausch & Lomb, it combines an exceptionally thin design with a slow-release packaging solution for a natural fit and soothing moisture. And since you'll be wearing a new pair every day, you can rest assured that your contacts are free of the harmful contaminants and natural buildup that makes them less comfortable, clear, and hygienic.
As fuss-free as Bausch and Lomb SofLens is to wear, it's still important that you follow the instructions of your eye-care professional to maintain the health of your eyes. For instance, you should only wear the daily disposable contacts within the recommended time period. In addition, you are advised to remove them during certain activities and environments — such as swimming, skiing, and hot tubs — to prevent the risk of ocular infection.
To leave the inconvenience of cleaning your contact lenses behind — with crystal-clear vision and comfort all day, every day — choose SofLens Daily Disposable 90 pack. With hassle-free returns, 100% money-back satisfaction, and quick shipping, you can't go wrong with Lens.com.
Product Availability
This item normally ships within 1 - 2 business days.
Price Comparison
| Our Lowest Price | Retail Price | Your Savings |
| --- | --- | --- |
| $47.99 | $67.00 | $19.01 |
Material Content
41% Polymer (hilafilcon B)