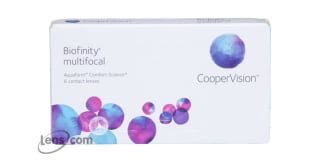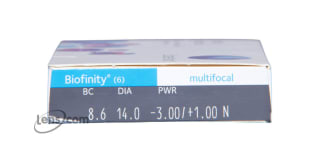 Biofinity Multifocal
6 Month Supply

$65.99

$83.00 You Save $17.01

Buy 4 boxes for

$45.99 per

box

after rebate

Buy 2 boxes for

$50.99 per

box

after rebate

See Details See Details
Choose Quantity & Enter Prescription for Right and Left Eye
Prescription Information:
OD

right eye

OS

left eye

Brand name

eg. Acuvue

BC / Base Curve

a number between 8.0 and 10.0

DIA / Diameter

a number between 13.0 and 15.0

Power / Sphere / Rx

a number between -20 and +20
In Addition for astigmatic patients:
Cylinder

a number between -4.00 and +4.00

Axis

a number between 0 and 180

Cylinder and Axis are usually separated by a x
For Multifocal, Bifocal lenses or Presbyopia:
"Addition" or "add" is usually preceded by "+" or is listed as "low", "mid" or "high" depending on the lens manufacturer.
MONEY BACK GUARANTEE Complete Details

HASSLE FREE RETURNS Complete Details
Biofinity Multifocal

Reviews
Super Happy w/ Biofinity Multifocal from Lens.com
Superfast delivery. Great lens for my prescription. I'm thankful there is a product made that allows me to read close-up and also see clearly long distance. Thanks Lens.com!
1 person found the following review helpful:
Great price!
Great price & Lens.com stands behind their products with an awesome customer service department.
1 person found the following review helpful:
No More Reading Glasses
I have been using these for a couple of years - love them! No more need for a large font on my phone and laptop.
1 person found the following review helpful:
comfortable all day long
This contact is so comfortable, i can wear it all day long and have accidentally slept in it with no problems.
1 person found the following review helpful:
They fit well.
I have used this product for 10 years and have been most satisfied with their performance.
1 person found the following review helpful:
Always reliable
Great price have ordered previously and will order again. Contacts came in a short period of time.
1 person found the following review helpful:
Quality at a low price
Will buy from Lens.com again. Low price for quality contacts.
5 people found the following review helpful:
Correct Strength & power
This is a reorder. I wear my contacts on a daily bases; the product fits perfectly and feels wonderful when I wear them. I am pleased as the product is excellent and is correct on on the reorder, just as with the initial order. Customer service is always outstanding.
5 people found the following review helpful:
Easy to use and fast service with quality
The site was easy to use and easy to submit prescription. They had what I needed and shipped quickly. I received my lenses packed with care and a free lens box I would order again.
5 people found the following review helpful:
Product Information
As much as we may try to outrun it, aging catches up with us all. One of the changes that occurs around the age of 40 or shortly thereafter, is in the ability to clearly focus on close-up objects. This condition, known as presbyopia, affects almost everyone eventually. For those who are used to wearing regular contact lenses, this can be a disheartening problem as they might assume that contacts will no longer be a viable option. On the contrary, multifocal contact lenses are made specifically for people with fluctuating vision who still want the freedom and convenience that contact lenses offer.
Whether youíve had perfect eyesight throughout your life or have needed corrective lenses to overcome nearsightedness or farsightedness from a young age, presbyopia will come at some point in mid-life. The condition has nothing to do with regular nearsightedness, farsightedness, or astigmatism, which all stem from eye shape. Presbyopia occurs as the eye lens becomes stiffer with age. The less flexible lens and the stiffer fibers around the lens have difficulty focusing on objects that are close up. Reading glasses can be worn to compensate; however, many people find it tedious to have to pull out glasses whenever they want to see something up close. Biofinity Multifocal contacts take care of your regular eye challenges as well as presbyopia all in one corrective lens.
With CooperVision Biofinity Multifocal contact lenses you will be able to see clearly up close, far away, and at every distance in between. You will feel like a kid again, at least as far as your eyesight is concerned. The Balanced Progressiveô Technology used in these lenses involves having multiple vision correction zones built into the lenses to allow for smooth visual transitions. With this technology, youíll have crisp, clear vision from contact lens insertion to removal at the end of the day.
CooperVision hasnít forgotten about comfort either. Their Aquaformģ Technology ensures that Biofinity Multifocal contacts hold onto moisture rather than having it rinsed away over the course of the day. In fact, Biofinity Multifocal contact lenses are so good at locking in moisture that you can wear them for 7 days continuously. Biofinity Multifocal are monthly contact lenses, which means that you can wear them for 30 days and then toss them out and insert a fresh, new pair. By combining Balanced Progressiveô Technology with Aquaformģ Technology, CooperVision ensures that patients with presbyopia have access to a comfortable and high-performing pair of contact lenses.
If you have ever been tempted to buy cheap contact lenses over a trusted brand due to price, then you are going to love the Lens.com lowest price guarantee. We browse competitor prices daily so that we can offer low prices on all the top brands, including Biofinity Multifocal contacts.
Product Availability
This item normally ships within 3-5 business days.
Price Comparison
| Our Lowest Price | Retail Price | Your Savings |
| --- | --- | --- |
| $65.99 | $83.00 | $17.01 |
Material Content
52% Polymer (comfilcon A)