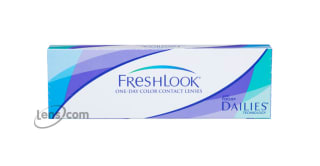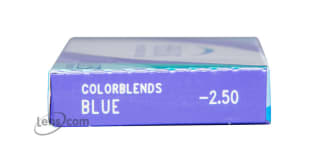 FreshLook One-Day
10 Day Supply

$21.99

$36.50 You Save $14.51

$17.95 Buy 4+ per eye $36.50 You Save $18.55
Choose Quantity & Enter Prescription for Right and Left Eye
Prescription Information:
OD

right eye

OS

left eye

Brand name

eg. Acuvue

BC / Base Curve

a number between 8.0 and 10.0

DIA / Diameter

a number between 13.0 and 15.0

Power / Sphere / Rx

a number between -20 and +20
In Addition for astigmatic patients:
Cylinder

a number between -4.00 and +4.00

Axis

a number between 0 and 180

Cylinder and Axis are usually separated by a x
For Multifocal, Bifocal lenses or Presbyopia:
"Addition" or "add" is usually preceded by "+" or is listed as "low", "mid" or "high" depending on the lens manufacturer.
MONEY BACK GUARANTEE Complete Details

HASSLE FREE RETURNS Complete Details
FreshLook One-Day

Reviews
7 people found the following review helpful:
Great
I love them and have been getting compliments
Slow shipping
Love the lens but it took about two weeks to get them delivered.
Most comfortable and natural lenses available!
I've tried and worn a lot of brands of opaque lenses out there, yearly, extended, and disposables. I wore Colorblends disposables for a while, but they did not sit well on my eyes, and my eyes would turn so red and irritated, I never looked good wearing them, because I looked like I was suffering with them on. I felt like I looked like some drugged-out wannabe vampire because the colors were too vivid on me. The worst ones were the Honey colored lenses, which was way too orange.

When the dailies finally became available, it was nice to know that they were using the Focus lenses, which is a good thing because they work well with my eyes (I've worn the clear ones at one point), and it was also nice to know that I'm getting more oxygen to my eyes (compared to the regular bi-weekly Colorblends disposables) and I am barely aware that I have my lenses on.

BIG BONUS!!! They look very, very natural. I get compliments wearing the hazel lenses. One woman complimented me about the color of my eyes with a bit of envy. She couldn't believe I was wearing colored lenses when I admitted it. I find I can wear the blue lenses without thinking I look freaky because blue lenses tend to look too blue which is a dead giveaway. Most of the time they're subtle, but in some lighting they turn pale as ice. All of the colors can turn a light shade in certain lighting. The grey lenses give off a tinge of blue or green at times. And the green lenses can look grayish, which I like a lot.

They are dailies, and rather pricey (which is why I gave it 4 stars out of 5), but they beat everything out there in making your eyes look good and I can't repeat enough how well they change the color of my chestnut eyes with very natural results.
Looks Great!
FreshLook One-Day feel and look great! There are no worries whatsoever. You feel comfortable with them on while knowing you look great at the same time. All my friends compliment me whenever they see my blended hazelnut eyes. I love them!
I wear FreshLook One Day
I corrently wear FreshLook One Day contacts and I plan to purchase all other Color Blends colors (Blue, Green, Grey, and Pure Hazel). They are great I wear them for one day and then throw them away as they are dailies.
Product Information
Go from liking your natural eye color to absolutely loving it with FreshLook One-Day contact lenses. Inspired by the depth of naturally rich-colored eyes, FreshLook One-Day contact lenses by Alcon (formerly Wesley Jessen) feature an innovative system that combines the comfort you deserve with convincing enhancement and convenience. A unique 3-in-1 color technology ensures quality results and optimum depth for a head-turning, yet natural-looking appeal. In other words, unlike other colored contact lenses you may have tried and given up on— no one will ever guess you're wearing colored lenses.
Choose from four vibrant hues — blue, green, gray and pure hazel — each of which is guaranteed to complement your style and act as your featured accessory. Whether you choose to wear FreshLook One-Day Green, FreshLook One-Day Blue, or FreshLook One-Day Pure Hazel, your eyes will be naturally, but dramatically, enhanced whether they're light or dark in hue.
A daily disposable design makes caring for your FreshLook One-Day contact lenses easier than ever, with zero cleaning, disinfecting, and storing necessary. You simply enjoy a full day of moist contacts and toss them when you're ready for bed. Plus, an outstanding 69 percent water content keeps your FreshLook One-Day contact lenses comfortably moisturized even in the driest of conditions, including working on the computer or spending a day at the beach. The lenses are made from Nelfilcon A, a material that ensures a soft, comfortable, and consistent fit on your eyes from day to night. And last but not least, without the buildup of protein that occurs with two-week and monthly lenses, you can always be confident that your sight will remain crystal clear and protein-free throughout your day.
FreshLook One-Day is available in powers from -6.00 to 0.00, so they're an ideal choice for individuals who wear contacts to correct their vision and want the outstanding benefits of daily disposable contact lenses. But those who have perfect vision must also consult with an eye-care professional about wearing daily contact lenses to enhance their eye color before purchasing them as contacts are considered medical devices that need prescriptions. To avoid irritation, discomfort, and complications, all wearers of FreshLook One-Day should follow their prescribed wear and replacement schedule.
Lens.com offers Alcon contact lenses like FreshLook One-Day at lower prices than you will find anywhere online or in stores. With hassle-free returns, 100% money-back satisfaction, and quick shipping, you can't go wrong with Lens.com.
Product Availability
This item normally ships within 2-4 business days.
Price Comparison
| Our Lowest Price | Retail Price | Your Savings |
| --- | --- | --- |
| $17.95 | $36.50 | $18.55 |
Material Content
31% Polymer (nelfilcon A)