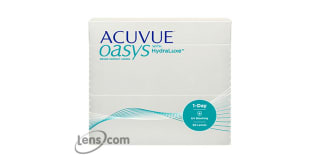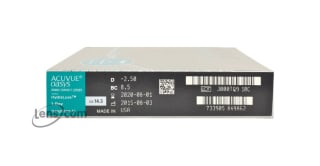 Acuvue Oasys 1-Day with Hydraluxe 90PK
3 Month Supply

$79.99

$123.00 You Save $43.01

Buy 4 boxes for

$59.99 per

box

after rebate

Buy 2 boxes for

$64.99 per

box

after rebate

See Details See Details
Choose Quantity & Enter Prescription for Right and Left Eye
Prescription Information:
OD

right eye

OS

left eye

Brand name

eg. Acuvue

BC / Base Curve

a number between 8.0 and 10.0

DIA / Diameter

a number between 13.0 and 15.0

Power / Sphere / Rx

a number between -20 and +20
In Addition for astigmatic patients:
Cylinder

a number between -4.00 and +4.00

Axis

a number between 0 and 180

Cylinder and Axis are usually separated by a x
For Multifocal, Bifocal lenses or Presbyopia:
"Addition" or "add" is usually preceded by "+" or is listed as "low", "mid" or "high" depending on the lens manufacturer.
FREE SHIPPING

MONEY BACK GUARANTEE Complete Details

HASSLE FREE RETURNS Complete Details
Acuvue Oasys 1-Day with Hydraluxe 90PK

Reviews
Great comfort
These lenses are comfortable for all day wear.
Great CTLS
I love the daily wear contacts, very comfortable and my vision is great
-
I enjoy the one a day contacts, but I go through at least three pairs a day. I have MS, so I just assumed my dry eyes were from that. My eye dr said it could be the brand itself. This is not a complaint...just thought I would share! Thanks again! I love lens.com.
Very comfortable esp at the end of the day
I switched from dailes total 1 multifocal to the Accuview non multifocal lenses and what a huge improvement. These feel great after wearing for 12 hrs unlike the dailies total 1 that made my vision blury after wearing for 8-9 hrs and focus was much easier with the accuview oasys. It seems these are not as drying and the lens is easier to remove at night.
Lens.com is awesome and the best prices anywhere!
1 person found the following review helpful:
Delivered on time and as advertised
Consistency
Cloudy contacts
These contacts get cloudy or seem to get a film over them many days within a few hours of putting them in. I have tried removing and cleaning them with contact solution and replacing them but it doesn't help!
Quality
Fits very comfortably
Excellent lenses for sports
I love these lenses. I originally bought them for use while playing tennis. However, I have found that they are wonderful for all day wear. They are extremely comfortable.
Product Information
If you're a contact lens wearer, you know that Johnson and Johnson's Acuvue is one of the most trusted brands in the business. The popular contact lens brand has been known for innovation in the world of contact lenses since they first introduced the disposable contact lens in 1988. Not only has the Acuvue brand been responsible for the first disposable contact lens, but they also introduced the first daily disposable contact lens, the first beauty "circle" contact lens, and the first daily disposable silicone hydrogel lens. These important milestones mark significant improvements in contact lens clarity and comfort over the last several decades and we're proud to offer the next innovative product from Johnson & Johnson — Acuvue Oasys 1-Day with Hydraluxe.
Acuvue Oasys 1-Day with Hydraluxe are daily disposable contact lenses, meaning that fresh, new lenses are inserted every day. In doing so, Acuvue Oasys 1-Day with Hydraluxe is able to offer the highest level of lens quality, less maintenance, a lower likelihood of eye irritation, and an overall improved experience that's more comfortable and convenient for the wearer. If you lead an active lifestyle, Acuvue Oasys 1-Day with Hydraluxe is the perfect contact lens option for you.
A recent study showed that 59% of contact lens wearers experience a decline in the comfort of their contacts as the day goes on. Among those who experienced discomfort, the most common reason reported was tiredness. The second most common cause of discomfort was dryness. Acuvue Oasys 1-Day with Hydraluxe is designed to solve both of these problems by providing an advanced contact lens wearing experience.
Acuvue's new Hydraluxe technology is inspired by the eye's natural tear production and is intended to keep the tear film stable even in the most demanding environments. This innovative "tear-infused" technology found in Hydraluxe lenses lubricates and moisturizes the eyes, which reduces dryness and enables contact lens wearers to blink effortlessly. Acuvue Oasys 1-Day with Hydraluxe works consistently throughout the day contributing to a refreshingly comfortable experience from contact lens insertion until removal at the end of the day.
Lens.com offers Acuvue Oasys 1-Day with Hydraluxe contact lenses at a lower price than you'll find anywhere online or in stores—guaranteed. This product follows a Unilateral Pricing Policy set by the manufacturer which means that we can't sell it for any lower. This means that you can be assured that you're paying the lowest possible price for these contact lenses. With hassle-free returns, 100% money-back satisfaction, and quick shipping, you can't go wrong with purchasing your contact lenses from Lens.com.
Product Availability
This item normally ships within 1 - 2 business days.
Price Comparison
| Our Lowest Price | Retail Price | Your Savings |
| --- | --- | --- |
| $79.99 | $123.00 | $43.01 |
Material Content
62% Polymer (senofilcon A)