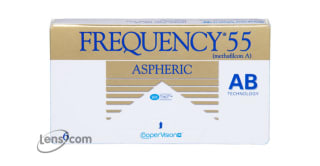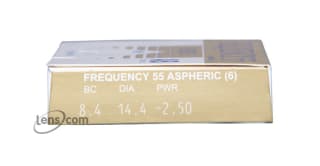 Frequency 55 Aspheric
6 Month Supply

$47.99

$61.00 You Save $13.01

$20.99 Buy 4+ per eye $61.00 You Save $40.01
Choose Quantity & Enter Prescription for Right and Left Eye
Prescription Information:
OD

right eye

OS

left eye

Brand name

eg. Acuvue

BC / Base Curve

a number between 8.0 and 10.0

DIA / Diameter

a number between 13.0 and 15.0

Power / Sphere / Rx

a number between -20 and +20
In Addition for astigmatic patients:
Cylinder

a number between -4.00 and +4.00

Axis

a number between 0 and 180

Cylinder and Axis are usually separated by a x
For Multifocal, Bifocal lenses or Presbyopia:
"Addition" or "add" is usually preceded by "+" or is listed as "low", "mid" or "high" depending on the lens manufacturer.
MONEY BACK GUARANTEE Complete Details

HASSLE FREE RETURNS Complete Details
Frequency 55 Aspheric

Reviews
11 people found the following review helpful:
I will buy from again.
Fits perfectly. Very comfortable. Works great.
11 people found the following review helpful:
Price
I was disappointed to see that these contacts went up a great deal in price.
11 people found the following review helpful:
Frequency 55
Love them.. very comfortable.
11 people found the following review helpful:
Fast service!
Great company! Great product!
Highly recommend!
11 people found the following review helpful:
Fit is fantastic!
This is the only brand and style that fits me. So happy that you carry them!
11 people found the following review helpful:
The only one that works
My personal Eye Doctor told me that he could not get these any longer. Nothing else that I tried worked. I have no lens in one of my eye because of an operation. This works, thanks for having them.
11 people found the following review helpful:
Great value!
I love these lenses. They are very comfortable. The only problem I have is out of four boxes on lens I always have one or two that I have to throw away because they just don't feel right, but I like that they are thin.
11 people found the following review helpful:
Softness and comfortable.
N/A
11 people found the following review helpful:
Great lens?s and best price around
I went to order these lenses through a local eye Dr and they wanted to charge me double what I paid through Lens.com. I ended up placing my order through lens.com and got my lenses very fast and saved lots of money.
Frequency lenses
I was a little disappointed because I put in my new lenses and I was struggling with ?dry eye? before 8pm, which is not normal! Usually I can go till midnight. Not sure if it's the lenses or the solution. Just being honest about the experience.
Product Information
Contact lenses are supposed to provide those with non-perfect vision the ability to enjoy clear and crisp vision. Unfortunately, the vision correction offered by some contact lenses isn't as precise as one would hope. The problem lies in the fact that many contact lenses have an overall spherical curve. This shape is meant to focus the light coming into the eye on a single point on the retina — resulting in perfect vision. The truth is that spherical lenses bend the light coming into the eye so that it hits the retina in a general area, but it's still not as focused as it could be.
The newer, more advanced way to create sharp vision with contact lenses is with a lens that features varying curvatures over the surface of the lens. Known as aspheric contacts, these lenses focus light much more precisely on the retina, resulting in clearer vision. Frequency 55 Aspheric by CooperVision is a contact lens that offers this extra clear vision advantage in addition to a number of other benefits. They've extended the focus range right to the edge of the lens and increased the amount of contrast sensitivity. This means that even in lower light conditions, your vision will remain clear.
Comfort is another big selling point when shopping for contact lenses. Using their UltraSync technology process, CooperVision aspheric contact lenses have a consistently thin and comfortable edge, especially when compared to other contact lenses on the market. Frequency 55 Aspheric are monthly disposable lenses, which means they can be worn for up to 30 days before being replaced with a fresh, new pair. However, the lenses still need to be removed and disinfected at the end of each day. Although this is the replacement schedule recommended by the manufacturer, contact lens wearers should always follow the advice of their eye care professional as eye care needs can vary from individual to individual. Sticking to this basic routine helps maintain eye health and keeps your eyes looking clear and bright.
Lens.com is a great place to find a wide selection of aspheric contact lenses for your vision correction needs. At Lens.com, we actively check our competitor's prices so that we can give our customers the best value on contact lenses. With hassle-free returns, 100% money-back customer satisfaction, and quick shipping, you can't go wrong with purchasing your contact lenses from Lens.com.
Product Availability
This item normally ships within 1 - 2 business days.
Price Comparison
| Our Lowest Price | Retail Price | Your Savings |
| --- | --- | --- |
| $20.99 | $61.00 | $40.01 |
Material Content
45% Polymer (methafilcon A)