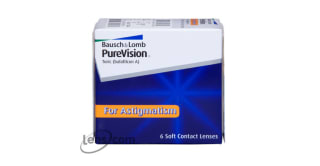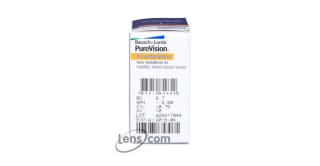 PureVision Toric
6 Month Supply

$62.99

$70.00 You Save $7.01

Buy 4 boxes for

$55.49 per

box

after rebate

Buy 2 boxes for

$57.99 per

box

after rebate

See Details See Details
Choose Quantity & Enter Prescription for Right and Left Eye
Prescription Information:
OD

right eye

OS

left eye

Brand name

eg. Acuvue

BC / Base Curve

a number between 8.0 and 10.0

DIA / Diameter

a number between 13.0 and 15.0

Power / Sphere / Rx

a number between -20 and +20
In Addition for astigmatic patients:
Cylinder

a number between -4.00 and +4.00

Axis

a number between 0 and 180

Cylinder and Axis are usually separated by a x
For Multifocal, Bifocal lenses or Presbyopia:
"Addition" or "add" is usually preceded by "+" or is listed as "low", "mid" or "high" depending on the lens manufacturer.
MONEY BACK GUARANTEE Complete Details

HASSLE FREE RETURNS Complete Details
4 people found the following review helpful:
Availablity, cost, and expedited quickly.
No real issues, I have been very pleased and satisfied with my perscription for years now😊 thank you!
4 people found the following review helpful:
Wearing for years
Best contacts I've ever worn in terms of visual clarity and comfort.
4 people found the following review helpful:
Not as good as PurVision 2
These are alright and I used to wear them, but a year ago my doctor prescribed me the PurVision2 lenses. These don't spin as well and are much harder to remove And dry out more quickly. That said, they're still good lenses. Please start stocking purvision2 lenses!
4 people found the following review helpful:
Good contacts.
Contacts are fine, do what they're meant for.
4 people found the following review helpful:
I like this contacts!
I was wearing this contact lenses for 1 year and they are confortable.
71 people found the following review helpful:
PureVision Toric are a great product
I love that I can wear PureVision Toric continuously throughout the month! I don't have to worry about taking them out if I forget, and if I do take them out they are easy to find again with their tinting. Overall a great product for someone forgetful like me!
69 people found the following review helpful:
I love my PureVision Toric contacts
These PureVision Toric lenses have changed my life! I love that I can wear them conveniently without nightly removal with no discomfort. I will re-purchase!
77 people found the following review helpful:
no more rubbing and irritations
No more slipping! PureVision Toric was a great choice to help keep my eyes happy. They don't slip off my eye during the day, leading to less rubbing and irritation overall. My eyes are clear, free of redness and comfortable all day long!
80 people found the following review helpful:
PureVision Toric are definitely a must have
If you are an active, busy person, these PureVision Toric contact lenses are a must-have! I love the convenience of wearing them continuously with no irritation. They provide clear, comfortable vision even on my busiest days!
86 people found the following review helpful:
Product Information
Astigmatism is an incredibly common eye condition that occurs when a personís lens or cornea has an elongated shape rather than a regular spherical curve. When the cornea and lens are spherical, the light coming into the eye can focus on one spot on the retina, resulting in clear vision. Corneas with an elongated shape produce blurry vision because the light tries to focus on multiple parts of the retina instead of one area. Fortunately, those with astigmatism can see clearly with the help of corrective lenses made especially for astigmatism. Many contact lens wearers fear that having astigmatism means that contacts are no longer an option, but this isnít the case as there are toric contact lenses made to correct this very issue.
Bausch and Lomb PureVision Toric contact lens are a great solution to astigmatism. While typical contacts lenses can float around and rotate on the eye without causing any disturbance to vision, toric lenses need to stay relatively stationary to offer the sharpest vision. Rather than having the same level of correction throughout the lens, as in regular contacts, toric contact lenses have multiple areas of correction in specific areas to deal with different correction needs. These different ďzonesĒ must stay in the proper places on the eye to work properly; thatís why PureVision Toric contact lenses for astigmatism feature enhanced prism balancing geometry to keep vision stable and clear.
While clarity is of the utmost importance when choosing toric lenses, comfort runs a close second. PureVision Toric contact lenses use their special AerGel material to keep eyes healthy and comfortable from morning until night. AerGel also resists build-up so that eyes have less chance of becoming red and irritated. The material stays moist and allows for natural amounts of oxygen to pass through to the cornea. Adding to their comfort, Bausch and Lomb PureVision Toric contacts are worn for only 30 days. After that, these monthly contact lenses can be tossed and replaced with a fresh new pair. Insertion is easy, too, as these lenses have a built-in visibility tint to make it easy to locate them in the soaking solution.
Wearing glasses is one option for those with astigmatism, but itís not the only viable choice. PureVision Toric offer incredible comfort, steady clarity, natural breathability, and are created specifically for those with astigmatism. If you have astigmatism and prefer the freedom of wearing contact lenses, then PureVision Toric contact lenses may be for you.
Product Availability
This item normally ships within 4-7 business days.
Price Comparison
| Our Lowest Price | Retail Price | Your Savings |
| --- | --- | --- |
| $62.99 | $70.00 | $7.01 |
Material Content
64% Polymer (balafilcon A)