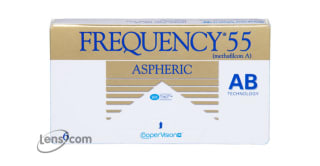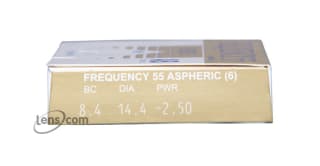 Encore Premium (Frequency 55 Aspheric)
6 Month Supply

$17.95

$61.00 You Save $43.05

$15.99 Buy 4+ per eye $61.00 You Save $45.01
Choose Quantity & Enter Prescription for Right and Left Eye
Prescription Information:
OD

right eye

OS

left eye

Brand name

eg. Acuvue

BC / Base Curve

a number between 8.0 and 10.0

DIA / Diameter

a number between 13.0 and 15.0

Power / Sphere / Rx

a number between -20 and +20
In Addition for astigmatic patients:
Cylinder

a number between -4.00 and +4.00

Axis

a number between 0 and 180

Cylinder and Axis are usually separated by a x
For Multifocal, Bifocal lenses or Presbyopia:
"Addition" or "add" is usually preceded by "+" or is listed as "low", "mid" or "high" depending on the lens manufacturer.
MONEY BACK GUARANTEE Complete Details

HASSLE FREE RETURNS Complete Details
Encore Premium (Frequency 55 Aspheric)

Reviews
90 people found the following review helpful:
Good vision, fit, and comfort
These Encore Premium lenses have all of the qualities that I look for in a contact lens! They keep my vision sharp and clear all day long, are extremely comfortable and last up to 30 days!
94 people found the following review helpful:
30 days still as good as new
I love how easy-to-use these Encore Premium lenses are! They have a slight tint that makes them easy to locate and handle, and they last up to 30 days with only a daily wash required!
89 people found the following review helpful:
Impressed with the comfort and clarity I get
My vision has never been more clear and concise than it is with these Encore Premium lenses. These contacts eliminate blurriness and glare that I have experienced with other lenses. I highly recommend!
25 people found the following review helpful:
Exactly what I wanted in a lens
These Encore Premium contact lenses have everything that I look for in a contact lens! They provide crisp, clear vision in addition to being comfortable and hydrating. I will re-purchase these contacts!
108 people found the following review helpful:
Encore Premium keep my eyes feeling really nice
Easy to use, easy to wear, easy to have fun! Encore Premium contact lenses made wearing contacts less of a chore for me, and more fun. I now try to wear them every day because they don't bother my eyes and keep my eyes feeling really nice!


158 people found the following review helpful:
Great Encore Premium lenses
The Encore Premium lenses have been able to enhance my vision while at the same time keeping my eyes nice and moist. I am very pleased with this product so far.

136 people found the following review helpful:
Encore Premium contacts do not disappoint
I stopped wearing daily contacts after testing out the Encore Premium lenses, because they were just too good of a quality to not wear. I now enjoy wearing monthly contacts, especially when they feel so good.

132 people found the following review helpful:
very pleased with Encore Premium contacts
When my friends complain about their dry eyes, I can't help but laugh considering I never get dry eyes anymore from using Encore Premium contacts. These contacts are easily the nicest ones I have worn.

142 people found the following review helpful:
Encore Premium are eceeding all my expectations
I am 3 months in to wearing Encore Premium contacts, and so far so good! No eye irritation is great, and I love how natural they feel on my eyes.


216 people found the following review helpful:
Product Information
Spherical contact lenses have been the accepted standard for years, but these days there are more advanced options available. Aspheric contact lenses, like Encore Premium (also known as Frequency 55 Aspheric) made by CooperVision, provide sharper vision than ever before. Cutting-edge vision correction, however, is not the only thing Encore Premium contacts have to offer. In addition to spectacular clarity, they also provide lasting comfort and easy handling.
If you're a regular contact lens wearer and are unfamiliar with aspheric lenses, now is the time to get informed; your vision can only get better for it. While spherical lenses have an even curve over the whole lens surface, the curve on the surface of aspheric lenses varies. This variation allows for the light entering the eye to be more precisely focused on the retina. More focused light results in sharper vision; blurred vision becomes a thing of the past. Created using CooperVision's patented UltraSync technology, Encore Premium contact lenses are consistently made with high quality and precision. These lenses are easy to handle, durable, and very comfortable. Made from 45 percent methafilcon and 55 percent water, Encore Premium lenses provide lasting moisture. The lenses are also ultra thin and made to resist deposits that can otherwise build up and irritate eyes
Encore Premium are monthly contact lenses. As such, these contacts can be worn for up to 30 days before being replaced with a fresh new pair. They are made for daily use, which means that they can be worn all day, but need to be removed, cleaned, and stored in disinfecting solution at the end of each day. Sticking to this schedule helps ensure your eye health is maintained. On top of the comfort and clarity, Encore Premium are also easy to use. Being small in size and appearing transparent, contact lenses are not always easy to see when they are floating in solution or if they happen to be dropped. Encore Premium contacts have a built-in handling tint to make them much easier to spot. The tint makes handling simpler, but won't alter the color of your eyes when they are in use.
Of course, it's perfectly understandable to assume that monthly contacts with all of these innovative features would come with a hefty price tag. On the contrary—CooperVision's Encore Premium are remarkable in this respect too, as these lenses are incredibly reasonably priced. This is especially true when you shop on Lens.com. We keep close tabs on competitor prices so you do not have to—we want to make sure we're providing the best value in contact lenses. With hassle-free returns, 100% money-back satisfaction, and quick shipping, you can't go wrong with purchasing your contact lenses from Lens.com.
Product Availability
This item normally ships within 1 - 2 business days.
Price Comparison
| Our Lowest Price | Retail Price | Your Savings |
| --- | --- | --- |
| $15.99 | $61.00 | $45.01 |
Material Content
45% Polymer (methafilcon A)